The exhumation of a Medal of Honor recipient and his reburial June 4 at a national cemetery began with an annual event to lay holiday wreaths on the graves of American veterans.
Michelle Cebe, a coordinator for Wreaths Across America at Kansas's Leavenworth National Cemetery, has a personal mission to ensure that all Medal of Honor recipients in her region receive a wreath every holiday. Several honorees are interred at Leavenworth, and two are buried at Mount Calvary Cemetery in Lansing, Kansas.
Then, veteran George Westbrook, one of Cebe's volunteers, discovered a third -- in a dilapidated section of Mount Calvary considered a paupers' burial ground.
Read Next: An Army NCO Is Aiming for Gold in the Olympics' Newest Event
"That just got my brain going. No veteran should ever be buried in a Potter's field, and especially not a Medal of Honor recipient," Cebe said.
On June 4, Sgt. Robert McPhelan, who received the nation's highest military honor for his actions during the Indian Campaigns, will be laid to rest at the Leavenworth National Cemetery with military honors, with two of his great- great-granddaughters and one great-great-great-granddaughter in attendance.
The journey from mucky grave to national cemetery presented challenges, starting with Cebe needing to track down the family to ask for permission. Then, she needed consent from the cemetery and had to raise funds to complete the task.
According to Cebe, the effort became much easier once she enlisted the help of others, including local MoH recipient Army Col. Roger Donlon and his wife Norma. They are active in the Kansas veterans community, the Medal of Honor Historical Society of the United States and the Daughters of the American Revolution, which helped guide the genealogy effort to find the family.
Within 48 hours of reaching out to local American Legion and Association of the United States Army chapters, Cebe had the money she needed to complete the project -- more than $3,000.
"It all just came together," she said.
When she learned that McPhelan was buried in the same location as his two-year-old daughter Mary, who predeceased him, Cebe added a twist to the plan -- making an attempt to find the toddler's grave so she could be buried with her father. But a massive search of the cemetery by a local Veterans of Foreign Wars chapter and the Legion was unsuccessful.
"We found about six headstones that were only about six inches deep and the size of [a] brick, and we got kind of excited because we found a couple that had 'Mary' on them, but unfortunately it wasn't the right last name," Cebe said.
It's a mystery why McPhelan, whose marble federal headstone is engraved in gold -- as all Medal of Honor recipients' markers are, came to be buried in Section C of Mount Calvary Catholic Cemetery in 1884.
Perhaps, Cebe theorized, he was a Catholic who had expressed a desire to be buried at the parish cemetery but was stuck in the Potter's field because he was impoverished or had fallen out of favor with the church.
Or maybe, since his toddler was buried there, it made sense to place him with family. Notably, his wife Mary, who lived until the 1920s, and son James are buried in St. Joseph, Missouri.
"We've racked our brains on that," Cebe said.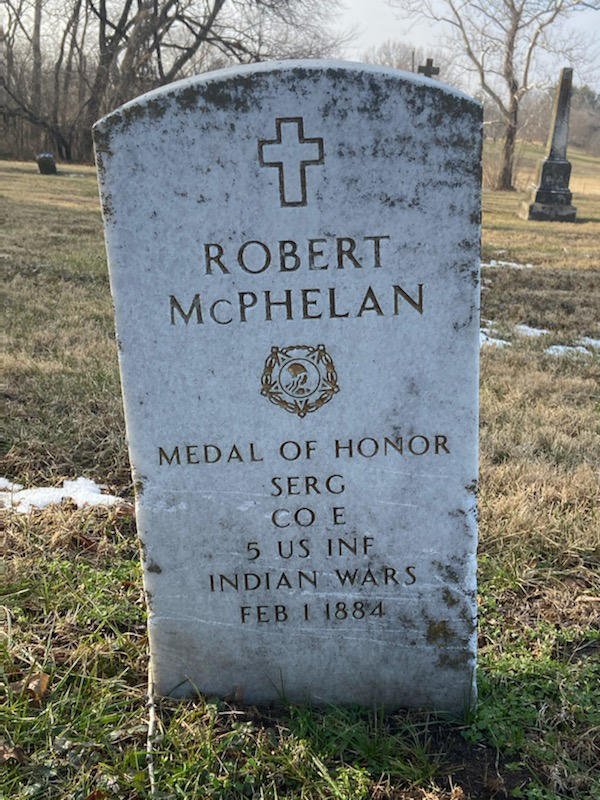 Great-great-granddaughter Lori Rogers also has no idea why he was in a field unattended: She wasn't even aware that her ancestor was a Medal of Honor recipient until about a decade ago when she was researching her heritage on Ancestry.com.
"My mother never really talked about her history and, when you are young, you never ask about these things. My grandmother told a few stories, but I should have asked more. What a waste of those years!" Rogers said.
McPhelan was born in Laois, Ireland, around 1837 and immigrated, along with his wife Mary to the United States, where he joined the Army. According to records, he served with Company E, 5th U.S. Infantry, during the Great Sioux War of 1876. He was awarded the Medal of Honor for the Battle of Cedar Creek in the Montana Territory -- the campaign that defeated Lakota Chief Sitting Bull.
Little is known about what he did to earn the honor -- records simply say he was awarded it for "gallantry." Thirty soldiers earned the Medal of Honor for the campaign, but McPhelan was the only one from his company. He was presented the medal in 1877 by Gen. William T. Sherman.
McPhelan worked at Fort Leavenworth until his death in 1884 from war-related injuries, according to Rogers.
"Everything I found on him showed he was a very good man. I found descriptions of his first funeral, and it was well attended," Rogers said. "I also believe he was a handsome man. He was 5'6" with dark hair and deep blue eyes. ... I wish I knew more."
The former sergeant will be exhumed in private; attendees will look to see whether he was buried with his medal. His family has asked that, if the medal is located, it be photographed and reburied with him.
The ceremony is set for Friday morning at Leavenworth, with 30 people expected to attend, including Rogers; her sister, Erin Hiatt; and niece Rachel Hiatt. McPhelan will receive a new headstone, also etched in gold and marked with his daughter's information on the back.
The old headstone will be placed in a memorial garden at the local VFW chapter.
The family says they are thrilled their ancestor is being moved to the pristine, well-trimmed federal cemetery, as his current location -- "in the muck and the weeds," they said -- is "disheartening."
"We are so excited. He deserved so much more," Rogers said.
-- Patricia Kime can be reached at Patricia.Kime@Monster.com. Follow her on Twitter @patriciakime.
Related: In Time for Memorial Day, VA and Arlington Remove COVID Restrictions from Cemeteries