The Army has launched a new marketing campaign featuring soldiers transformed into anime characters to tell their personal stories in support of an upcoming recruiting surge known as Army National Hiring Days 2021.
"The Calling" is a series of short videos being aired on YouTube focused on five soldiers from difficult backgrounds. One begins with Army Reserve Spc. Jennifer Liriano narrating an anime-illustrated story of a frightening childhood memory.
"When I was four, my siblings and I watched my dad try to take his own life right in front of us," says Liriano, who grew up in a tough New Jersey neighborhood. "The police were called, and they rescued him. I grew up wanting to help people like my father, people who are suffering."
Read Next: Mammoth Toxic Exposure Push Could Be Biggest Congressional Health Care Effort in Years
When she grew older, she met an Army recruiter at school who listened to her goals, Liriano says in the video.
"He took me through all the different careers, and that is when it hit me: The Army is an Army of good people," she says. "Now, I serve in a combat support hospital doing what fulfills me the most."
The marketing effort launched this week uses these short, animated videos "to help as kind of complementary [effort] to what we are doing in Army National Hiring Days 2021," a massive recruiting effort scheduled from May 10 to June 14 that's designed to connect with about 60,000 young people from Generation Z, Brig. Gen. Patrick Michaelis, deputy commander of U.S. Army Recruiting Command, or USAREC, told reporters Wednesday during a telephonic roundtable.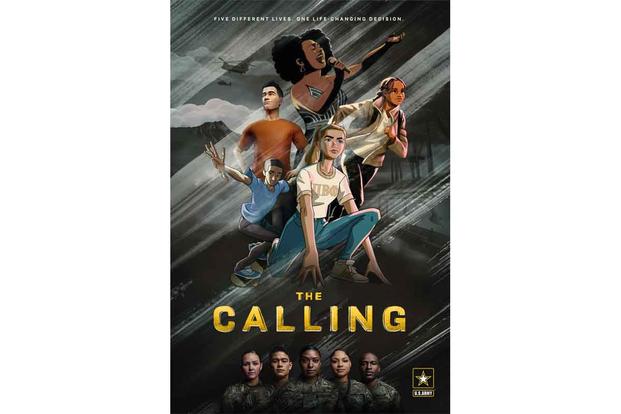 The Army chose anime because the medium makes it possible to intertwine many moments in a soldier's life into one product, Army officials said.
"It's a distinct departure from our previous Army campaigns, both in its arresting kind of visual, this anime approach but also an intimate portrayal of those who serve," Michaelis said.
USAREC created the first Army National Hiring Days last year as a response to the COVID-19 pandemic, he said, describing three days that were heavily focused on virtual hiring events to attract young people.
This year's effort will feature bonuses, virtual job fairs and live events at schools and other public centers that are beginning to open back up as the pandemic subsides, he added.
Army senior leaders, Army Cadet Command, the National Guard and Reserves, and active commands such as Army Forces Command and Army Futures Command will broadcast a simple, unified message on their social media pages during the hiring days: "Join Us," Michaelis said.
"We are focused on the 150 career potential job opportunities for the Army, but we are really focused on 11 priority [military occupational specialties]," he said. "During the period of Army National Hiring Days, we have a $2,000 kicker bonus for those that meet the criteria against those 11 MOSs, so that we can carry ourselves through fiscal 2021 and set conditions for fiscal 2022."
The 11 MOSs, with their normal incentives, that are eligible for the $2,000 kicker bonus include:
11X Infantry, up to $9,000 bonus
18X Special Forces, up to $40,000 bonus
13J Fire Control Specialist, up to $9,000 bonus
13M Multiple Launch Rocket System Crewmember, up to $9,000 bonus
14P Air and Missile Defense Crewmember up to $9,000 bonus
35M Human Intelligence Collector, up to $40,000 bonus
35P Signals Intelligence Voice Interceptor, up to $40,000 bonus
37F Psychological Operations Specialist, up to $21,000 bonus
74D Chemical, Biological, Radiological and Nuclear Specialist, up to $9,000 bonus
89D Explosive Ordnance Disposal Specialist, up to $18,000 bonus
92R Parachute Rigger, up to $9,000 bonus
Last year, USAREC set a goal to capture 10,000 recruiting contracts out of the hiring days event. Leaders have not revealed how many contracts the 2020 event yielded, saying that some are still being finalized.
"We learned a lot of lessons out of that; we had a bold agenda last year," said Michaelis, who would not set a recruiting contract goal for this year's event. "What we learned in National Hiring Days 2020 was to fill the recruiters' funnel. We blew ourselves away last year by making over 30,000 leads in this very small period of time.
"Our goal this year is to get to about 60,000 leads. ... The conditions are right; we have learned how to streamline from a lessons learned perspective," he added.
Recruiters have refined the process of responding to recruiting leads to "make sure that within 72 hours, we are hitting those contacts that come into the system," Michaelis said.
"We find that if you wait a certain amount of time, if you spend too much time not contacting those folks, there is a point where interest starts to wane. ... This was a tough lesson learned from last year."
-- Matthew Cox can be reached at matthew.cox@military.com.
Related: Army Offers Big Bonuses, Races to Sign 10,000 New Recruits in 3 Days