CAMP PENDLETON, California -- The Marine Corps' new infantry training pilot program emphasizes greater development of students through personal mentorship and one-on-one instruction. If the program becomes standard across the fleet, the service is going to need many more combat instructors -- and leaders are already strategizing ways to attract more talented infantry leaders to the job.
On Wednesday here at the School of Infantry-West, some 30 combat instructors and 40 additional support staff facilitated the first of four classes in the 14-week Infantry Marine Course pilot program. As entry-level grunts waited for their chance to be evaluated on firing speed and accuracy and dynamic movement against variable-distance targets on a hilly range, they huddled with instructors in their 14-man squads or larger groups, getting last-minute tips or bonding over broader topics.
"Who's married?" one instructor asked a group of students sitting cross-legged on the ground or leaning back on flak jackets and helmets. A few raised their hands.
"That's great ... that's great."
Read Next: The Marine Corps Is Known as a Force of Young Warriors. That's About to Change
The new infantry training program emphasizes calls for Marine privates to train on a greater variety of weapons, such as heavy machine guns, and to develop proficiency in skills ranging from combat lifesaving to swimming. There are far fewer large-group lectures, and more Socratic-style and hands-on instruction. It's part of a mandate from Marine Corps Commandant Gen. David Berger to prepare the service for a future fight with a peer adversary, and get all Marines, from the most junior ranks up, thinking like strategists.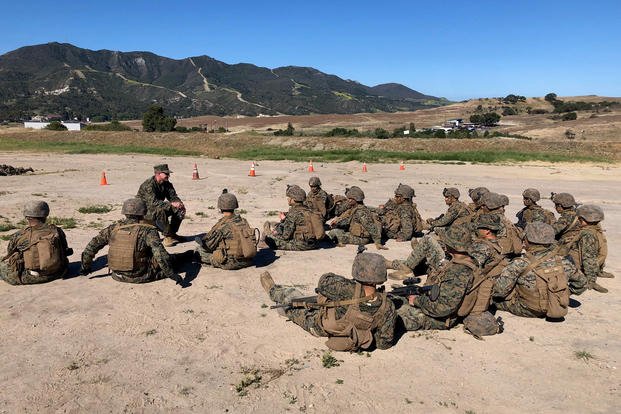 "A lot of the skill sets required to be an infantry Marine, specifically, are tactile skills," said Chief Warrant Officer 3 Amatangelo "AJ" Pasciuti, gunner for Infantry Training Battalion-West. "So what we did was, we found that there was a lot of loss in translation. We were [teaching], for instance, how to do something like program a radio on a PowerPoint. And then when that was transferred to the tactile needing to do it, there was a loss, or a deviation."
The kind of training the Marine Corps wants requires more and better-trained combat instructors -- about 80 more than the current total. They'd get an additional six to eight weeks of training on top of the existing three-month course they currently complete to earn the 0913 combat instructor additional military occupational specialty, or MOS. To get enough talented infantry Marines interested in the job, the one-star head of Training Command is pushing to restore the special duty assignment status that was stripped from the combat instructor billet in 2017.
"I would say we are just about there. The service is looking at it right now in a very detailed manner," Brig. Gen. Jason Morris told reporters Wednesday. " ... And I think that's good for the Marine Corps. And it's good for the infantry community. If we want to retain good people and make sure that we're having a more mature, more proficient force, it all starts here in the schoolhouses, and we've got to be able to bring our very best infantry men into the schoolhouse to teach our entry-level trainees."
Combat instructor was one of three specialized Marine Corps jobs to lose special duty assignment status in 2017, in what Marine planners at the time said was an effort to set thousands of Marines free from the limbo of the 18-month SDA selection process. At the time, Col. Rudy Janiczek, head of enlisted assignments for the Marine Corps' Manpower Management Division, told Military.com that, unlike drill instructors, who retained SDA status, combat instructors' duties did not fall strictly outside of their primary infantry military occupational specialty.
While combat instructors retained some perks, like a special ribbon and additional monthly stipend of $150, the incentives were subdued compared to those for SDAs, which can include $450 in extra pay per month and fast tracks for promotion. Morris added that SDA status would require the Marine Corps to prioritize the job for highly qualified Marines, potentially at the expense of other billets.
"And right now, the service is in the final sort of stages of studying that and making sure that we fully understand what the impact is of making combat instructors a special duty assignment," he said. "Again, I'm optimistic that it's going to happen in the near future."
More changes may also be on the way for instructors in keeping with the Corps' new approach to infantry training. Col. Coby Moran, commanding officer of School of Infantry-West, said he'd like to see opportunities for instructors to stay longer in the billet and advance as they develop skills and expertise. One option would allow Marines to make a career of combat instructor duty, rather than dropping into the job for a three-year tour.
"We'd work up the instructor progression chain from, you know, baseline instructor to journeyman instructor to eventually a master instructor," Moran said. "And that becomes kind of an MOS pipeline that you can fill as an infantry Marine, if you choose to do so, and literally stay in your MOS the entire time you're in the Marine Corps. ... I think that is a vision of the future between what may become with the SDA assignment and training commands' initiatives with the instructor, the formal instructor MOS, which they're pursuing right now."
Editor's Note: This story has been updated to correct Pasciuti's rank.
-- Hope Hodge Seck can be reached at hope.seck@military.com. Follow her on Twitter at @HopeSeck.
Related: 'They Just Want it More:' Meet the First Women to Become Marines at Recruit Depot San Diego