Department of Veterans Affairs Secretary Denis McDonough wants more veterans who believe they were sickened by exposure to burn pits overseas to seek help from the department, despite many being turned away.
"We're urging vets to come forward with their claims," McDonough said at a press briefing Monday. "Our commitment is to treat each claim with the care it deserves. As we get more claims, we can aggregate those claims to draw bigger conclusions."
As of March 31, the VA had denied 72% of burn pit claims, according to agency data obtained by Military.com. Between June 2007 and March 31, the VA processed 15,640 disability compensation claims related to burn pit exposure. Of those, 3,510 veterans had at least one burn pit issue granted.
Read Next: The Marine Corps Is Known as a Force of Young Warriors. That's About to Change
The top three diagnoses related to burn pits are bronchial asthma, chronic bronchitis and allergic rhinitis, according to department data. The most common reasons for a veteran to be denied is not having a diagnosed medical condition or being unable to connect the condition to their service -- 43.1% and 42.8% of denials, respectively.
But the data doesn't reflect the scope of the issue. The number of patients filing claims might be disproportionately small given VA estimates that 3.5 million veterans have been exposed to burn pits since 1990. It is unclear how many are sick due to their exposure or have died as a result.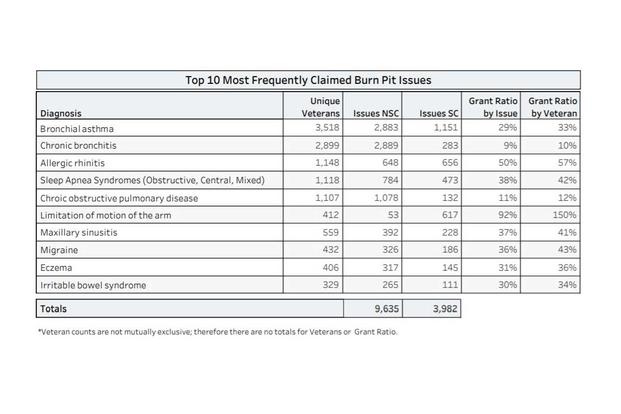 McDonough suggests that more data is needed, and he wants more veterans to seek help from the VA so officials can get a better grasp on the issue.
The burn pit data also could be inherently flawed. To get the data, the VA had to use text mining, searching for keywords such as "burn pit" and "burn pits" in its patient databases, according to department records. This means patients coming forward with issues related to burn pits might not automatically be listed as burn pit patients if that phrase wasn't used in their records.
Out of the 2.5 million Global War on Terrorism veterans, 781,384 have filed claims related to respiratory issues. According to VA data obtained by Military.com, 63% were granted. Of all the GWOT veterans, 42,686 filed for claims related to cancer; 37% of those claims were granted.
The VA's research shows GWOT veterans are three times more likely than non-deployed veterans to file claims related to respiratory issues and twice as likely to file claims for cancer.
"Although the GWOT-deployed and GWOT non-deployed population sizes are relatively the same, the GWOT-deployed cohort has more than two times the number of service-connected cancers," according to the agency's findings.
Burn pits are often referred to as the post-9/11 generation's Agent Orange, referencing the bureaucratic maze and uneven claims process veterans have to navigate, and what could be a decades-long legislative fight to issue easy-to-access health care and disability compensation.
The House and Senate Veterans Affairs Committees and advocacy groups have made toxic exposure the top issue this year. Congress is looking at some two dozen bills, ranging from incremental improvements to sweeping health care bills for all 3.5 million veterans exposed to burn pits and other toxic environments.
But it's unclear what can actually make it to President Joe Biden's desk. Some lawmakers and advocates are concerned over what is very likely to be a huge tab to cover the cost of opening the VA up to a huge swath of new patients.
-- Steve Beynon can be reached at Steve.Beynon@military.com. Follow him on Twitter @StevenBeynon.
Related: Lawmakers Rush to Introduce Relief Bills as Military Toxic Exposures Come to Light