For the first time, Sikorsky, a Lockheed Martin subsidiary, flew its Future Attack Reconnaissance Aircraft prototype in two demonstrations this week for service leaders and soldiers at Redstone Arsenal in Huntsville, Alabama.
In demonstrations Tuesday and Thursday, the S-97 Raider, which is based on the company's X2 coaxial-rotor technology, flew high-speed passes, hovered and showed off its maneuverability, according to a Lockheed Martin news release.
Sikorsky's S-97 is competing against Bell Textron Inc.'s 360 Invictus single-rotor prototype helicopter for the Army's FARA program, designed to fill a capability gap left by the retirement of the OH-58D Kiowa Warrior scout helicopters. FARA is the Army's top priority in the Future Vertical Lift, or FVL, effort, which modernization officials see as a critical tool for penetrating enemy air defense networks.
Read Next: COVID-19, Civil Unrest: Have Too Many Homeland Missions Damaged Trust in the Military?
"Since the first [UH-60 Black Hawk] took to the skies in the 1970s, to when our teams broke helicopter speed records with X2 Technology in 2010, we have been working with our Army partners to develop and deliver low-risk, transformational, affordable and sustainable aircraft to support the warfighters' missions," Sikorsky President Paul Lemmo said in the release. "This is the first of what we believe will be many times our X2 Future Vertical Lift aircraft will fly at Redstone."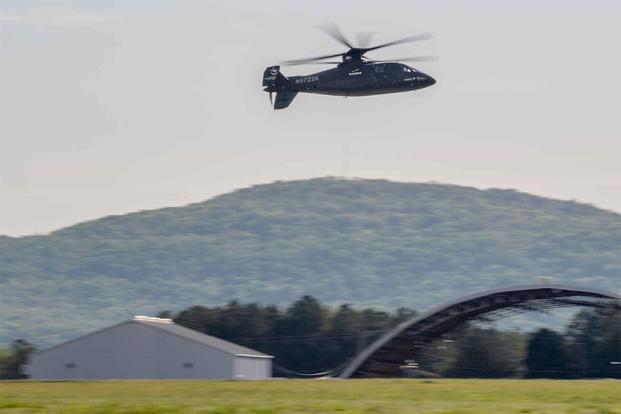 Sikorsky test pilots Christiaan Corry and Bill Fell piloted the S-97 at both demos, highlighting the low-level maneuverability and high-speed capability that only Sikorsky's X2 Technology family of helicopters offer, according to the release.
"Flying Raider continues to amaze me," said Corry, a former U.S. Marine with more than 4,500 flight hours in 25 types of aircraft, including the CH-53E and CH-53K helicopter variants. "The combination of the coaxial rotors and the [rear-mounted] propulsor are really the enablers for this transformational technology. As we demonstrated today, in low-speed flight we are as capable as a conventional helicopter, but when we engage the [rear] prop, we are able to operate in a whole new way -- it's much more like flying an airplane."
In addition to the FARA competition, Sikorsky and Boeing are competing in the Army's Future Long-Range Assault Aircraft, or FLRAA, effort to replace the service's UH-60 fleet. Like the S-97, the Sikorsky-Boeing Defiant X features the X2 technology and the rear-mounted propulsor rotor, which is designed to increase the speed of the aircraft.
"Through this week's Raider flight and our ongoing test program with Defiant, we are demonstrating the future of Army Aviation," Kevin Mangum, Lockheed Martin vice president of Army programs, said in the release. "With Raider X, we will fill a critical Army capability gap, providing the speed, reach, lethality and convergence to fight and win on the ... battlefield, today and into the future. Defiant X will be the world's best assault aircraft -- like our great Black Hawk -- for decades to come."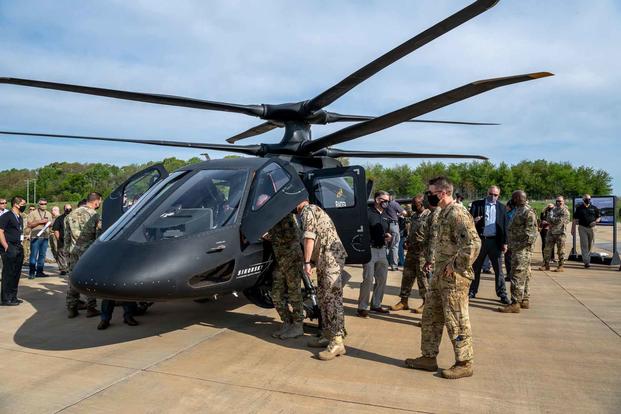 Bell Textron is also competing in the FLRAA effort with its V-280 Valor tilt-rotor helicopter prototype.
Lockheed Martin officials also touted Sikorsky's FVL prototypes for the actional maintenance data they will provide, allowing commanders to accurately diagnose maintenance issues and predict aircraft availability, which increases operational readiness.
With Sikorsky's Fleet Decision Tool, commanders can aggregate data from individual aircraft based on operational requirements, aircraft health assessment and maintenance flow to ensure they're optimizing readiness and aircraft availability across the entire fleet, according to the release.
"This means that I, as a commander, could look at my aircraft battalion and understand the health of each one of the aircraft and prioritize the right aircraft for the next mission," Mangum said in the release. "This positions us to meet the Army's maintenance-free operating periods in which Raider X and Defiant X helicopters could operate without the need for service for an extended period of time."
-- Matthew Cox can be reached at matthew.cox@military.com.
Related: Down to 2: Aircraft Will Compete to Replace the Army's Apache, Kiowa