They were members of the Greatest Generation at the sunset of their lives. They were in their 20s and looking forward to a future of service and family. They were war heroes and silently serving family members. All of them understood the meaning of service and made a lasting mark on the lives of their loved ones.
Of the more than 550,000 Americans who have died from COVID-19, 328 were U.S. troops, military family members and civilian workers. At least another 11,000 have been veterans -- a community hit hard by a virus to which older adults are particularly susceptible.
More than a year into the pandemic, these are the stories of five members of the U.S. military community lost to COVID-19, as told by those who knew them best.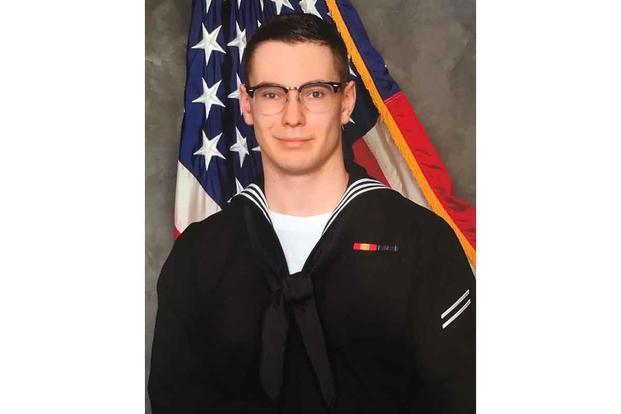 1. Navy Information Systems Technician (Submarines) 2nd Class Cody Myers
Asher Myers, 1, will grow up knowing his dad only through videos, photos and family anecdotes. His mother, Mallory, lost her best friend, 26-year-old Cody Myers, to COVID-19 on Feb. 4, 2021.
"I loved Cody's drive to make everyone's day a little brighter," Mallory Myers said in an email to Military.com. "He constantly put everyone above himself and never wanted anyone to feel left out. He was a lover of people and made friends everywhere he went."
Navy Information Systems Technician (Submarines) 2nd Class Cody Andrew-Godfredson Myers joined the service in 2016 for the promise of a career and stability for the family he aspired to have with Mallory, whom he took to the Rainforest Cafe for their first date on Valentine's Day, 2014.
The couple "fell hard," and Myers proposed right before he shipped off to basic training. They married afterward and settled into a Navy lifestyle they loved -- the chance to explore new places, the family dynamic of the submarine community, and the opportunity to excel at a job Cody genuinely enjoyed, Mallory said.
The year 2020 challenged just about everyone across the globe, but for the Myers family, it was marked by milestones: Their first child arrived in February; the couple bought their dream home in June; Mallory completed her bachelor's degree; and Cody finally bought the truck he'd coveted for years, a new Toyota Tacoma.
"It was a big year. Lots of awesome changes for us. We had dreams of having a sibling for our son, taking lots of camping trips and many more years in the Navy," Mallory said.
But none of those dreams will come to pass. On Jan. 18, 2021, Cody, who served on the Kings Bay, Georgia-based ballistic missile submarine Tennessee, told commanders he had come in contact with someone off base who tested positive for COVID-19. Myers tested negative and was placed in quarantine, where he later developed symptoms of the illness.
Nearly two weeks after he was placed in isolation, Myers was admitted to Naval Hospital Jacksonville. The next day, he was transferred to the intensive-care unit at University of Florida Health Shands Hospital in Gainesville, where he was diagnosed with COVID-19.
He died four days later, with only nurses and physicians by his side.
"Not being able to say goodbye is the hardest part," Mallory said.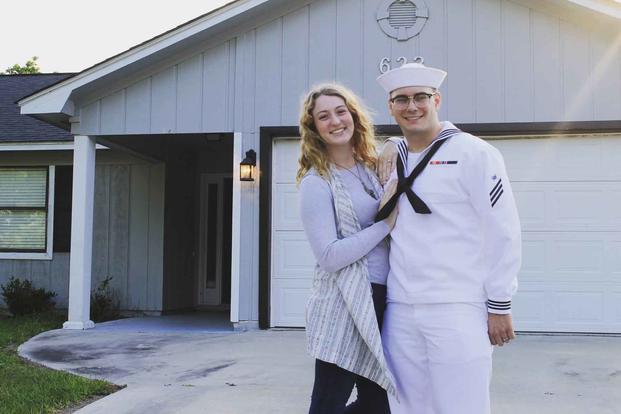 At 26, the sailor who "loved all things nerdy, Star Wars, Harry Potter, Lord of the Rings" became the second-youngest service member to have died from the coronavirus. Army Pfc. Jeffrey David, 23, died three weeks after Myers at Madigan Army Medical Center, Washington, from complications of COVID-19 and sepsis.
People under age 34 account for less than 1% of all U.S. coronavirus deaths, according to the Centers for Disease Control and Prevention. Why Myers was among those, the family will never know. He had no underlying health conditions, according to Mallory.
Myers' family hopes that when the pandemic ends, they will celebrate Cody's life at T-Mobile Park, home of the sailor's favorite baseball team, the Seattle Mariners. Mallory said she misses him deeply, and that the world could "use more Codys."
"Moving forward without his contagious spice for life is going to be the hardest challenge I've ever faced," she said.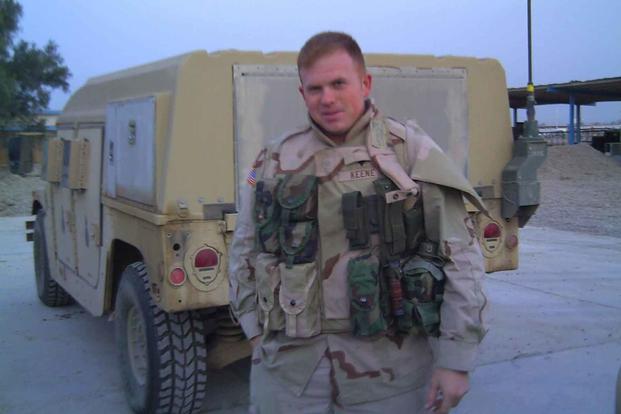 2. Michael Keene, U.S. Army Veteran
Nicole Keene wasn't married to husband Michael when he served in the U.S. Army. So she was grateful when one of his battle buddies sent a "daddy doll" -- a large, huggable pillow emblazoned with her husband's photo -- to the couple's two-year-old daughter, Adalynn, after Michael died.
"I didn't know what they were until he sent one. It's kind of like a body pillow," she said of the staple in many military families. "She sleeps with it every night, and I tell her every night to tell daddy about her day and she gives him a kiss."
Adalynn lost her father to COVID-19 on Oct. 28, 2020, two days after her baby brother, Michael Wesson Keene, was born. The former Army sergeant never knew he had a son.
"[His care team] advised me not to tell him I had the baby. They said it probably wasn't a good idea because he might get really agitated and risk being intubated again," Nicole Keene remembered.
Keene was born Aug. 1, 1981, in DeLand, Florida. He served in the Army for 12 years as a light-wheel vehicle mechanic and deployed to Iraq and Afghanistan four times, including one tour during which he was wounded, sustaining a head injury when he was blown out of a truck by an explosion.
After he was honorably discharged, Keene settled in San Antonio, where he worked as an automobile mechanic and met his love, Nicole. The pair married and moved to Lexington, Kentucky, to start a family. First came Adalynn, then a complicated pregnancy with Michael Wesson, during which she nearly lost the baby. It was during this troubling time that husband Michael woke up Oct. 4, 2020, with a scratchy throat and fatigue.
The next day, he tested positive for COVID-19.
"We weren't worried. He was healthy. He had nothing associated with COVID, like diabetes or high blood pressure. Even his military disabilities weren't going to affect it," Nicole said.
But Keene developed a fever of 104.5, so they took him to the Lexington Veterans Affairs Medical Center. Nicole wasn't allowed in because of pandemic restrictions. Keene returned to the car and told Nicole that he was told he "could have a fever of 108 before they would get worried."
"I didn't believe him. But he was like, 'I swear to God that is what they said," Nicole recalled.
The couple went home, and Nicole, a respiratory therapist, attempted to manage her husband's symptoms. When his home pulse oximeter reading fell to 83%, Nicole insisted they go to the University of Kentucky Medical Center.
By Oct. 10, Keene was in the ICU and placed on a ventilator. But he managed to fight the illness. On Oct. 26, he was removed from the vent, the same day Nicole noticed the baby growing inside her hadn't moved. She underwent an emergency cesarean section at another hospital, but Michael Wesson Keene was born not breathing. He needed to be resuscitated -- a process that took 15 minutes -- and he was immediately transferred to a hospital that could handle a compromised infant. He was whisked to the same facility where his father remained in intensive care.
On Oct. 28, Nicole and her husband shared a video call, but she didn't tell him that she had had the baby, nor did she share that they were in the same hospital. Keene remained confused as a result of having been on the ventilator, and she didn't want to upset him. On the call, Keene kept telling Nicole over and over that he loved her.
Those were the last words she heard from her husband. Unbeknownst to doctors, a blood clot had formed in his leg during his hospital stay and was traveling to his lung to cause a pulmonary embolism soon after their call ended.
He died without knowing he'd had a son.
"Looking back, I wish I had just told him. Maybe he would have heard it," Nicole said.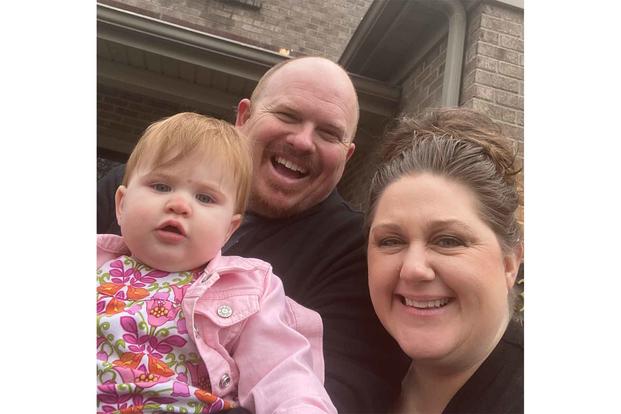 Keene kept a journal in which he sketched diagrams, wrote notes and made lists -- of national parks he wanted to see with his family, of the guns he wanted to build and the cars he'd owned or wanted to learn about. He was meticulously organized, a hard worker, a devoted father and true friend, according to Nicole.
He was, she said, "one of the good guys."
"He was very trustworthy, very genuine, very loyal. ... He deserves to still be here," Nicole said.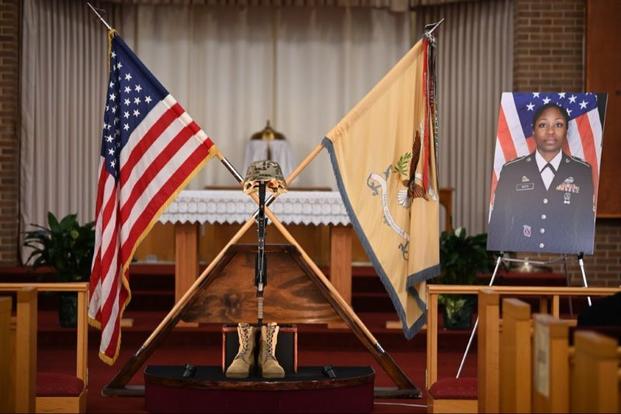 3. Army Master Sgt. Lisa Maria Soto
Lisa Maria Soto once aspired to become a warrant officer in the U.S. Army but instead rose in the enlisted ranks, achieving the rank of sergeant first class and raising three boys, Johnny, Jalen and Dondre.
Having achieved 20 years of military service, Soto was planning for military retirement and life as a civilian. But on Jan. 2, 2021, the soldier, described by her former husband as "one of the most nurturing people that has ever graced this world," died at age 38 in the same place her Army career began: Fort Lee, Virginia.
"She was a beacon of hope for all of those who needed encouragement or a listening ear," said ex-husband Johnny Soto during a Feb. 5 service at Fort Lee's Memorial Chapel.
Soto enlisted in 2000 and attended school at Fort Lee before receiving her first assignment, as an armorer with the 95th Military Police Battalion in Mannheim, Germany. There, she said she learned the fundamentals of leadership from her senior leaders, including noncommissioned and warrant officers.
"I was taught how to drive for the first time. I was shown that there were still great leaders," she said during an interview in Fort Jackson, South Carolina, in 2009.
And drive she did. In 2004, she deployed to Camp Arifjan, Kuwait, and to Talil, Iraq, in 2005. She went to Afghanistan in 2011. She earned the Meritorious Service Medal, the Army Commendation Medal with two silver oak leaf clusters, and the Army Achievement Medal with three bronze oak leaf clusters. She had a Combat Action Badge.
"She took taking care of soldiers and teaching them seriously and with a passion that was noticed by all," said Lt. Col. Denis Fajardo, commander of the 244th Quartermaster Battalion, during her memorial.
But Soto was more than a soldier. She loved to read and enjoyed the outdoors. She was a devoted friend, family member and mother, "a rock, a protector and provider," according to her obituary. She "brought smiles to her children every single day."
"You are irreplaceable and I couldn't have asked for a better mother to my sons," Johnny Soto wrote on her memorial wall.
Soto is one of eight active-duty service members who have died from COVID-19 and the only woman among 24 service members, including the National Guard and Reserve. She leaves a hole in her family that her twin sister, Letha Pearson, is filling, raising her nephews as she thinks her sister would.
Soto's outlook on life, "Always on top, even when I'm down," remains atop her Facebook profile. And her advice to young soldiers, scribed in an Army profile of her work in 2009 at Fort Jackson, is wisdom from which everyone can draw:
"Take life one day at a time, but think of time beyond today. ... Set goals and strive for them."
As a reflection of Soto's impact on young soldiers, the Army posthumously promoted her to master sergeant on Jan. 4.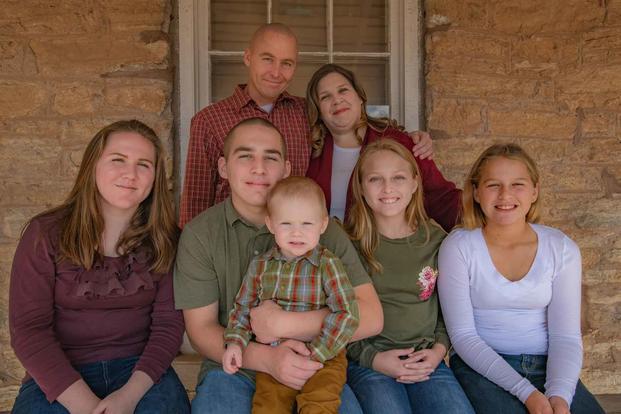 4. Anna Bell Carter, Daughter of Marine Corps Chief Warrant Officer 4 Joshua Carter
Anna Carter, 13, wasn't feeling so hot the week of July 6, 2020. She felt slightly nauseous and was fatigued, but nothing so serious that it kept her from attending dance class Monday and Tuesday. For Anna, who aspired to be an actor, a dancer or the rare "triple threat" that includes singing in the theater world, jazz class was the next step to a life in the performing arts.
"It's what she wanted to do. I couldn't see her doing anything else. She could light up a room," said her mom, Amber Carter.
At age 10, Anna was diagnosed with scleroderma, an autoimmune disorder that causes one's body to produce excess collagen. But while the illness can leave a person susceptible to infections, pain and fatigue, it never stopped Anna, who played soccer, ran and loved climbing trees with her friends, according to her mom.
Still, Anna usually got the flu every year and picked up random bugs. So when she threw up after her second day of dance class near Fort Sill, Oklahoma, where the family lived, Amber decided to keep her home. But neither Amber nor her husband, Marine Corps Chief Warrant Officer 4 Joshua Carter, suspected COVID-19 since the family had adhered to base and local pandemic protocols and had even canceled their planned spring break trip to Legoland near Dallas.
By that Friday, Anna seemed to be better. She had some cereal in the morning and retreated to her bedroom to rest. But when she came down in the afternoon, "she looked awful," Amber recalled, and they decided to see a doctor.
At Comanche County Memorial Hospital, Anna walked into the emergency room, fully expecting to "get some fluids or something" and go home. "She was fine. Until she wasn't," her mother said.
Once at the ER, Anna was triaged and sent to a room for a warming blanket and to see a doctor. While there, she started violently throwing up, and Amber sensed something terrible was happening. She screamed for a doctor.
"I told them to come. I think I yelled that she was dying," Amber recalled.
Between retches, Anna kept telling her mother she would "be fine."
But those were her last words, according to Amber. Anna looked to the side, opened her eyes wide, "and then she was gone," Amber said.
"I'm pretty sure I saw her soul leave her body," said her mother.
Anna's COVID-19 test at the hospital came back positive. Her entire family, in fact, tested positive for the virus following her death.
Amber said she has no idea where they got it -- maybe work, the grocery store, the gas station. She had what she thought was a sinus infection the week before Anna died but wasn't tested for COVID-19 at the urgent care clinic.
"It was probably me. They didn't test me for COVID. They treated me for a sinus infection. Had they tested me, then we all could have been tested. Who knows what the outcome would have been?" Amber said.
Anna's death has forever altered the Carter family. They greatly miss the spirited daughter, who loved Japanese food, played pretend dinosaurs frequently with her brother, gave performances daily and whose smile brightened everyone's lives.
Her father had planned this year for a one-year unaccompanied tour to Anna's favorite duty station, Okinawa, followed by a family move to Camp Lejeune, North Carolina. Instead, they bought a home in Lawton to be near Anna, buried at the Fort Sill National Cemetery, and Joshua will retire from the Marine Corps next summer.
The couple has started the Anna Bell Carter Memorial Foundation to provide scholarships for students with scleroderma. They also are taking their message to parents to be mindful of the virus' impact on kids and encourage people to follow protocols, get tested and get the vaccine.
They don't want families to brush off Anna's death as related to her underlying health conditions. She was healthy and vibrant despite her condition, they say.
"Don't be so prideful that you think you're tougher than this disease," Joshua Carter said.
5. Paul Franklin, WWII Veteran
Paul Franklin was 23 when he was given the task of guarding more than 400 Japanese war criminals after World War II, including the notorious Tokyo Rose and former Prime Minister Hideki Tojo.
Franklin had served during the war in the Philippines, where he saw the aftermath of atrocities by Japanese troops, and he landed with U.S. forces in Japan shortly after President Harry Truman ordered the nuclear attack on Hiroshima and Nagasaki.
So when Tojo made a suicide attempt -- his second -- under his watch, Franklin questioned whether he should save the man who directed Japan's war on the United States.
"Soaked by his blood, I knew we had to keep him alive. He had to face his punishment for what he had done," his oldest grandson, South Carolina Army National Guard Maj. Kyle Franklin, recalls him saying.
Franklin and a handful of the 135 guards he oversaw at the prison carried Tojo to the infirmary, where his wrists were stitched up and he lived to stand trial, later to be hanged in the gallows.
During his stint overseas, Franklin met numerous VIPs, including Gen. Douglas MacArthur and Emperor Hirohito. He spoke often to Iva Toguri, or Tokyo Rose, an American citizen who was the host of an hourlong Japanese radio broadcast during the war.
"These people were alive. Real. And my grandfather was able to get to know them personally. My grandfather was living history. As long as he was alive, they were still alive," Kyle Franklin said.
Paul Franklin returned home in 1946 to his wife, Margie, and 3-year-old son, Paul. He made a career as a radio technician and in radio communications and had two more children, Phillip and Ginger.
According to grandson Kyle, Franklin "was a sincere man who never smoked, never drank, never gambled and who recorded sermons on Sundays to take them to shut-ins in Haughton, Louisiana, where he spent most of his life.
His experiences in World War II never left him. Even as he aged and his body and mind began deteriorating, he could recall the challenges he faced and the experiences he had -- the smells of the jungle, the devastation in Japan, meeting famous people, Kyle Franklin said.
"He was a humble man. He would not brag. But the military was always there. All the things he did, you would not know he ever did," Kyle said.
Franklin died Jan. 12, 2021, at the age of 98 from COVID-19 at the Northwest Louisiana Veterans Home in Bossier, one of 28 deaths at the facility related to the coronavirus. According to Kyle Franklin, his grandfather moved to the home several years ago.
"They did such an awesome job taking care of him. ... The last four years there, he lived a great life. He was just happy," Kyle said.
Franklin was an active member of the Veterans of Foreign Wars and was awarded the Louisiana governor's Veterans Honor Medal in 2018. As part of the ceremony, a roll call was taken, and former First Sgt. Franklin made sure his presence was known, Kyle said.
"My grandfather in a wheelchair grabbed the sides of that wheelchair and he stood straight, chin up, chest out, medals on his chest. It took him everything he got, but he did it," Kyle said. "He was just a great example for all of us to follow."
-- Patricia Kime can be reached at Patricia.Kime@Monster.com. Follow her on Twitter @patriciakime.
Related: Groundbreaking VA Study Shows How Long COVID-19 Vaccine Immunity May Last