Several training cadre members at Fort Sill, Oklahoma, were suspended this week following allegations they sexually assaulted a trainee.
Maj. Gen. Ken Kamper, commanding general of the Fires Center of Excellence and Fort Sill, told reporters at a press conference Thursday that an investigation was immediately launched after the accusations were made, and the cadre members were swiftly suspended.
The incident was initially reported by the Lawton Constitution, an Oklahoma newspaper.
Read Next: Female Cadet Sets New Record for West Point's Punishing Obstacle Course
"A soldier assigned to Fort Sill reported she was a victim of sexual assault by Fort Sill cadre members," Kamper said. "This information was immediately reported to law enforcement and [Army Criminal Investigation Command]. They conducted their initial interviews that very day and continued every day since."
Kamper declined to specify how many cadre members had been suspended or when the alleged sexual assault took place. The alleged victim, who was not hospitalized, filed a report Saturday.
"This soldier that came forward is absolutely safe," he added. "She had a special victim's counsel and access to all services. We're proud of the courage she displayed coming forward with these allegations. We will stay connected with this soldier and her family."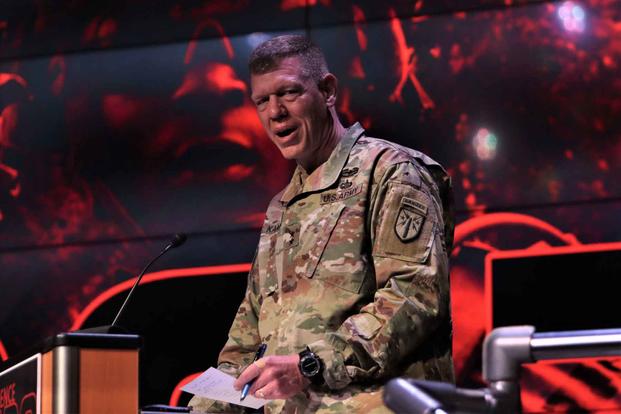 It is unclear whether this was an isolated incident or if there are more potential victims. Details on the alleged victim and those who were suspended, including names and ranks, are being withheld during the investigation.
"We want to know more; we will investigate anything else that emerges. We have the resources and the full support of Army senior leaders," Kamper said.
A press conference immediately following allegations of a sexual crime is rare. But the military is facing a reckoning with widespread sexual assault and harassment in the ranks and how transparent and effective the force has been with investigations.
After Spc. Vanessa Guillen's bludgeoning murder last year at Fort Hood, Texas, an Army investigation found both male and female soldiers described a culture of sexual harassment and bullying that was pervasive and ignored by leadership.
Guillen's death became a flash point for the military's poor handling of sexual crime investigations and leadership ignoring the concerns and allegations of women in the ranks. At least 14 Army officials were fired or suspended in the aftermath. Since then, Congress has held multiple hearings on the troubling issues at Fort Hood and sexual assault in the military as a whole.
-- Steve Beynon can be reached at Steve.Beynon@military.com. Follow him on Twitter @StevenBeynon.
Related: Even Staying Silent Doesn't Always Spare Sexual Assault Victims from Retaliation, Study Finds