Army maneuver officials are pushing for additional testing of aerial resupply by autonomous drones -- which could become a dependable lifeline for delivering ammunition and water to combat units when they need it most.
Soldiers with the service's Experimental Force, or EXFOR, at Fort Benning, Georgia, just completed the Army Expeditionary Warrior Experiment (AEWE) 2021, using commercial autonomous quadcopters to fly ammo for the M240 machine gun, M249 squad automatic weapon and M4A1 carbine to units fresh out of gunfights during the force-on-force portion of the exercise.
EXFOR, a company-sized unit, ran 15 resupply missions using drones designed to carry loads between 80 and 150 pounds. They delivered supplies directly to unit positions instead of relying on manned convoys or helicopters, which require security and can endanger more lives in combat.
Read Next: Some Lawmakers Defend Tucker Carlson After Comments Against Female Troops
One of those missions was the emergency resupply of a unit in a defensive position, Ed Davis, director of the Maneuver Battle Lab, told an audience March 9 at an event to discuss key AEWE insights.
"They had about a 45-minute fight; they used up a lot of ammunition, so they had an emergency resupply come in," he said. "Two birds flew in formation and came in. One dropped off behind one squad. The other dropped off behind another squad, and the same bird had a second drop.
"This is the notion that you can get supplies forward to prepare for counterattack or potentially press the attack," Davis said. "You want to end the attack on your terms, not necessarily because you need ammo."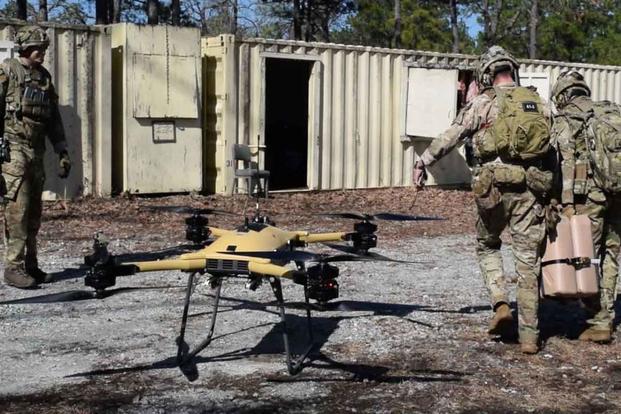 Out of the technologies from 26 defense companies taking part in this year's AEWE, quadcopters from Bell Textron and Malloy Aeronautics were among the few that could reach the maneuver force, officials said.
Capt. Chris Lapinsky, commander of EXFOR's A Company, 1st Battalion, 29th Infantry, sees drone resupply as a reliable alternative to resupplying troops by ground convoys and helicopters, which are often complex and dangerous in combat environments.
"I don't think it's a matter of if the Army is going to go to these; it's going to happen," Lapinsky told Military.com. "It's just, what is it going to look like in the end state?"
Drone resupply has also impressed XVIII Airborne Corps Commander Lt. Gen. Michael "Erik" Kurilla enough to sign a memorandum of endorsement of the concept for testing at the infantry brigade combat team, or IBCT, level, Davis said. But it's still unclear when the Fort Bragg, North Carolina-based command will receive aerial resupply drones and testing could take place.
"Gen. Kurilla has endorsed this; his [deputy commander] came down for a demonstration during the event, so they are excited about getting it," Davis said. "We just have to push the Army to try to get these systems into an IBCT ... because there is not a whole lot more we can do with them."
The concept is part of a larger effort, known as the Joint Tactical Autonomous Aerial Resupply System, involving the Maneuver Center of Excellence, the Sustainment Center of Excellence, the Army Research Laboratory and the Marine Corps, Davis said.
As a former observer controller at the Army's Joint Readiness Training Center at Fort Polk, Louisiana, Lapinsky has watched combat leaders wrestle with the challenges of trying to get ground and air resupply missions through enemy-held territory.
"If the [unmanned aircraft system] goes down, so what? You lose some ammo, you lose an aircraft that's probably 3D-printed ... versus having an entire convoy with fuel and stuff getting taken out with the soldiers," he said.
It took about 20 hours of training for troops to become proficient enough to prepare the quadcopters for a mission, including programming the flight plan and securing the supplies to the drones.
A unit's platoon leader or platoon sergeant would call in the request for resupply. The system was set up to make ordering easy.
"We had built a couple of tailored packages, so that way I could quickly say, 'Hey, send package two,' which was primarily 7.62mm, or, 'I need a mix of squad ammo as well as weapons squad ammo,'" Sgt. 1st Class Joel Rockhill told Military.com.
The smaller drones, which could handle 80 pounds, carried packages such as 400 rounds of belted 7.62mm for the M240, about 500 rounds of belted 5.56mm for the M249, and another 500 to 600 rounds of loose 5.56mm rounds for M4A1s, he said.
The larger drones, which could carry up to 150 pounds, could deliver 2,000 rounds of 7.62mm and still have about 10 pounds of capacity to spare, Rockhill said. He added that the resupply drones also could carry other necessities such as two, five-gallon water cans strapped together.
Because of their compact size, the drones being tested could land in tight places in both urban and woodland terrain, as long as there was a 25-foot by 25-foot open area, Rockhill said.
"We did everything from dropping off on top of buildings to in the middle of the woods," he said.
The autonomous drones were able to fly to the drop-off point on their own, but units will have to become proficient at taking control of them in case battlefield conditions change at the planned destination, Lapinsky said.
"Whoever is receiving that thing on the ground needs to have the ability to take control of it at some point in time because if the situation on the ground changes or you want to change the drop point, the guys on the ground would be the best poised to redirect that," he explained. "The capability is there; we just weren't able to utilize it at this AEWE."
Editor's note: This story has been updated to correct how long it took for soldiers to become proficient in using the drones.
-- Matthew Cox can be reached at matthew.cox@military.com.
Related: Army Maneuver Officials Want to Buy Ammo Resupply Drones and Give them to BCTs