As Marines prepare to deploy aboard a British aircraft carrier, F-35B Joint Strike Fighter jets are conducting sea trials on another European ally's ship.
About 180 personnel from Naval Air Station Patuxent River, Maryland, are spending four weeks aboard the Italian aircraft carrier Cavour for sea trials. Pilots from Air Test and Evaluation Squadron 23 are operating F-35Bs from the Italian navy's flagship to prove the carrier is ready to operate the Lighting II aircraft.
"Supporting our Italian allies in certification of their aircraft carrier increases our collective experience in safety and combat abilities," Vice Adm. Andrew Lewis, commander of U.S. 2nd Fleet, said in a statement when the ship arrived in Virginia. "We are stronger together."
Read Next: Marines Need Funding for Missiles that Can Target Chinese Ships, Top Pacific Admiral Says
The ship is sailing in the western Atlantic during the trials. The test pilots are operating the short takeoff and vertical-landing variant of the F-35 as the Italian navy prepares to operate its future F-35B aircraft at sea.
"It is a remarkable achievement for all of us today to see the fifth-generation fighter aircraft on our flight deck," Italian Capt. Giancarlo Ciappina, Cavour's commanding officer, said in a news release about the trials. "This represents, indeed, an outstanding success but -- at the same time -- a new challenge for the future of Italian naval aviation."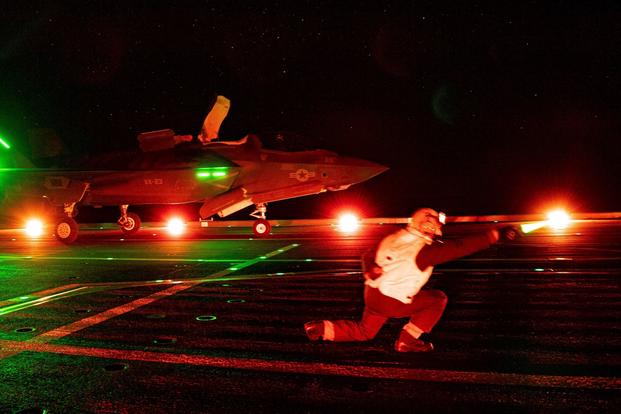 Italy plans to buy 30 F-35Bs to be split between its navy and air force, Defense News reported in October. The country's navy wants to swap its aging AV-8 jets on the carrier with F-35Bs, according to the outlet, while the air force plans to use the aircraft for expeditionary missions where it can operate from short runways.
The navy so far has received two F-35Bs, and Italian crews are training with them at Marine Corps Air Station Beaufort in South Carolina, according to The Drive.
The United Kingdom's aircraft carrier Queen Elizabeth conducted similar tests with Marine F-35B fighters in 2018. In January, defense officials from the U.S. and U.K. signed an agreement to deploy ships and fighter aircraft from both countries in the form of a combined carrier strike group.
Marine F-35B aircraft and the U.S. Navy destroyer The Sullivans will participate in that deployment this year.
-- Gina Harkins can be reached at gina.harkins@military.com. Follow her on Twitter @ginaaharkins.
Related: US, UK Sign Agreement to Merge Forces for Historic Joint Carrier Deployment