The house on Glendale Circle aboard Marine Corps Base Hawaii couldn't have been better located. It occupies a corner lot not far from a splash park and community center, is near the beach and walking trails, and its lanai, or patio, overlooks a military training range and the Ulupau Crater, an ancient volcano on Oahu's windward coast.
The Rudd family -- Master Sgt. John Rudd, wife Tammy and their three children -- moved into the freshly painted four-bedroom duplex in June 2019. When they accepted the home from management company Hunt Military Communities, they had few concerns, except that the home's fire detectors weren't operable, having been removed during the maintenance turnover from the previous tenant.
But that small issue, unaddressed, would ultimately cut short the family's residence. The months that followed would include a destructive fire, and the Rudds would be saddled with a $32,000 bill for damages. While in the end they were not forced to pay the bill, the ordeal left them disillusioned, homeless and wanting to warn other military families about their nightmare experience.
In conversations with Military.com, a Hunt representative said she could not immediately speak to the specifics of the Rudds' fire detector claims, but added that it is company policy to have smoke detectors installed before tenants move in. She said the family's bill was reversed when the fire was determined to be accidental, though the Rudds maintain that the issue was resolved only after a military family advocate stepped in.
Read Next: Air Force Wing Commander Fired Due to 'Loss of Trust and Confidence'
The Rudds say they had requested that the alarm systems be reinstalled in their home after they moved in, but months passed without action to fix the problem. According to the Rudds, they filed a second work request for the repairs, noting that their lease prohibits tenants from tampering with smoke detectors.
When that inquiry went ignored, Rudd installed a temporary smoke alarm near his kids' bedrooms, and the family went on with their lives. Photographs from the beginning of their occupancy of the home show the smoke detectors were not installed.
Their happy, if slightly hazardous, tenancy ended Dec. 23, 2020, when a lithium-ion battery on John's electric bike exploded in their garage.
The blast buckled the garage door, ignited everything within 10 feet and sent smoke billowing into the house -- all without ever triggering a smoke alarm. The devices that were supposed to be reinstalled by Hunt 18 months earlier sat silently on a shelf where they'd been placed, and smoke never reached the alarm Rudd had put near the kids' bedrooms, according to photos.
Fortunately, it was 11:30 in the morning. Rudd was at work, and his family was getting ready to go grocery shopping for Christmas.
"It sounded like there was a big truck ramming into the garage door," Tammy Rudd said. "I immediately grabbed my youngest, who was in the backyard; my eight-year-old was playing a video game. ... My 19-year-old was upstairs in the shower. I walked out and saw smoke billowing out of the garage and the garage door bowed out. At that point, I started freaking out."
After several frantic minutes that included 8-year-old Tobias running into the house to alert his older sister, the family got out and the fire department arrived, extinguishing the blaze and leaving behind access holes, charred belongings and a house full of soot.
The Rudds spent that night and the next four in a temporary home provided by Hunt, grateful to be alive and celebrating the holidays.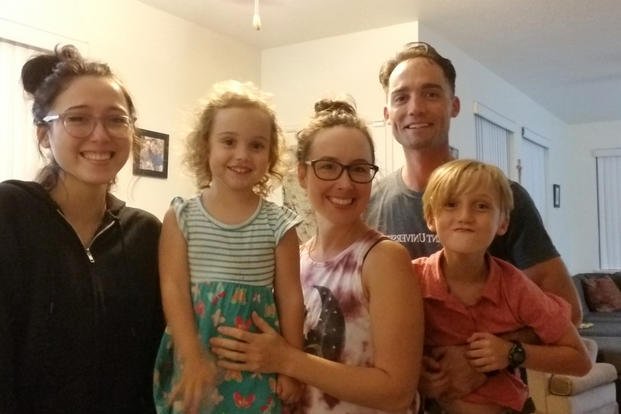 They never could have predicted what would happen next, however: Nearly two months to the day after the fire, they received a bill for $32,131.08 from Hunt for damages related to the fire, including air duct cleaning, repainting, restoration and a new garage door.
Adding insult to injury, Hunt denied their request to be reimbursed for $6,930 in rent for the remainder of December, January and most of February. The company had been collecting it even though the Rudds never spent another night in the home.
"Your request for your rent to be refunded to you from the date of the fire has been denied. I have, however, waived the 28-day notice to vacate for you that is required," wrote Peyton Hoban, community director for Ohana Military Communities, Hunt's subsidiary in Hawaii, in a Feb. 18 email obtained by Military.com.
The emails and bill left the Rudds speechless.
"The last week has been more stressful than the days following the actual fire," Tammy Rudd told Military.com. "If we can't close out [of housing], John cannot execute his permanent change of station orders. They are threatening his career."
"They have essentially crafted a strategy exploiting us rather than protect us," John Rudd added.
Since roughly 1996, military housing on domestic U.S. installations has been constructed and managed by private companies, an effort to improve the housing stock for service members and their families following years of maintenance neglect by the Defense Department.
Under the arrangement, DoD officials were to provide oversight of the companies to ensure they provided quality housing in return for service members' Basic Allowance for Housing. But over the years, the Pentagon has taken a back seat, allowing the companies, which hold 50-year contracts to provide military housing, free rein to manage the properties.
In 2018, Reuters published the results of a two-year investigation of military housing that revealed systemic negligence by the companies, including falsification of records and other types of deception, shoddy construction and dangerous living conditions. Those conditions included faulty wiring, extensive mold contamination, flaking lead-based paint and vermin.
In response to the Reuters coverage and subsequent news reports, as well as a survey of military families that found more than half said they had "negative or very negative experiences" with their houses, Congress held a series of hearings in early 2019 to understand the scope of the problems and hold the companies and DoD accountable.
During testimony, the service secretaries and chiefs promised to inspect the homes, hold listening sessions with residents and develop a tenant bill of rights that would give more power to residents to negotiate with their landlords.
The CEOs of the private housing management companies also pledged to do better and "learn from our mistakes."
"At Hunt, we do not succeed unless we provide our residents with safe and healthy homes," President John Ehle said during a Feb. 13, 2019, hearing. "We are a company of accountability, and if someone is falling short of expectations, we take action."
Hunt manages 32,000 homes that serve 165,000 residents, and holds interest in an additional 20,000 homes across 49 military installations in 21 states.
In 2019, eight military families filed a lawsuit against Hunt over their housing at Randolph Air Force Base, Texas, which they claimed contained pervasive mold and infestations, contaminated ductwork and other maintenance issues.
The same year, a federal judge in Gulfport, Mississippi, dismissed a case filed by a family at Keesler Air Force Base over mold in their Hunt-managed property.
Other military housing property managers, including Lincoln Military Housing, Corvias Property Management and the Michaels Organization, face similar suits.
To ensure that the companies abide by their contracts and provide quality housing and service to U.S. troops, the Defense Department in 2020 rolled out its own tenant bill of rights that gave residents a list of accommodations they can expect in housing, including healthy homes with working appliances, clear instructions on leases and expectations, and the right to report problems and to expect maintenance and property management services that exceed industry standards.
Another three rights are expected to be instituted by this summer, including the ability to withhold rent during disputes and assistance in mediating issues. These may have helped the Rudds in their battle with Ohana, which left the family not knowing where to turn immediately after the fire and in the faceoff over the bill.
"At one point, I was asking myself, do I pay the 32K or do I go retain an attorney and just pay them that money?" Rudd said.
Immediately after the blaze, Hunt housed the Rudds in another home on base, with an expectation that they vacate by Dec. 28, according to a text exchange between Ohana representatives and Rudd.
Not knowing what to do, Rudd consulted with family members in the legal and insurance professions and learned he should contact his insurance company, USAA, which holds his renter's insurance. That coverage paid for a hotel where the family moved after their five-day allowance in temporary housing ended.
The family stayed briefly on Waikiki and then checked into the temporary lodging facility on base, where they remain.
In the subsequent insurance investigation, USAA concluded that the fire was not the family's fault. Company representatives notified Rudd in mid-February they planned to file a claim against the battery manufacturer and would deny any claims filed against the Rudds by the housing office, according to a report provided to the family and obtained by Military.com.
The Rudds assumed Hunt would do the same -- seek reimbursement from its own insurer or the battery maker -- but instead, the family received the $32,000 bill on Feb. 22, payable on receipt.
"From the beginning, we've done the right thing, and I'm just really confused as to why I have to help with the bill for the repairs," John Rudd said.
In an email along with the bill, an Ohana representative offered the couple a payment plan. Rudd, an explosive ordnance disposal technician who has served nearly 20 years in the Corps and holds a Bronze Star with Combat V device for disarming a roadside bomb while under fire in Afghanistan in 2011 while, said he was at a loss for what to do next.
"They already have the infrastructure in place to charge Marines payments with interest. If they are doing this to me, they absolutely are doing it to other Marines with no agency," he said.
In addition to family, Rudd consulted base legal services; his brother, also a Marine stationed in Quantico, Virginia; and his brother's wife, Jessica Rudd, a former Marine who was selected Marine Corps Spouse of the Year in 2017 by Armed Forces Insurance and Military Spouse magazine.
A lifelong military family advocate, Jessica Rudd was stunned by the story and took action. On Feb. 24, she emailed several of her contacts in Congress who work military personnel issues.
"If they can do this to an E-8, they can do this to anyone," Jessica Rudd said.
Two days after Jessica Rudd's email, the Rudds received another bill -- this one for just $70, the cost for some broken blinds and a refrigerator drawer. The bill for fire damages had vanished in the wake of action taken on behalf of the family by Jessica Rudd's contacts, including military advocates and lawmakers.
The Rudds also have been told they will be reimbursed for the rent paid after the fire made the house uninhabitable.
Paris Cousin, senior director of operations at Hunt Military Communities, said March 1 that it is company policy to turn homes over to prospective residents with installed smoke detectors.
"I couldn't tell you exactly what the situation was back in 2019, but I will tell you when someone moves into a home, smoke detectors are provided, installed in homes," Cousin said.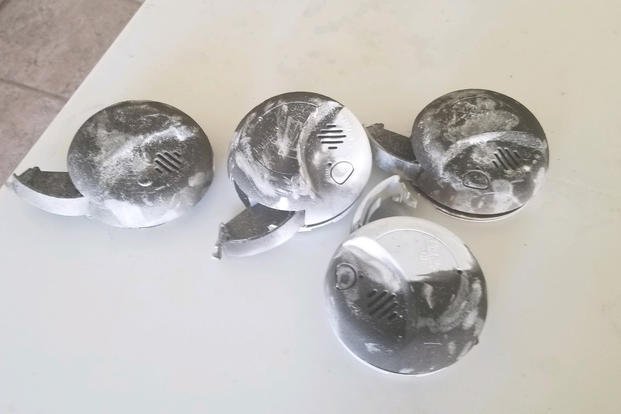 When pressed about the existence of photos taken weeks after the Rudds' move-in date showing no smoke detectors, Cousin said she was responding to Military.com's questions about the Rudds' bill and not smoke detectors. She added that the company keeps maintenance records on the homes, but said those were not available to her at the time of her call to a reporter.
Regarding the bill and the dropping of the $32,000 charge, Cousin said Hunt receives quotes for damages that "initially would be applied" to the residents' close-out bill -- the first bill they received. But since the cause of the fire was ruled to be accidental, "we reversed the charges and notified the resident of this."
Cousin added that she was "not familiar with" Jessica Rudd's effort to help her brother-in-law.
"I'm not familiar with that part of it. I just know that for us here, we reversed the charges because at the end, it was an accidental fire and the resident was not responsible for it," Cousin said.
The Consumer Products Safety Commission has conducted at least 64 recalls of products using lithium-ion batteries since 2006. Explosions and deaths from lithium-ion batteries remain rare but have happened.
In 2008, lithium-ion batteries that were being charged on a Navy mini-submarine at Pearl Harbor were responsible for a blaze onboard. Since then, the service has carefully controlled and vetted lithium-ion batteries on ships, including banning all vaping devices from vessels after they sparked fires.
Across the country, lithium-ion batteries have been responsible for fires and several deaths: In 2018, the batteries in a Tesla were found to have contributed to a deadly crash that killed two teenagers. And batteries in cellphones, cameras and dive equipment were cited as a possible source for a fire that killed 34 on a dive boat off the California coast in 2019.
The battery explosion in John Rudd's electric bike caused extensive smoke and radiant heat damage throughout the garage, according to the investigation, and sent smoke into every nook and cranny of the home, destroying many electronics; clothing; and upholstered belongings.
If the fire had happened at night while the family was sleeping, they might not have made it out alive, Tammy Rudd said.
"If we had not been right there, it could have been a lot worse," she said.
John Rudd said he is disappointed that Hunt has never acknowledged the missing smoke detectors, which remained sitting on a counter in the home for the next tenant.
He had high praise for his unit, the command and the base legal office, whom he described as supportive and helpful throughout the ordeal.
He added that he was reluctant to go public with the story, but decided in the end that the incident could serve as an example of a housing company trying to "take advantage" of their military tenants.
"We need junior Marines, junior sailors, junior soldiers, junior airmen to be protected from [the companies]. I've got to be the last service member this happens to," Rudd said.
The Rudds are moving this spring to Camp Lejeune, North Carolina, where they had planned to live on base. Now, however, they say they likely will buy a house in the community, even though the market is hot in the popular coastal region.
"We've decided we'll take our chances," Tammy Rudd said.
-- Patricia Kime can be reached at Patricia.Kime@Monster.com. Follow her on Twitter @patriciakime.
Related: Military Families in On-Base Housing May Soon Be Able to Withhold Rent in Disputes