Journalist and Afghanistan War veteran Chris Jones found himself face to face with a former Marine at the U.S. Capitol on Jan 6, as he covered the breach of the building for a West Virginia news publication.
The man, dressed in a Marines hoodie, screamed at him, saying he "deserved to be shot" as a member of the press.
After the encounter, Jones, a machine-gunner who deployed twice to Afghanistan with 3rd Battalion, 9th Marine Regiment, said he needed to take 20 seconds and "go bounce his head off a tree" before he could return to work.
Read Next: After Complaints, White House Lowers Flag to Honor Slain Capitol Police Officer
"To see stuff I think is ... important to my identity, and people who consider [being in the military] a huge part of their identity being part of a hateful movement that directly stands in the face of the values the Marine Corps tries to instill, it definitely hurt," he said while recounting the day's events with Military.com.
Jones, who served from 2010 to 2014, deployed to Helmand province, first in late 2010 for nine months and again in late 2012. The first tour, he lost three friends. On the second pump, he worried what would happen once the U.S. pulled out of the area.
That feeling arose again Wednesday as he shot photos of the lightly armed U.S. Capitol Police trying to stave off the swarm of agitators, he said.
In one faceoff, he watched an officer grab a megaphone and don a Make America Great Again ball cap to distract the crowd surging toward an open door of the building.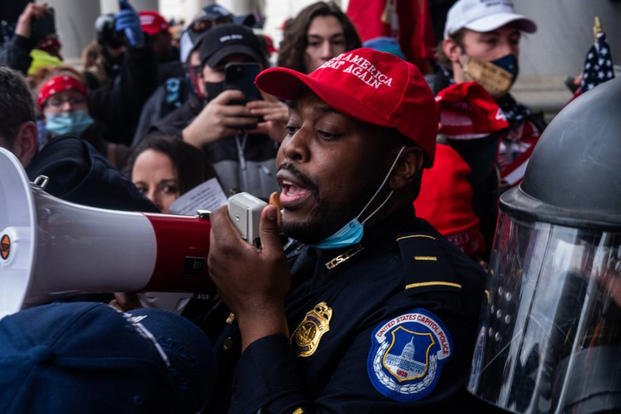 As the officer waded into the frenzied group, he became surrounded, giving other police officers the chance to shut the doors behind him.
"The doors slammed, and [the officer] had no choice but to push through. But rather than leave the area, he stayed nearby. I heard on a call on a Capitol Police radio that the Metropolitan Police weren't coming. ... the National Guard wasn't coming. It was kind of a Broken Arrow situation," Jones said.
Protesters began assembling Wednesday morning at the Ellipse near the White House for what was dubbed the "Save America Rally," scheduled to begin at 10 a.m. the day that Congress met to certify the Electoral College results for President-elect Joe Biden.
Speakers included Eric and Donald Trump Jr.; Rudy Guiliani; and Rep. Mo Brooks, an Alabama Republican who whipped up the crowd, saying the day was for patriots to begin "kicking ass."
President Donald Trump took the stage just before noon, and as his speech drew to the close, he urged attendees to "walk down ... to the Capitol" and "cheer on our brave senators and congressmen and women" who supported opposing certification of the Electoral College results.
Thousands proceeded to walk to the Capitol.
At 1:10 p.m., those protesters begin tussling with the Capitol Police; within minutes, hell broke loose. The police ordered the evacuation of residences near the Capitol, followed by several House office buildings. Rioters breached the building around 2 p.m.
And Jones was there through all of it, taking photos.
"I'm surprised I got any shots at all because my eyes were closed. I was covered in tear gas and hammered by flash-bangs. Just the fact that I got any pictures was kind of a miracle," he said.
Jones' road to the U.S. Capitol had begun seven months earlier, when the former corporal moved from Brooklyn, New York, to West Virginia to cover extremist groups and white supremacists for a nonprofit newsroom, 100 Days in Appalachia.
Although Jones is a regional reporter, when he heard that a group of neo-fascist Proud Boys from West Virginia, as well as West Virginia Delegate-elect Derrick Evans, planned to attend the rally, he decided to go.
When he arrived in the city Tuesday, he said, he worried there would be violence based on what he saw on the streets.
"There was a lot of energy. ... [People seemed] very excited to inflict violence on someone or something. And I think because there was not a left-wing counter-protest present, it was inevitable they would go after the government," Jones said.
The gathering, he said, seemed less than a "secular political rally ... it transcended into being a pseudo-religious experience with Trump as the focus."
At the Capitol, he saw many people in the crowd wearing parts of military uniforms, patches or unit badges. One person, he said, had body armor bearing both a Marine Corps and a "PRESS" patch. It wasn't a fellow journalist, however; it was a rioter bent on breaking into the building.
"He was happy; he was giddy. This insurgent thought it was a lot of fun, and I watched him just do wanton acts of violence. There was just something very disgusting he was doing, wearing these two patches that were mine. I earned them," Jones said.
But he also saw Trump supporters who looked like they had gotten "in over their heads" -- a man crying by a door inside the Capitol with a younger man who seemed overwhelmed by their surroundings.
"I'm projecting a bit, but it was an encapsulation of how little self-awareness some of the people who participated in this had of what was really happening to them," he added.
Jones said he actually got inside the Capitol but spent just 45 seconds there before rioters realized he was a journalist and physically ejected him out onto the steps.
"It's pretty inside, but I couldn't see much of it because of all the screaming and the chaos and the tear gas," he said.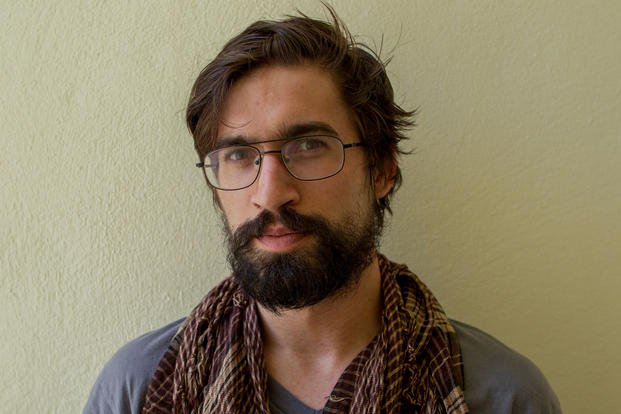 Jones, 29, landed his job in West Virginia through a program called Report for America, an initiative that places journalists in local newsrooms to report on under-covered issues and communities.
Following his stint in the Marine Corps, he spent a half a year hiking the Appalachian Trail from Georgia to Maine and then attended Columbia University, where he majored in nonfiction writing and "hung around the offices of the graduate journalism school" trying to learn what he could about reporting and photojournalism.
He freelanced for local papers and The Village Voice and saved his Department of Veterans Affairs housing money to fund a trip back to Afghanistan before graduating and moving to West Virginia.
Jones is one of five veterans among the 226 journalists placed in newsrooms by Report for America this year, which he says put him in a place where he could apply his experiences and skills to tell the story of the disenchanted in America.
"The same social and personal forces that compel a 16-year-old kid in Kandahar to join the Taliban are the same forces that convince an 18-year-old Chris Jones to join the Marine Corps ... or a young man to join a local militia group. It's a way to exert control over themselves, be a part of a community and be someone others look up to. It's just a race for who gets a hold of that person first," he explained.
Jones said that, after he went back to his rental home Wednesday, a friend from Afghanistan reached out for a safety check.
It was a turning of the tables that he didn't find unexpected.
"I really wasn't surprised at all, just incredibly disappointed," Jones said. "The most dangerous thing in American society is American exceptionalism -- the idea that, you know, we are somehow unique or special. We are a country that suffers from all the same issues that plague other countries."
After the events of Jan. 6, he stayed in D.C. for one more day to file photos and stories and then planned to head back to West Virginia for a COVID-19 test and quarantine.
Jones, who has an underlying health condition that makes it riskier for him to contract the coronavirus, said he believes the riot was a super-spreader event.
"There was definitely a moment where this guy ... just started hacking up a lung behind me, while he was talking about going back to Minnesota the next day," he said.
-- Patricia Kime can be reached at Patricia.Kime@Monster.com. Follow her on Twitter @patriciakime
Related: Rioter Seen on Senate Floor is Retired Air Force Lieutenant Colonel