A small percentage of military medical personnel and top Defense Department officials, including Acting Defense Secretary Chris Miller are expected to be the first DoD personnel to receive Pfizer's COVID-19 vaccine.
Pentagon officials said Wednesday the department will disseminate its initial allotment of 44,000 doses of the vaccine across 16 DoD sites, and will have "shots in arms of DoD personnel within 24 to 48 hours" after authorization from the Food and Drug Administration.
Read Next: Defense Department Restarts Massive Military Health System Overhaul
Those first on the priority list published Wednesday by DoD are health care providers, particularly those military personnel, civilians and contractors who are at high risk for exposure to the coronavirus.
Several leaders also are expected to be jabbed -- Miller, Deputy Secretary David Norquist, Chairman of the Joint Chiefs of Staff Gen. Mark Milley, Vice Chairman of the Joint Chiefs Gen. John Hyten and Senior Enlisted Adviser to the Joint Chiefs Ramon Colon-Lopez -- to "underscore encouraging all eligible personnel to take it," Assistant Secretary of Defense for Health Affairs Thomas McCaffery said.
"What we're looking at is the department leadership, and also the service leadership, combatant commanders, so we can get that message out to as large a population as possible," added Pentagon spokesman Jonathan Hoffman.
The vaccine, made by Pfizer and BioNTech, could hit DoD distribution sites as early as the end of the week. Vaccine experts at the Food and Drug Administration meet Thursday to consider issuing an emergency use authorization for the Pfizer candidate, and may issue one as early as Thursday night. An FDA report released Tuesday that found the vaccine is safe and 95% effective.
The Pfizer vaccine will initially be distributed to military locations with the capability to store the shots, which require temperatures of roughly -80C. Other considerations that went into selecting the locations were population size and requests from the military services, officials said.
In the U.S., the locations include: Madigan Army Medical Center, Washington; U.S. Coast Guard Base Alameda and Naval Medical Center San Diego, including Camp Pendleton, California; Tripler Army Medical Center, Hawaii; Brooke Army Medical Center and Darnall Army Medical Center, Texas; Naval Hospital Pensacola, including Keesler Air Force Base, and Naval Branch Health Clinic Jacksonville, Florida; Womack Army Medical Center, North Carolina; Naval Medical Center Portsmouth, including U.S. Coast Guard Base Portsmouth; Walter Reed National Military Medical Center, Maryland; the Indiana National Guard; and the New York National Guard.
Overseas, Landstuhl Regional Medical Center, Germany, Kadena Air Base, Japan, and Camp Humphreys, Korea, will receive allocations.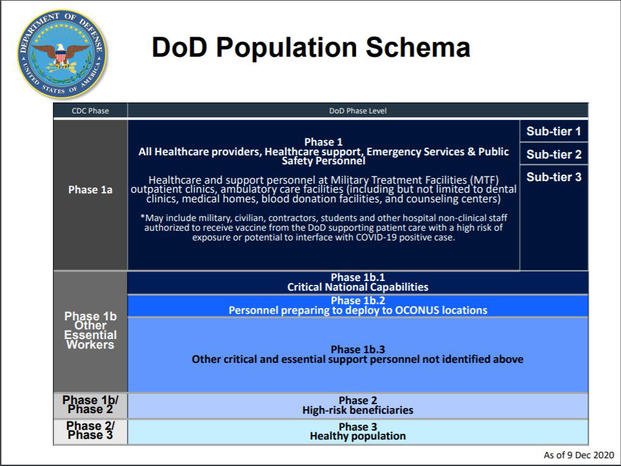 DoD will then begin vaccinating volunteers in their "Phase 1a" priority group -- health care providers and support workers, emergency services and public safety personnel. The initial vaccine allotment is enough to vaccinate about 8% to 9% of all Phase 1a personnel should they choose to receive it, according to Defense Health Agency Director Lt. Gen. Ronald Place.
The vaccine will remain voluntary as long as it is distributed under an emergency use authorization, Place said.
"This is not a fully licensed FDA vaccination, and it's the department's policy that it will be voluntary for everyone. So there's no 'ifs ands or buts' about it. Doesn't matter, voluntary for everyone," Place said.
As more vaccines are received, additional Phase 1a personnel will be inoculated.
Once all in that category who desire a vaccine are inoculated, the next group -- "critical national capabilities" personnel such as strategic nuclear forces, homeland defense forces and cyber command -- will be next under Phase 1b.
Next up are personnel deploying within three months outside the U.S., followed by all other staff deemed "critically essential."
High-risk DoD beneficiaries would be next, including residents of armed forces retirement homes and family members and retirees with underlying medical conditions that put them at risk for severe cases and older retirees, in accordance with guidelines set by the Centers for Disease Control and Prevention, McCaffery said.
Finally, all healthy individuals would have access to the vaccine, with an end goal to emulate the DoD's annual influenza vaccine program, officials said.
DoD will consider whether to make COVID-19 vaccines mandatory when they are formally licensed by the FDA, Place said.
DoD expects to ramp up vaccinations across its 9.6 million-person beneficiary pool as more allotments become available and as the FDA issues additional emergency use authorizations for other vaccines. A panel is expected to meet Dec. 17 to consider emergency authorization for Moderna's candidate.
DoD officials did not say how much of the Moderna vaccine they expect to receive if it is granted emergency authorization.
The Pentagon is "strongly encouraging" its personnel and Tricare beneficiaries to get a COVID-19 vaccine based on the available data on safety and effectiveness, Place said.
"My advice as a physician is that everything we do in life, every medication we take, every sort of procedure that we have is all about risk. And the risk of these vaccines from what we know, is much less than the risk of the actual disease," Place said. "Our advice to everyone is to take the vaccine."
Editor's note: This story has been updated to correct the temperature at which the vaccine must be stored.
-- Patricia Kime can be reached at Patricia.Kime@Monster.com. Follow her on Twitter @patriciakime.
Related: For Now, US Troops Won't be Required to Get New COVID-19 Vaccine