Hours after his termination was announced by President Donald Trump via Twitter, former Defense Secretary Mark Esper issued a final memo to Pentagon staff, calling his brief tenure as leader of the Pentagon "the honor and privilege of a lifetime."
While the timing of Esper's firing came as a surprise, it was widely believed he would not remain long in the job, having fallen out of favor with Trump regarding several high-profile military issues, including the potential use of active-duty troops to quell civil unrest under the Insurrection Act.
Read Next: Trump Fires SecDef Mark Esper, Names Christopher Miller to Lead Pentagon
Esper's farewell memo, however, avoided controversy and denunciation, dwelling instead on Defense Department milestones and accomplishments during the 18 months he spent in the position.
"Together, we have made solid progress implementing the National Defense Strategy by modernizing the force, improving its readiness, strengthening ties with allies and partners, and reforming the Department to make it more efficient. We have also made major strides in taking care of our military personnel, spouses, and their families, and launched important initiatives to improve diversity, inclusion, and equity in the armed services," Esper wrote in the memo.
"At the same time, we stood up the Space Force and Space Command, recapitalized the nuclear triad, expanded the authorities and resources of Cyber Command, and proposed a bold vision for a future Navy."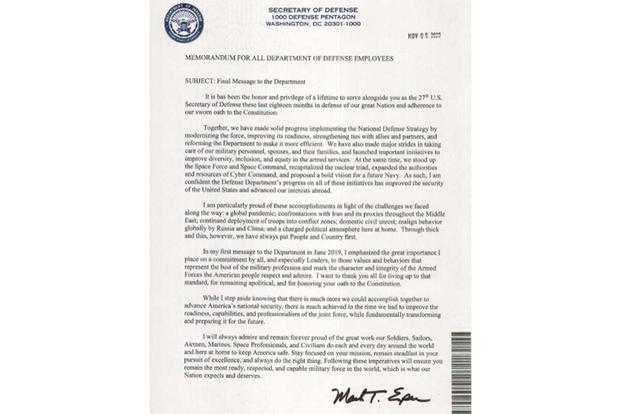 U.S. Space Force will mark its first birthday as a military service Dec. 20, a month before the inauguration of Joe Biden as the 46th president of the United States. Esper has also been behind an aggressive push for a larger Navy fleet, calling recently for 500 ships -- well beyond the 355 the service previously said it needed.
Esper said these developments had "improved the security of the United States and advanced our interests abroad." He noted further that these steps had taken place in the context of a global pandemic, threats from Iran, the specter of Russia and China, ongoing deployments to the Middle East and "a charged political atmosphere here at home."
"In my first message to the Department in June 2019, I emphasized the great importance I place on a commitment by all, and especially Leaders, to those values and behaviors that represent the best of the military profession and mark the character and integrity of the Armed Forces the American people respect and admire," Esper wrote. "I want to thank you all for living up to that standard, for remaining apolitical, and for honoring your oath to the Constitution. While I step aside knowing that there is much more we could accomplish together to advance America's national security, there is much achieved in the time we had to improve the readiness, capabilities, and professionalism of the joint force, while fundamentally transforming and preparing it for the future."
Esper, who previously served as Army secretary, also pushed through the DoD "night court" reforms, echoing a similar Army effort, which cut a reported $7 billion in Defense Department spending.
A former Army infantry officer, he worked for the conservative think tank Heritage Foundation, as a congressional staffer, and later for defense industry giant Raytheon before becoming Army secretary in 2017. He was sworn in as defense secretary July 23, 2019.
While some criticized him as a "yes man" to Donald Trump, even giving him the nickname "Yesper" -- a name Trump later used to berate him -- Esper stood up to the president over the deployment of U.S. troops to quell protests this summer over racial injustice and the May 25 death of George Floyd in police custody in Minneapolis.
In late October, The New York Times called him a "dead man walking." He'll be replaced by Christopher C. Miller, former director of the National Counterterrorism Center, as acting defense secretary.
Esper took no parting shots in his final missive, calling instead for steadiness and commitment to the good of the country.
"Stay focused on your mission, remain steadfast in your pursuit of excellence, and always do the right thing," he said. "Following these imperatives will ensure you remain the most ready, respected, and capable military force in the world, which is what our Nation expects and deserves."
-- Hope Hodge Seck can be reached at hope.seck@military.com. Follow her on Twitter at @HopeSeck.
Related: Here's Why the Military's Next Top Leader Is Likely a Woman