Former Army 1st Lt. Clint Lorance has a new mission: To become a lawyer and press for reform of the Uniform Code of Military Justice, under which he was convicted of war crimes in Afghanistan.
Lorance said he is driven by the "leave no man behind" credo he learned in boot camp in seeking to help others caught up in the military justice system, which he claims wrongly sent him to prison on charges of ordering his platoon to open fire on three unarmed Afghans, killing two.
"If I had gone over there and made the decision that I was going to fight the war on my own terms and just do whatever I want, I should still be there -- in jail -- if that's what I did," Lorance said in a lengthy interview with Military.com.
Read Next: Marine Commandant to Leaders: Quit the 'Soft Relief' of Fired Officers
"But that's not what I did. Every single thing I did was for the good of this country and to try and do my job to the best of my ability," he said. "I was just so in over my head once they brought charges and everything."
Nine members of his platoon testified in a general court-martial that Lorance was an arrogant and inexperienced leader who panicked and recklessly gave the order to shoot Afghans who posed no immediate threat.
"I didn't really have a chance to defend myself" against charges that he knowingly violated the rules of engagement, meant to prevent civilian casualties; lied about his actions; and was guilty of premeditated murder, Lorance maintains.
"One of the things that frustrates me more than anything, and it continues to frustrate me to this day, is that people think I changed the rules [of engagement] arbitrarily, or that I changed the rules -- period," he said. "And, you know, that could not be further from the truth."
The legal and ethical challenges he will have to overcome to realize his dream of becoming a lawyer are formidable, despite a pardon from President Donald Trump last November that let him out of the U.S. Disciplinary Barracks at Fort Leavenworth, Kansas, after serving six years of a 19-year sentence.
Lorance is now taking classes at the Appalachian School of Law in Grundy, Virginia -- although he said the dean has told him he has little chance of ever being admitted to the bar with a conviction on his record.
He also is promoting his just-released book, "Stolen Honor: Falsely Accused, Imprisoned, and My Long Road to Freedom."
The book's blurb calls it the "captivating account of how Clint Lorance, a soldier who became a scapegoat for a corrupt military hierarchy, was falsely charged with war crimes, imprisoned, and eventually pardoned by President Trump."
The book echoes Trump's defense of his pardons of Lorance and others in the military as a counter to "deep state" bureaucrats throughout the government who follow their own agendas rather than the law.
But Lorance said he takes a more nuanced view.
"I never really thought about it before the president started mentioning it," he said of the deep state theory. "And then, honestly, I started thinking back on all the Defense Department and military [officials] in their positions for 30 years, some of them.
"Do I think there are a lot of evil people plotting to overthrow the government -- no. Do I think it's a shadow government -- no," he said. "Some of them, some of them, overstep their bounds in terms of the future and the shaping of the force and of the country. … But I think the bureaucratic deep state definitely exists."
Through his legal team, Lorance is appealing in federal court to have his conviction reversed and regain his rights to veteran benefits and the GI Bill, which were terminated by his dismissal from the military, the equivalent of a dishonorable discharge for an officer.
'Unlawful' Command Influence
Lorance said one of his motivations to become a lawyer advocating for military justice reform is his opinion that he was railroaded by commanders on career paths.
"Senior brass in the military have a tendency to please the more senior brass, and it's because they want to get promoted," he said. "It's the way things are; it's human nature. So did I fall into that category of undue command influence, unlawful command influence? I believe so."
He said it was easy for his commanders "to turn and say, 'Hey, look, here's one of our own. We're holding our own people accountable'" to curry favor.
Should he be accepted to practice law, Lorance said he will advocate to have commanders removed from the process of bringing and approving charges.
"At [the] end of the day, it's the commander who makes the decision to charge somebody. I think that's inappropriate. It's dangerous to use the criminal justice system in a political way," Lorance said, adding that he favors creation of what he calls "military district attorneys" to oversee how the UCMJ is applied.
Under such a system, "maybe more people will go to jail in the military because less stuff is swept under the rug -- less stuff like sexual assault, for instance," he said. His recommendations can be seen on his website at clintlorance.com.
'I Am Not a Victim'
Lorance's case presents profound questions on the laws of war, the rules of engagement, undue or unlawful command influence, and a president's pardon powers.
He joined the Army at the age of 18 at the recruiting station in Greenville, Texas, on Dec. 13, 2002. He served in the enlisted ranks on traffic patrol in South Korea for two years and then in Iraq for 15 months as a prison guard.
Lorance returned to Texas in 2007, earned a degree at the University of North Texas in an ROTC program, and was commissioned as an officer. He was the first in his family to receive a college degree.
In March 2012, he was sent to Forward Operating Base Pasab in Kandahar, Afghanistan, birthplace of the Taliban, and reported to the 4th Brigade Combat Team, 82nd Airborne Division.
On June 30 of that year, Lorance was assigned to take over the brigade's 1st Platoon, C Troop, to replace another lieutenant who had been wounded.
On July 2, he took a patrol out from Strong Point Payenzai -- 17 U.S. troops with seven members of the Afghan National Army in the lead. Other members of the platoon manned gun trucks at the strong point to provide overwatch for the patrol.
Shortly into the foot patrol, Pfc. James Skelton called out to Lorance that three Afghans were approaching on a motorcycle. Lorance, who could not see the men or the motorcycle, gave Skelton the order to shoot, according to the court-martial record.
Skelton fired two rounds that missed. He would later testify that the Afghans were unarmed and had begun to walk away from the motorcycle toward the Afghan soldiers in the patrol.
Lorance, still unable to see the Afghans, then ordered Pvt. David Shilo, who was in one of the gun trucks overseeing the patrol, to shoot, according to the records. Shilo fired a burst, killing two of the Afghans as the third ran away.
Lorance claimed later that the Afghan soldiers in his patrol also fired. He told Military.com that, although he could not see the Afghans on the motorcycle, radio chatter and two helicopters overhead provided him with a better assessment of the alleged threat.
When told that members of the platoon testified to the contrary, Lorance said, "It's important to look at whose job was what during that patrol. A lot of the guys that testified against me -- they were not monitoring radios.
"We did not have enough radios. These guys, their perspective is very different from the perspective I had," he said, adding that "one of the platoon members from the Afghan Army fired first."
"Where I was physically on the ground that day, we were all so physically separated by obstacles. I could not see the motorcycle from where I was," he said. "So the only thing I had to shape my view on things was what people were telling me on the radio, what the helicopter was telling me and what the guys were telling me on the ground.
"The crazy thing is, the ironic thing is, I could've just not taken responsibility for the engagement and just kept quiet. The Afghans were technically in the lead," he added. "The reason why I did not is because I was worried about civilian casualties, and I was worried about collateral damage."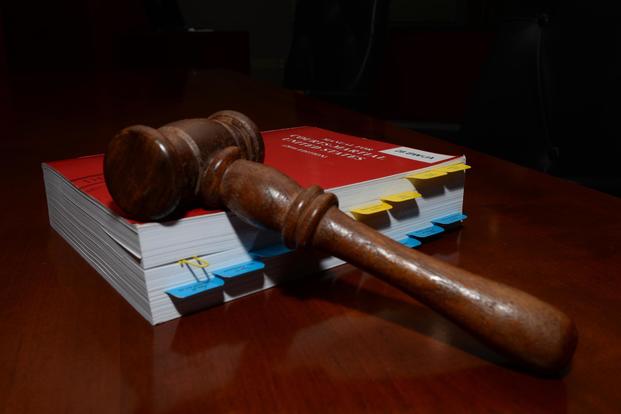 On July 30, 2013, the general court-martial for Lorance convened at the Fort Bragg Courtroom Facility in Fayetteville, North Carolina.
Capt. Kirk Otto, the prosecutor, told the court in his opening statement that Lorance had gathered members of the platoon over the bodies of the dead Afghans and said, "I know how to report so no one asks questions."
Defense lawyer Guy Womack told the court, "This is not a murder case. This is a combat case."
The trial hinged on the rules of engagement, an often subjective standard that troops could open fire only when they were the targets of a hostile act or perceived hostile intent, although they always retained the right of self-defense when threatened with harm.
The turning point appeared to come when Skelton, who had fired the first shots that missed, took the stand.
In his questioning, Otto said to Skelton: "There was not a reason to shoot at that moment in time that presented a clear, definitive hostile intent and hostile act. Did you feel directly threatened by the motorcycle?"
Skelton: "No."
Otto: "When you fired at that motorcycle, were you firing because Lorance told you to or because of an imminent threat to friendly forces?"
Skelton: "Because I was told to engage it."
Otto: "If you had not been told, would you have fired on that motorcycle?"
Skelton: "No."
On Aug. 1, 2013, the jury members began deliberations and came back with a verdict in a little over two hours.
They found Lorance guilty of second-degree murder, attempted murder and other charges. But Lorance notes that he was acquitted on the charge of changing the rules of engagement.
During sentencing, Lorance, who had not taken the stand in his own defense, spoke his only words in open court: "Sir, ma'am, gentlemen, I take full responsibility for the actions of my men on 2 July 2012. Thank you."
He was sentenced to 20 years in prison. On review, Maj. Gen. Richard Clarke, then-commander of the 82nd Airborne Division, approved the verdict but reduced the sentence to 19 years.
Despite the verdict, Lorance said, "I don't ever let anybody call me a victim. I don't like to be looked at as a victim."
His Conviction Isn't Cleared -- Yet
The United American Patriots, a nonprofit that assists service members it believes were unjustly charged, began supporting Lorance and helped fund a legal team led by John Maher, a former legal aide to retired Army Gen. Stanley McChrystal.
Maher produced documents purporting to show that the two Afghans killed in Kandahar were suspected bomb makers and charged that the evidence was withheld from the defense during the court-martial.
The Army's Court of Criminal Appeals turned down a plea for a new trial, ruling that the evidence would not have been admissible at trial and, even if it had been, Lorance could not have known of the Afghans' background at the time he ordered the shootings.
The legal team began preparing to take the case to federal court as Fox News host Sean Hannity and "Fox & Friends" personalities aired dozens of segments defending Lorance.
Petitions pleading for a pardon with more than 124,000 signatures were sent to then-President Barack Obama.
On Nov. 8, 2019, Judge John Lungstrum, in the U.S. District Court for the District of Kansas, rejected an initial plea for a new trial from Lorance's defense team.
In his ruling, Lungstrum, a nominee of President George H.W. Bush and a former Army lieutenant, said that the Standing Rules of Engagement at the time "permitted soldiers to use force in defense of themselves or others upon the commission of a hostile act or the demonstration of imminent hostile intent."
However, "there were no declared hostile forces, and thus no authority to engage any person upon sight" when Lorance issued the orders, Lundstrum wrote.
He also said that the defense team had failed to explore all its options in the military justice system. Lorance remained at Leavenworth.
A week later, on Nov. 15, Trump issued a "full and unconditional" pardon to Lorance, who was allowed to leave the prison in his Army uniform after serving six years.
At the same time, Trump also pardoned Army Maj. Matthew Golsteyn, who was charged with killing a suspected bomb maker in Afghanistan, and reversed the demotion of Edward Gallagher, a Navy SEAL who had been acquitted of killing a prisoner in Iraq.
At a Nov. 26, 2019, campaign rally in Florida, Trump said, "Just this week, I stuck up for three great warriors against the deep state. … I will always stick up for our great fighters. People have to be able to fight," an apparent reference to restrictive rules of engagement.
Lorance's lawyers went back into Lungstrum's court, citing the pardon in an effort to have his conviction expunged. But the judge said the pardon itself is now the main roadblock.
In his Jan. 24, 2020, ruling, Lungstrum wrote that Lorance's "acceptance of the pardon was an admission of his guilt, leaving this matter without a case or controversy."
"His knowing and voluntary acceptance of the full and unconditional Presidential Pardon waives his right to collaterally attack his conviction through his habeas petition, thus rendering this matter moot and subject to dismissal," he wrote.
Lorance said his case is now before the 10th Circuit Court of Appeals in Denver, but had no estimate on when he might get a ruling.
He added that his lawyers are "trying to get the Pentagon and the Justice Department, specifically the pardon attorney's office [at Justice], to enforce the president's orders in terms of what he intended to happen when he pardoned me."
Military law experts are split on the pardon's effects and whether Lorance might get his conviction overturned and his rights as a veteran restored.
Eugene Fidell, a lecturer at Yale Law School who was on the defense team in the high-profile Bowe Bergdahl desertion case, said that Lungstrum appears to be "really reaching" with the precedents he cited to back up his ruling that accepting the pardon amounts to an admission of guilt.
Lungstrum "doesn't make a persuasive case that this case is moot," Fidell said. "Accepting a pardon is different than pleading guilty."
Rachel VanLandingham, a former military Judge Advocate and Air Force officer who now teaches at Southwestern Law School, said there are differences among academics on the effects of pardons but agreed with Lungstrum's ruling.
"I found Lungstrum's opinion quite sound," she said in an email statement. "Not all pardons are the same, and some indeed do not indicate acceptance of guilt. But the court rightly points out that most do -- the ones it calls 'ordinary' -- and Lorance's falls within that category."
Gary Solis, a Marine combat officer in Vietnam and former military judge advocate, agreed with VanLandingham on Lungstrum's ruling.
"The District Court opinion doesn't merely close the door on any chance of Lorance now contesting his guilt, it nails that door shut. None of the cases cited in the court's opinion threatens that judgment," Solis said.
However, Fidell said that there is a chance Lorance might be admitted to the bar despite the conviction, if he finishes law school.
"It has been done, and it has happened [for persons convicted of felonies]," Fidell said.
Solis was not so sure. "I'd bet the ranch against his chances" of becoming a lawyer, he said.
A Political Lightning Rod
Lorance said he is well aware that he will remain a political lightning rod, no matter the outcome of his appeals, and expressed concerns about how he will be viewed as an openly gay Christian.
When asked whether his faith has been shaken by the court-martial and its aftermath, Lorance said, "Yes and no. Before I came out, I was scared [that] Republicans and conservatives, all the people that I'm always around, would hate me for it.
"But the weird and crazy thing is that I've gotten more hate from the left than I have from the right," although some Trump supporters will occasionally approach him to ask whether he has considered conversion therapy, he said.
"I just politely say, 'No, thank you, I am exactly who God made me to be, but I appreciate your offer," he added.
Others will "come up to me and tell me, 'I don't understand it,'" meaning his being openly gay.
He said they tell him, "It's weird to me, but you're alright in my book."
Lorance said he was a bit apprehensive when he first met the president after his release, but Trump put him at ease.
"[He said] they already had told him, he knew that I was gay, he knew that," Lorance said.
When they were taking photos, "I put my arm on him -- like on his shoulder -- and he didn't even flinch," he said.
"That was to me -- here's a Republican president who people think is homophobic or whatever, and here's a gay guy putting his arm around him and he doesn't even care. He just smiled for the picture," Lorance said. "That makes a huge difference to me."
-- Richard Sisk can be reached at Richard.Sisk@Military.com.
Related: Army Officer Pardoned by Trump After Murder Conviction Says He Can't Even Get a Job at Walmart