The U.S. Air Force will designate any aircraft, weapon or satellite manufactured using digital engineering with an "e-" prefix in an effort to showcase how innovative processes are part of design and development of the future arsenal, the service's top civilian announced Monday.
"To inspire companies to embrace the possibilities presented by digital engineering, today the Department of the Air Force is announcing a new weapons system designator--the 'e' series," Air Force Secretary Barbara Barrett said during the 2020 virtual Air, Space and Cyber conference, hosted by the Air Force Association.
Read Next: Navy Commander at Lackland Training Center Fired After Investigation
"For 73 years, the entire history of the Air Force, X-planes have represented technological innovation," she said, highlighting the experimental aircraft and rockets in the late 1940s that led to the first iteration of supersonic flight. "Today, the e-plane and e-sat will join them in making history and ensuring Airmen and space professionals have modern tools to protect our nation."
The concept of digital engineering, which sometimes allows the service to bypass the regular manufacturing process for parts, gives developers the ability to design and change blueprints with more flexibility as they create armaments or tools. One example of a program already using digital engineering is the Boeing-made T-7A Redhawk.
The service said the eT-7A Redhawk has "embraced model-based engineering and 3D design tools which reduced assembly hours by 80% and cut software development time in half. The eT-7, "moved from the computer screen to first flight in just 36 months," according to an Air Force release.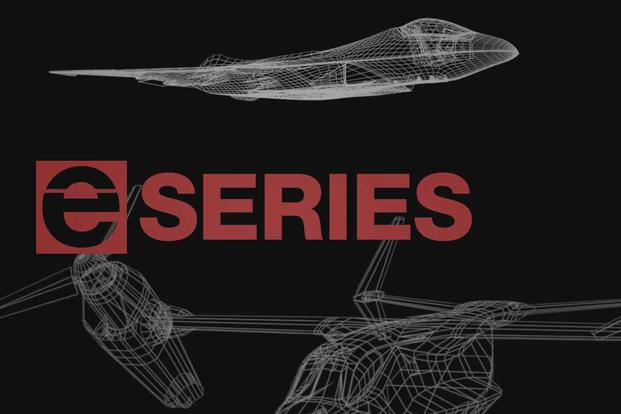 Another example is the Air Force's Ground Based Strategic Deterrent, or GBSD, program, which will make the the next-generation intercontinental ballistic missiles that will replace the aging arsenal of Minuteman III ICBMs. Dr. Will Roper, assistant secretary of the Air Force for Acquisition, Technology and Logistics, has spoken of the opportunity to use digital technology on GBSD, particularly to allow developers to see how to make a part before it is manufactured.
For aircraft, designators consist of a letter or letters that indicate the type and mission of the aircraft, followed by a unique number.
Following Barrett's announcement, aviation enthusiasts on Twitter noted that some aircraft responsible for electronic or surveillance missions -- such as the Navy's EA-18G Growler, and Air Force E-3 Sentry, E-8 Joint Surveillance Target Attack Radar System (JSTARS), EC-130 Compass Call -- already have e-designators.
However, an e-Series designator is only temporary, according to the service. The Air Force said that only while a platform is in design and development will the e-prefix be used.
-- Oriana Pawlyk can be reached at oriana.pawlyk@military.com. Follow her on Twitter at @Oriana0214.
Related: Air Force Launches Office to Plan Future Fighter Jets