More than 200 campers were trapped near a boat dock on Shaver Lake in California's Fresno County over the Labor Day weekend, encircled by flames and a blinding wall of wildfire smoke.
Chief Warrant Officer 5 Joseph Rosamond, piloting a California Army National Guard CH-47 Chinook, had already made the decision to try to put his helicopter down close by the desperate campers on Sept. 5.
So had CWO 5 Kipp Goding, pilot of a California Guard UH-60 Black Hawk, who had linked up with Rosamond's aircraft and was trailing him to the scene, weaving through peaks rising to 7,000 feet and then dropping down to a valley leading to the dock.
Read Next: A Fighter Pilot Will Dogfight an AI-Controlled Jet in 2024, Esper Says
"We were quickly running out of time," Rosamond said.
Emergency crews on the ground from the California Department of Forestry and Fire Protection, or Cal Fire, radioed to Rosamond that it was too risky. The Creek Fire in the Sierra National Forest was out of control and they should put down at a nearby ranch miles away and wait for the smoke to clear, they were told.
"I was listening to the radio calls when the Chinook approached restricted airspace" near the lake, said Army Maj. Gen. David S. Baldwin, adjutant general of the California National Guard.
"Chief Rosamond told them, 'Just tell us where the people are. We're going to go get them,'" Baldwin said in a video conference call Monday with the aircrews and defense reporters.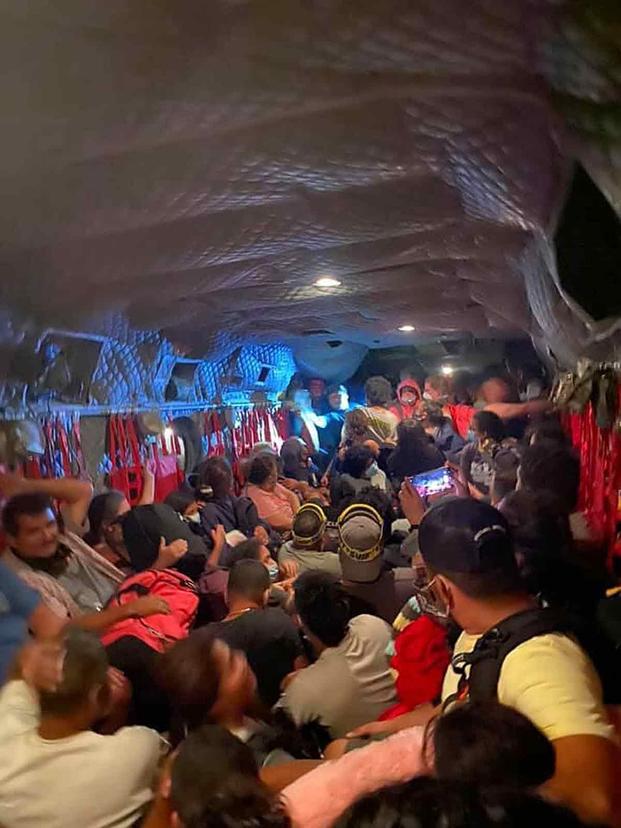 "Joe [Rosamond] was leading the way," Goding said, as the two helicopters approached the lake at sunset and prepared to find landing zones. "Every piece of vegetation as far as you could see around the lake was on fire," sending up clouds of smoke that made the approach risky.
"We knew that it was a dire situation, and we knew that this was not going to be like anything we had done in the past," Rosamond said. "Conditions were pretty extreme. … There were points along the route where we were just about ready to say, 'That's enough.'"
The aircrews donned night vision goggles to penetrate the smoke. Chief Warrant Officer 2 Brady Hlebain, the Chinook's co-pilot, said the goggles "allowed us to see through the smoke to have some contrast and a silhouette on where we were going."
Without the goggles, "all we could see was a wall of smoke," he added.
Rosamond and Goding found spots to set down near the boat dock. Sgts. George Esquivel and Cameron Powell, both flight engineers on the Chinook, rushed out of the aircraft as the fire, fueled by record-breaking heat and high winds, approached within 50 feet.
The first priority, Powell said, was to locate people amid the recreational vehicles and campers parked nearby.
"They notified us that they had quite a few injured. We assessed who should go [first]. … We took quite a few burn victims."
They packed as many people as they could fit onto the two helicopters.
"At that point, our performance limitations were close to the maximum capabilities of the aircraft," Rosamond said, but they made it safely to the Fresno Airport.
Goding and his Black Hawk crew, Warrant Officer 1 One Xiong and Chief Warrant Officer 2 Irvin Hernandez, made two more nighttime runs to Shaver Lake to rescue more campers. Rosamond and his crew would do the same.
Each time they returned, Col. Dave Hall, commander of the California Guard's 40th Combat Aviation Brigade, stationed at the airport, would check on the crews' condition.
Hall said he was in awe of "how much they pushed the edge. They didn't finish up until 1:30 a.m."
"Flying in those conditions, there's fatigue," he said.
Each time the crews returned to Fresno, Hall said he asked them, "'Are you ready for another?' Every single time, they said, 'Send me out.'"
Altogether, the crews rescued 214 campers, Baldwin said. Twelve were hospitalized but are expected to recover.
California Gov. Gavin Newsom said of the aircrews' efforts, "It's where training meets the moment, but it always takes the courage, the conviction and the grit of real people doing real work."
Baldwin and Army Gen. Daniel Hokanson, the new chief of the National Guard Bureau, said about 1,200 California Guard members have been mobilized to battle the wildfires, which show no signs of abating.
Baldwin said the Guard is focusing on areas north of Los Angeles when Cal Fire needs military assistance, while the Marine Corps and Navy deal with southern California.
In addition to naturally occurring wildfires, Cal Fire has also had to deal with blazes triggered by thoughtless citizens.
On Monday, the department said that the "El Dorado" fire east of Los Angeles was caused by a "pyrotechnic device" set off at a gender reveal party.
"This fire season is already the worst in California history" in terms of acreage consumed, Baldwin said. "And it's only the first week in September, so we've got a lot of firefighting ahead of us."
On Thursday, California authorities said it will likely be at least a week, and possibly a month, before the Creek Fire is controlled sufficiently to permit residents to return.
The National Fire Information Center said Thursday that firefighters in Western states continue to see "extreme fire behavior."
Three deaths have been reported in California, three in Oregon and one in Washington state.
-- Richard Sisk can be reached at Richard.Sisk@Military.com.
Related: California National Guard Assists in Sierra Fire Rescue Operation