The Taliban fighter came over the village compound wall to get a clear shot at him.
Bullets hit the wall near his head and kicked up between his legs. The enemy was firing from only about five meters away but somehow had missed Senior Airman John Grimesey, a special tactics airman.
Read Next: Why Some Army Colonels Won't Make the Cut for Command in New Assessment
He leaned back and returned fire, killing the Taliban fighter. Then came the rocket-propelled grenade that hit the other side of the wall directly behind him. He was knocked down by the force of the blast that also destroyed one of his radios and wounded the Army Special Forces soldier with him.
Grimesey would later learn that he had suffered a severe concussion. He couldn't get rid of the ringing in his ears, but he forced himself to begin thinking methodically of a plan to defeat an overwhelming enemy force and save the lives of his teammates.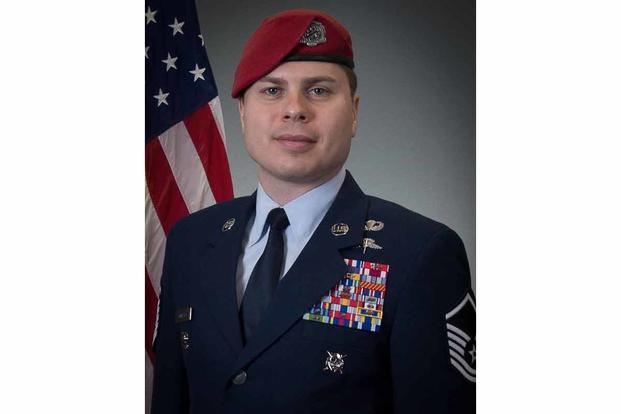 "I remembered my training," which told him to break a task into small pieces and execute them one step at a time, Grimesey said Thursday in a conference call with defense reporters.
For his actions on May 25, 2013, in Afghanistan's eastern Ghazni province, Grimesey on Friday will receive the Silver Star, the nation's third-highest medal for gallantry against an armed enemy of the United States. The medal represents an upgrade from his previous Bronze Star.
Grimesey, now a Master Sergeant and the flight chief of the 21st Special Tactics Squadron at Pope Field, North Carolina, will also receive a Bronze Star with Valor device for his actions during an ambush in 2017 in Afghanistan's eastern Nangarhar province, the Air Force said in a release.
"Honestly, I think about it every day ... I dream about it," Grimesey said of his actions in 2013 that would earn him the Silver Star. "While it was a harrowing experience, if you will, I also look back with a sense of pride. I believe I was able to save lives that day."
On that day, dazed from the concussion, his first task was to drag the wounded Army Special Forces soldier to a spot where they could defend themselves and direct a counter-attack.
Grimesey also called in strikes from F-16 Fighting Falcons and AC-130 gunships, before helping to retake the compound.
He estimated that the enemy force he faced in the Ghazni village numbered 80-90, and his Silver Star citation said that 31 of them were killed in retaking the village.
"From cover, he engaged enemy positions with his personal weapon and controlled multiple F-16 and AC-130 airstrikes," the citation said. Grimesey then participated in a mission inside the village to recover the body of a dead Afghan commander, "engaging and killing one enemy fighter as he tried to flank friendly forces," the citation said.
In withdrawing from the village, Grimesey "identified and engaged eight enemy personnel maneuvering on friendly positions. In total, he and his team killed 31 enemy fighters, recovered the body of the highly-regarded Afghan commander, and saved multiple Afghan and American lives."
"By his gallantry and devotion to duty, Airman Grimesey has reflected great credit upon himself and the United States Air Force," the citation said.
Grimesey, a graduate of Virginia Tech where he was in the cadet corps, said he will be retiring soon from the Air Force, and acknowledged that he will always have a "twinge of jealousy" for those continuing in the highly-trained Special Tactics unit.
"They're in the process of leaving their mark on history," he said.
-- Richard Sisk can be reached at Richard.Sisk@Military.com.
Related: 8 Marines Earn Valor Awards for Daring Afghanistan Raid