The plan from the beginning was for Sarah Stein to give birth at Ruber International Hospital in Madrid, where the Steins have lived on military orders since August.
But this was before COVID-19, before the global pandemic was declared, before Spain became a coronavirus hotspot, and before Sarah and her husband, Air Force Major Chris Stein, contracted the illness.
Read Next: Cluster of COVID-19 Cases in US Troops Emerges at Kuwaiti Air Base
Lives have been upended worldwide by the pandemic, and sadly, thousands have died. But amid the hospitalizations, lockdown orders, lost wages, restlessness, rancor and stress, there are small successes and triumphs, like Sarah and Chris Stein's, who didn't know they had it in them to deliver a baby at home, without help, in the middle of a raging plague.
"It turns out that that birth is not this traumatic medical event for most people, for a healthy person. It's just a natural process that you have to be present with," said Chris Stein during a phone interview from his family's apartment near Plaza de Espana.
The Steins were looking forward to a three-year tour in Spain for an assignment at the Office of Defense Cooperation at the U.S. Embassy. They wanted their two daughters, Lorelai, 7, and Audrey, 4, to learn Spanish, and they knew that they would be adding to their family, with a third baby due on April 4.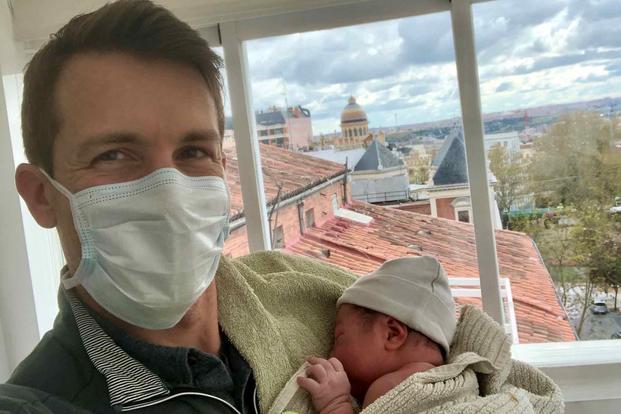 Soon after settling into their apartment in December, however, reports of a new flu-like illness in Wuhan, China, began gaining attention. By the end of January, that city was sealed off. And in late February, the novel coronavirus turned up in northern Italy.
Three weeks after that, Chris Stein began to feel ill -- fatigue, chills, body aches, "just ripped," he said.
"I didn't know it was COVID at the time because that was when they were like 'Oh, you don't have to worry unless you have this really strong dry cough, high fever or have been in contact with someone from China or Northern Italy,' " he said.
When Sarah lost her sense of smell days later and started feeling "off," the couple began to worry.
"From that point forward, it was like the most stressed experience we've had in our lives," Chris Stein recalled.
After Chris's boss tested positive for the virus, the couple was tested and found positive. With the baby due in just over two weeks, they called Sarah's obstetrician to find out what the protocol would be for a mother with the coronavirus.
The Steins learned that if Sarah tested positive during delivery, the baby would be taken from them and kept in isolation in the hospital.
For the couple, this was a horrifying thought -- a lost opportunity to nurture the baby in the first weeks of his or her life.
The two began praying the baby would arrive on the due date, when Sarah likely would test negative.
"How was Sarah going to nurse? How could she have skin-to-skin contact?" Chris asked. "We really are committed to those things."
The positive tests also affected their plan for childcare of Lorelai and Audrey during the birth. Since Chris and Sarah both had the virus, the girls likely carried it too, even though they tested negative. They couldn't be around others who didn't have COVID-19, so Chris's supervisor, Navy Capt. Jason Weddle, and his wife, Stacie Weddle, volunteered to take them.
Their entire household -- Jason, Stacie and three children -- had also been ill, from March 14 to March 26.
"That is what military families do -- we help each other out no matter what the cost," Stacie Weddle said in an email to Military.com. "We had stocked up on dry goods and frozen food and not left the house until it was time to pick up the Stein's girls."
The new plan was for Chris Stein to get retested on April 1, and if negative, let him take the baby home from the hospital. But on April 1, Sarah woke up with irregular contractions. She thought they were false labor because they were sporadic. Nevertheless, when they didn't stop, the Steins called the Weddles to pick up their girls, a drive Stacie said was the "most challenging aspect" of the ordeal for them.
"It was my first time out of the house since March 13. The roads were deserted and there was a general sense of abandonment on what normally are crowded highways and city streets. I had to go through two armed checkpoints -- one upon entering the city and one while leaving the city. I did not want the girls to be scared so I told them what a great job the policemen were doing keeping us safe," Stacie said.
At the Stein apartment, the contractions remained sporadic, coming 7 minutes apart and sometimes 2 minutes apart. When the doctor finally recommended they go to the hospital, Sarah stood, and her water broke. She felt the urge to push. "I was like, DON'T PUSH, DON'T PUSH! I'll grab the bag," Chris Stein said.
Sarah simply sat back down on the sofa. "If we leave now, we're having the baby in the car," Chris remembers her saying.
He grabbed some towels, and three contractions later, the baby "just came right out" into Chris's arms.
"It was so wild -- the biggest rush you can ever imagine in your life. I put her on Sarah's stomach and then when she started to cry, we knew she was healthy and safe. It was a huge relief," Chris Stein said.
Anyone who has ever had a baby or attended a birth knows the experience doesn't end with delivery of a squirming, squalling, tiny little human. The next part is really messy, involving the umbilical cord, delivery of the placenta and recovery care for the mother.
Chris ransacked a first aid kit he'd just received during a State Department medical class, finding it was "all for trauma like clotting massive wounds and tying off limbs" but "nothing in here I could use for a birth."
He didn't want to cut the umbilical cord without a doctor's supervision, but after Sarah delivered the placenta, and they decided to go to the hospital, Chris couldn't figure out how to carry the baby (still attached to the placenta) and the bucket holding the placenta AND help his wife to the car.
Thank God for Google. Chris found instructions on the internet and cut the cord.
When the couple arrived at the hospital, they were met by a team of doctors who wanted to take the baby and isolate her from Sarah until she tested negative for COVID-19 for at least 24 hours.
Not wanting to be separated from their newborn, they declined care. A pediatrician looked over the baby to make sure she was healthy and the trio returned home.
After the experience, Chris and Sarah decided that none of the names they'd picked for their new daughter were suitable. Turning once again to the internet, Chris Stein became drawn to the name Sadie, which he learned is a diminutive form of Sarah.
"After everything we went through with this baby, I hope she is half as strong as her mother. I definitely wanted her to have her mom's name," Chris said.
Today, the enlarged Stein family is settling into life in Spain under the new normal -- specified outdoor hours in the morning or late night for adult workouts, working from home and home- schooling, and taking their daughters outside during the hours set aside for "children's walk time."
The Weddles have adjusted too, with a son having flown to Spain after his university closed, conducting virtual visits to college campuses with another son and teleworking.
For Americans living overseas, the pandemic has been both "challenging and a benefit," Stacie Weddle said. It has drawn members of the military community even closer, she said, but they also are frustrated by what they see as "many European countries successfully managing outbreaks and quarantines while news from home reveals violence and protests over wearing masks."
But taking care of the Steins children and the home birth, she added "was the absolute best news we had in so long."
"It was heartwarming to be able to help out others at a time when we had been feeling at a loss as to how to help out our community from a place of quarantine," Stacie Weddle said.
Chris Stein said he and Sarah were very worried about having a baby during the pandemic, especially since early reports out of China were that women delivering babies who had COVID were getting very sick, being put on ventilators and given Cesarean sections.
A study released this week appeared to confirm the early anecdotal reports, finding that pregnant women are five times more likely to be hospitalized and 1.5 times more likely to be admitted to the ICU for COVID-19.
But as the birth was happening, their concerns evaporated, he said.
"Everything we deal with on a daily basis, on a yearly basis, like PCS moves, deployments -- all that prepares [military families] for the challenges in life. Military families are just strong," Chris Stein said.
While he doesn't recommend home birth for everyone, he does encourage other military families to "take control of their own health outcomes."
"Had we not done our own research and felt empowered to make our own decisions, we would have induced the day that we had a positive test. The baby would have been quarantined for 14 days away from us and everything that we had planned about 'skin-to-skin' and breastfeeding and all that kind of stuff would have been ruined," Chris said.
"You have to speak up. You have to do your own research."
-- Patricia Kime can be reached at Patricia.Kime@Monster.com. Follow her on Twitter @patriciakime.
Related: DoD's COVID-19 Cases Pass 10,000 as Army Sees 31% Increase in a Week