Russia has sent advanced MiG-29 Fulcrum fighter aircraft to back its mercenaries in Libya's civil war, the head of U.S. Africa Command said Monday.
The charge by Army Gen. Stephen Townsend, confirms allegations by Libya's Government of National Accord in Tripoli that Russia is doubling down on its support for a rebel group in what has turned into a proxy war involving U.S. allies on either side of the conflict.
Read next: This Historic Colt 1911 Pistol Carried at Iwo Jima Is About to Go Up for Auction
"Russia is clearly trying to tip the scales in its favor in Libya," Townsend said in a statement, which did not indicate any immediate plans for a U.S. counteraction.
"For too long, Russia has denied the full extent of its involvement in the ongoing Libyan conflict," he said. "Well, there is no denying it now. We watched as Russia flew fourth-generation jet fighters to Libya -- every step of the way."
Townsend said the deployment of MiG-29s -- along with other aircraft already sent by Moscow -- is meant to back the Russian state-sponsored private military contractor known as the Wagner Group. He has repeatedly warned of the group's spreading influence in Africa; it is believed to be owned by Russian oligarch Yevgeny Prigozhin, who has close ties to President Vladimir Putin.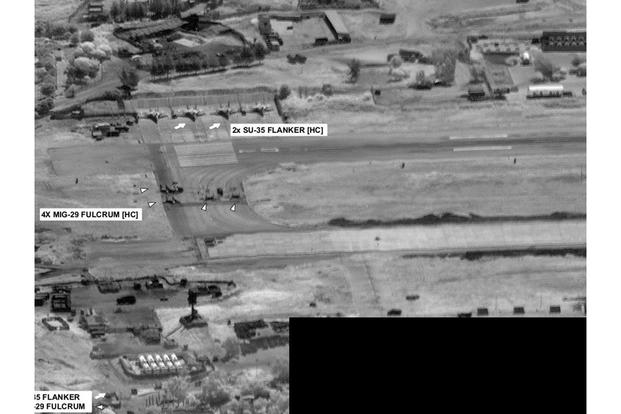 The Russian mercenaries have lined up on the side of the so-called Libyan National Army. led by Khalifa Haftar, a former Libyan field marshal who lived for nearly two decades in the U.S. and gained American citizenship.
The LNA holds sway in much of eastern Libya but has recently suffered a series of setbacks in its long-stalled attempt to take Tripoli from the internationally recognized Government of National Accord.
Haftar has the backing of Egypt and the United Arab Emirates, while NATO ally Turkey has increasingly deployed air and naval assets in support of Prime Minister Fayez al-Sarraj's GNA.
Townsend said the deployment of the MiG-29s threatens a major escalation by Russia in the increasingly complicated civil war.
"Just like I saw them doing in Syria, they are expanding their military footprint in Africa using government-supported mercenary groups like Wagner," said Townsend, who previously served as commander of Combined Joint Task Force-Operation Inherent Resolve in Syria and Iraq.
"Russian military aircraft are likely to provide close-air support and offensive fires for the Wagner Group PMC," AFRICOM officials said in a release.
It added that the fighter aircraft arrived in Libya from an air base in Russia after transiting Syria, "where it is assessed they were repainted to camouflage their Russian origin."
"Russia has employed state-sponsored Wagner in Libya to conceal its direct role and to afford Moscow plausible deniability of its malign actions," officials said. Those actions, they added, have spiked casualties on both sides of the conflict,
"The world heard Mr. Haftar declare he was about to unleash a new air campaign" in statements last week, Townsend said, adding, "That will be Russian mercenary pilots flying Russian-supplied aircraft to bomb Libyans."
In the AFRICOM release, Air Force Gen. Jeff Harrigian, commander of U.S. Air Forces Europe-Air Forces Africa, said Russia's long-term goal in Libya could be to set up a permanent base on the coast to threaten NATO's southern flank in the Mediterranean.
"If Russia seizes basing on Libya's coast, the next logical step is they deploy permanent long-range anti-access area denial (A2AD) capabilities," Harrigian said. "If that day comes, it will create very real security concerns on Europe's southern flank."
In his Senate confirmation hearing in 2019, Townsend warned that Wagner Group paramilitaries were active in the Central African Republic as part of an effort by Putin to spread influence in the sub-Sahara.
Townsend also noted that Russian mercenaries believed to be from the Wagner Group -- dubbed "little green men" in the so-called "hybrid warfare" directed by Moscow -- were used in Crimea and eastern Ukraine to provide Putin with a semblance of deniability that the Russian military was involved.
On at least one occasion, Wagner Group mercenaries are believed to have attempted to take direct action against U.S. troops.
In February 2018, Russian mercenaries combined with the forces of Syrian President Bashar al-Assad in an attack on an outpost in Syria's eastern Deir al-Zour province, which was held by U.S. troops and the U.S.-backed Syrian Democratic Forces.
The attacking force was repelled with heavy losses by troops on the ground from U.S. Special Operations Command, backed by Marine artillery and U.S airstrikes, then-Defense Secretary Jim Mattis told the House Armed Services Committee in March 2018.
Before the attack began, the Russian high command was contacted, and "they assured us it was not their people," Mattis said.
He said he gave Marine Gen. Joseph Dunford, then-chairman of the Joint Chiefs of Staff, directions "for the force, then, to be annihilated -- and it was."
In February 2016, Prigozhin, dubbed "Putin's chef" for his large catering business, was indicted, along with three of his companies and 12 employees, by a federal grand jury empaneled by then-special counsel Robert Mueller for allegedly running "troll factories" that attempted to interfere in U.S. politics, including the 2016 presidential election.
In a 191-page report last September, Vietnam Veterans of America charged that the same troll factories run by Prigozhin were continuing to target service members, veterans and their families online with "hateful and divisive messages."
The posts by bogus groups posing as legitimate veterans organizations were seeded with messages and false news reports intended to "gin up hatred, anger and discord in the U.S.," said Kristofer Goldsmith, VVA chief investigator and main author of the report.
-- Richard Sisk can be reached at Richard.Sisk@Military.com.
Related: US Says Russia Aggravating Libya Conflict Through Mercenaries