Flyovers aren't just for the Air Force Thunderbirds and the Navy Blue Angels demonstration teams. Bomber units attached to Air Force Global Strike Command are gearing up to salute health care workers and first responders on the front lines of the coronavirus pandemic fight in a series of flyovers across three states this week.
First up: B-2 Spirit bombers from the 509th Bomb Wing on Tuesday will be accompanied by A-10 Thunderbolt IIs from the U.S. Air Force Reserve's 442nd Fighter Wing and T-38 Talon's assigned to the 13th Bomb Squadron, for a flight over Kansas City, according to a release.
Beginning at 10:18 a.m. local time, the stealth bombers will pass over the Centerpoint Medical Center; Children's Mercy Hospital North and South; Lee's Summit Medical Center; St. Luke's East Hospital; Research Medical Center; St. Luke's Hospital Plaza; Western Missouri Medical Center and Bothwell Regional Health Center, the release said.
Related: Thunderbirds, Blue Angels Team Up for Dramatic Salute to Coronavirus Responders
A two-ship B-1B Lancer formation from Ellsworth, South Dakota, is expected to conduct a salute on Friday, May 1, over Ft. Meade VA Hospital in Sturgis, S.D; the VA Hospital in Hot Springs; as well as Monument Health Medical Facility in Rapid City. The flights may be subject to change, according to AFGSC. Additional details will be released as they become available, said AFGSC spokeswoman Carla Pampe.
Also on Friday, Louisiana residents can see a four-ship formation of the B-52 Stratofortress accompanied by F-15 Eagle fighters during a flyover of New Orleans and Baton Rouge. The official flight path and times will be released by the 2nd Bomb Wing on their Facebook page this week, Pampe said. B-52s from the wing first carried out flights over Shreveport, Bossier City and Monroe last week.
"We are in this fight together," said Col. Jeffrey Schreiner, 509th Bomb Wing commander, in a released statement. The flights are independent of "Operation America Strong," headlined by the Thunderbirds and Blue Angels.
"We have deep gratitude for all doctors, nurses, medical personnel and other essential employees and volunteers who are confronting this challenge worldwide -- but especially in our region," he said.
"While defending the homeland has taken a new shape, we are proud to serve alongside those who serve in and out of uniform. This flyover is our way of sending a heartfelt salute and 'Thank You' to all those on the frontlines in the fight against this virus. Without their dedication and hard work, we would not be able to execute our vital, strategic mission," Schreiner said.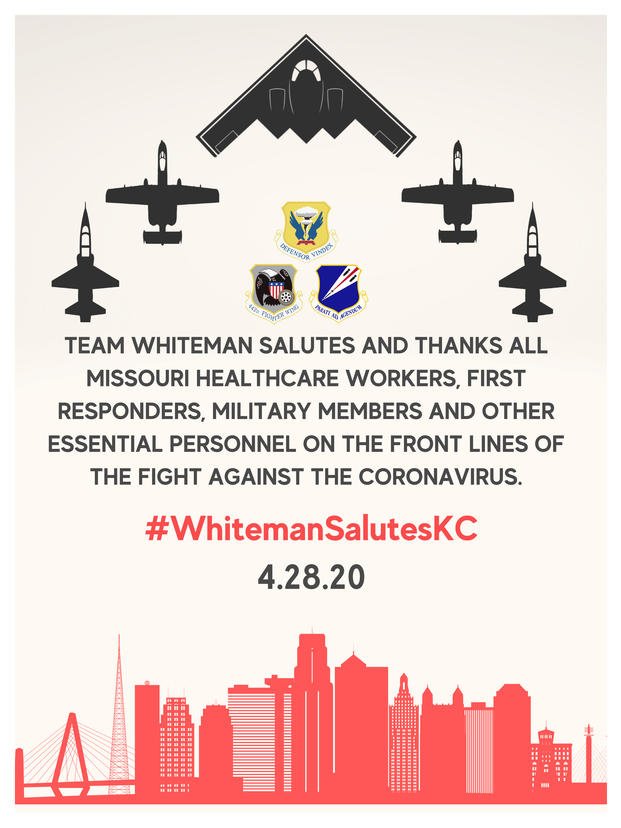 Meanwhile, the Blue Angels and Thunderbirds on Tuesday will kick off their multi-city tour with formation flights over New York City; Newark and Trenton, New Jersey; and Philadelphia, Pennsylvania.
Viewers can expect to see a formation of six F-16C/D Fighting Falcons from the Thunderbirds and six F-18C/D Hornet aircraft from the Blue Angels.
"We are truly excited to take to the skies with our Navy counterparts for a nation-wide tribute to the men and women keeping our communities safe." said U.S. Air Force Lt. Col. John Caldwell, Thunderbird 1 and mission commander for the flyover.
"We hope to give Americans a touching display of American resolve that honors those serving on the frontline of our fight with COVID-19," Caldwell said in a statement Saturday.
Flyovers in Newark, New York City and surrounding boroughs are set to begin at 12 p.m. EST and will last approximately 35 minutes, according to the teams. Flyovers in Trenton will start at 1:45 p.m. and last approximately 10 minutes; flyovers in Philadelphia will start at 2 p.m. and last approximately 20 minutes.
The mission is the first of several planned for coming weeks across the U.S. The times and locations of flyovers will be posted as they become available, officials have said.
The Pentagon stressed that observers should follow social distancing guidelines during these events.
"Operation America Strong was the idea of our great military men and women," President Donald Trump said during a White House press briefing last week. "The Thunderbirds and the Blue Angels crews who wanted to show support to the American medical workers who, just like military members in a time of war, are fiercely running toward the fight."
The Air Force Thunderbirds performed two recent flyovers earlier this month prior to the new mission.
The F-16s flew over hospitals, medical facilities and major metropolitan areas in Colorado April 18. The team, which is headquartered at Nellis Air Force Base, Nevada, first flew a salute to first responders in Las Vegas on April 11.
But the flights have also drawn scrutiny. People took to social media to question the flight costs amid the pandemic, with many businesses shuttered and millions of people out of work. According to fiscal 2017 data, it costs $20,423 per hour to fly an F-16.
Bomber flights are also pricey: Flying a B-52 costs roughly $48,000 per flight hour, while a B-1B is about $94,000, according to the data. Meanwhile, a B-2 flight rounds out to roughly $122,000 per hour.
"Flyovers are conducted at no additional cost to the taxpayer and serve as training for our pilots," Pampe said. "Pilots need to fly in order to remain current so we can maintain readiness. If they stop flying, the training hours they don't use will go to another base for pilots to use in order to remain proficient.
She added, "This is an opportunity for the Air Force to (safely) salute the Americans who are selflessly supporting our communities during this trying time while also conducting needed training."
-- Oriana Pawlyk can be reached at oriana.pawlyk@military.com. Follow her on Twitter at @Oriana0214.
Read More: Air Force Was Wrong to Force Out 14-Year Officer, Appeals Court Finds