Close to a dozen vessels from the Iranian Islamic Revolutionary Guard Corps' navy spent an hour making repeated "dangerous and harassing approaches" near American ships operating in international waters on Wednesday, according to Navy officials.
The 11 vessels carried out the aggressive moves in the Persian Gulf, Naval Forces Central Command said in a news release. The U.S. ships, including four Navy vessels and two Coast Guard, were conducting joint operations with Army AH-64E Apache attack helicopters, the release states.
The Iranian vessels came within 10 yards of the Coast Guard's Island-class cutter Maui and within 50 yards of the expeditionary mobile base Lewis B. Puller.
"The IRGCN vessels repeatedly crossed the bows and sterns of the U.S. vessels at extremely close range and high speeds," the Navy's news release states, adding that the dangerous passes increase the risk of miscalculation and collision.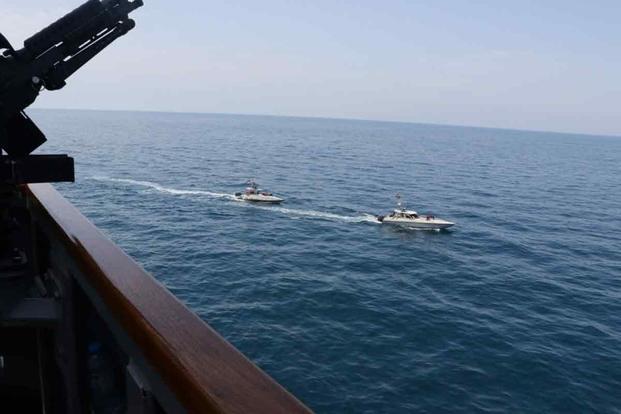 Related: Congress Wants the Navy to Prove it Can Fight Off Enemy Drone, Boat Swarms
The provocations came about two weeks after the U.S. moved a carrier strike group out of the region. The Harry S. Truman Carrier Strike Group departed the Middle East earlier this month.
It had been operating in the region with the Dwight D. Eisenhower Carrier Strike Group, a rare move for the Navy which hasn't had multiple strike groups in the region for years. The Eisenhower Carrier Strike Group remains in the area.
Tensions between Iran and the U.S. have been high. In March, two U.S. troops were killed by a rocket attack in Iraq, believed to have been carried out by Iranian-backed militia groups.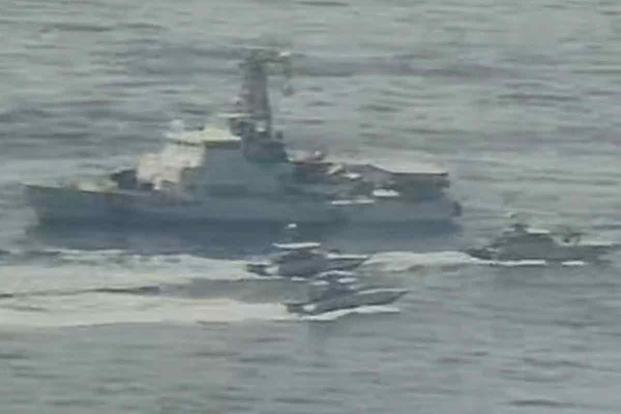 In the Wednesday statement about the unsafe maneuvers, Navy officials said U.S. naval leaders are trained to remain vigilant and professional. But, they added, "our commanding officers retain the inherent right to act in self-defense."
The other U.S. ships involved in the episode were the Navy destroyer Paul Hamilton and coastal patrol ships Firebolt and Sirocco, along with the Coast Guard cutter Wrangell. The crews have been operating in the region since March.
"The U.S. crews issued multiple warnings via bridge-to-bridge radio, five short blasts from the ships' horns and long range acoustic noise maker devices, but received no response," the release stated.
About an hour passed before the vessels responded to bridge-to-bridge radio queries, "then maneuvered away from the U.S. ships and opened distance between them," the release added.
-- Gina Harkins can be reached at gina.harkins@military.com. Follow her on Twitter @ginaaharkins.
Read More: Navy Cancels Carrier Homecoming Plans Amid Coronavirus Pandemic