Hollywood didn't quite corner the market on great World War II movies. If we're being honest with ourselves, Great Britain knew more about the war in Europe and North Africa than Americans ever would. If they hadn't held the line in the days before Pearl Harbor, our greatest generation would've never had the chance to prove itself.
These movies were made for a British audience, starring actors who were huge movie stars in their home country but never necessarily made it in Hollywood. They celebrate Great Britain's role in the conflict by focusing exclusively on that country's perspective.
What we get is movies made with all the craftsmanship we're used to with Hollywood war films from the era but that don't follow the Hollywood rules about plot and character we've seen in a hundred other (often great) WWII movies.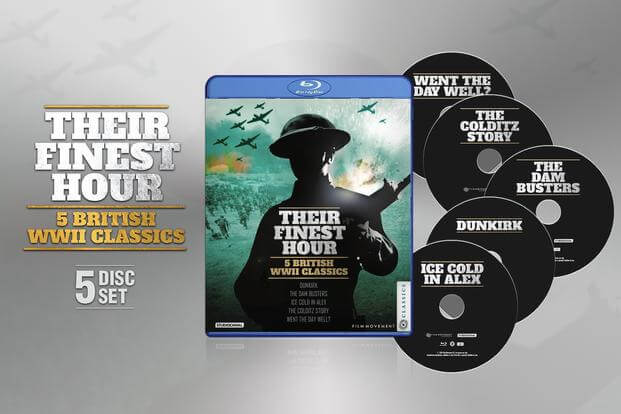 Film Movement has collected five of these classic films in "Their Finest Hour," a new Blu-ray box that makes high-definition versions available in the U.S. for the first time. Most of them are also available for purchase or rent via digital stores like iTunes, Amazon, VUDU or FandangoNOW.
The box set is still worth the investment because most of the movies come with outstanding documentary extras. Film Movement is a small distributor that's doing amazing work in making available a wide variety of lesser-known films from around the world. If you're looking for ways to support businesses likely to be hardest hit but the current crisis, buying this title directly from Film Movement would be a good option to consider.
1. Went the Day Well? (1942)
Based on a short story by Graham Greene, "Went the Day Well?" tells a fictional story about German paratroopers who land in England, impersonate British troops and take over a remote village.
On its face, the movie looks like it's going to be a heartwarming story about plucky civilians who foil an enemy plot to establish a beachhead for a coming invasion. While that does describe the plot, it doesn't suggest the violence and brutality the movie depicts. There are real consequences for both villagers and troops, and the deaths aren't underplayed.
That these charming British character types are required to react with such sudden ferocity gives the movie a sense of real consequence missing from most homefront films. Does it matter that fear of German invasion in Britain had almost totally receded by 1942? Not really. This was a movie made for an audience who knew just how close they had come to fighting the enemy on their home turf.
"Went the Day Well?" is also available to stream or buy online.
2. The Colditz Story (1955)
Before Guy Hamilton directed four of the best James Bond movies ("Goldfinger," "Diamonds Are Forever," "Live and Let Die" and "The Man With the Golden Gun"), he made his bones with this based-on-real-life drama about Allied troops trying to escape from a German prisoner-of-war camp housed in the medieval Colditz Castle.
Colditz was supposed to be escape-proof and was used to house prisoners who made repeated escape attempts from other camps. Put a group of French, British and Polish men determined to escape in one place, and they're going to come up with a series of ingenious plans.
The movie takes a few liberties with the actual details as to which prisoners tried to escape at which time, but the movie's thrilling central escape really happened in much the same way it's portrayed in the film.
"The Colditz Story" is also available to stream or buy online.
3. The Dam Busters (1955)
This movie revealed the previously classified story behind Britain's "bouncing bombs," which the RAF's 617 Squadron used to destroy German dams in 1943. Michael Redgrave plays the visionary engineer who conceives and designs the devices, and Richard Todd is the RAF pilot who leads the raid.
The final bombing sequence is shot in a way that should look familiar to fans of the Death Star destruction sequence in the original 1977 "Star Wars" movie. There's probably a good reason for that inspiration, since the special effects shots were overseen by Gilbert Taylor, whose long career included a job as cinematographer on "Star Wars."
There's one unintentionally shocking thing about this movie: Richard Todd's character, Wing Commander Guy Gibson, has a magnificent black labrador retriever as a pet. The dog is black, and Gibson has given him a truly unfortunate name, one that inspired a pre-title card at the movie's beginning warning audiences that the film reflects cultural attitudes of the era that may no longer be acceptable.
The dog is quite popular on the base, and everyone seems determined to greet the creature with his racist name. He's so beloved that the flight crews use his name as one of their code words for the mission.
"The Dam Busters" is not available to stream or purchase digitally, most likely because of that poor dog's name. It's a movie that deserves a wider audience and, if that requires dubbing in an innocuous name for the dog, let's hope someone gets around to that soon.
4. Dunkirk (1958)
Christopher Nolan's classic 2017 "Dunkirk" plunges viewers into three different perspectives (land, sea, air) and three different timelines (week, day, hour) to give a sense of the chaos of war from the battlefield perspective.
Director Leslie Norman's 1958 film takes the opposite and more traditional approach, giving context every step of the way and telling a series of parallel stories of men on the ground in France and citizens back home in Britain that eventually meet up and intertwine on the beaches at Dunkirk.
Brits really do see Dunkirk as the defeat that won the war, and this movie, made less than a generation after the 1940 evacuation, is a document of that operation made by people with direct connections to the war.
"Dunkirk" is also available to stream or buy online.
5. Ice Cold in Alex (1958)
Journeyman director J. Lee Thompson warmed up for his early 1960s career peak (the consecutive one-two punch of "The Guns of Navarone" and "Cape Fear") with this North Africa adventure tale that's every bit as good as those two better-known films.
A British medical field unit (John Mills, Sylvia Syms and Harry Andrews) tries to cross the desert to Alexandria, Egypt, in a breaking-down jeep. They're accompanied by a South African officer (Anthony Quayle), who may not be what he seems.
Mills' character, Capt. Anson, dreams of enjoying an ice-cold lager in his favorite bar once they arrive in Alexandria (hence the title), and it's that beer (with dew forming on the glass) that keeps him motivated through all the crises the group encounters along the way.
The action scenes are riveting, and much of the movie was shot on location in Libya. If you think you saw it back in the day, the version released theatrically in the United States cut out half the movie. Even if that version kept in the action sequences so effective here, it's the dread created in quieter scenes that make the film so effective.
"Ice Cold in Alex" is also available to stream or buy online.