Shandrea Hickok is grateful to her dad for picking her up when she graduated from Utah State University in 2019, packing the moving truck and driving her across the country to their family home in Red Bank, New Jersey.
She cherishes those memories and the moments he spent taking her and her brother, Noah, on little trips to see the Battleship New Jersey Museum and Memorial, or to hike nearby Fort Hancock, a former Army installation.
She's also grateful that Douglas Linn Hickok was a man of service, not just in the medical community but also in the U.S. military.
On Monday, the Pentagon identified Hickok, an Army captain and physician assistant in the New Jersey National Guard, as the first U.S. service member to die of the novel coronavirus. He was 57.
Related: 1st US Service Member Dies of Coronavirus
"My dad was so proud about his military service," Shandrea told Military.com in an interview Tuesday. Hickok's death marks the U.S. military's third confirmed fatality from COVID-19. A contractor and a military dependent died of the virus in recent weeks, according to the Pentagon.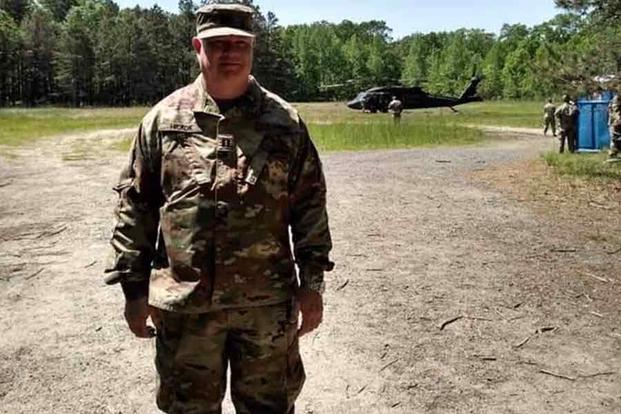 Douglas Hickok's father, Robert, served as a major in the Air Force, according to Douglas' sister, Mary Hickok Scott. Douglas was born at Norman Air Station in Oklahoma. Now, his son Noah has also set his sights on joining the Navy, the family said.
"[Douglas Hickok] wanted to contribute and serve as his family has," said Hickok Scott, who lives in Washington state. "He wanted to make a difference in directly, hands-on helping people. He was a helper."
According to the New Jersey National Guard, Hickok, who had 28 years of medical experience, directly commissioned into the Guard in 2010.
Earlier this month, Hickok, who also worked as a physician's assistant for a clinic in Connecticut, was unable to attend drill with the 104th Brigade Engineer Battalion, said Army Lt. Col. Barbara Brown, a spokeswoman for the New Jersey Guard. State Guard units have been participating in coronavirus outreach efforts in the tri-state area since March 17.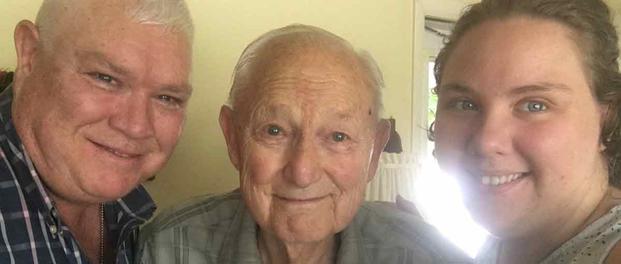 He rescheduled his drill time with New Jersey Guard's Medical Command; he was to report March 21.
But Hickok, a Pennsylvania resident, informed his chain of command that he was not feeling well on March 19, Brown said. He checked himself into the hospital the next day; he died at Lehigh Valley Hospital-Poconos in Pennsylvania on Saturday, the family said.
Family members were unaware of how Hickok contracted COVID-19 but said it's possible he picked it up from a patient.
During his last days, Hickok called his daughter, Shandrea, and sister, Mary, to talk about outbreaks happening across the country.
"He was concerned with the impact [coronavirus] was having, [was concerned] for his children," Hickok Scott said. "He was concerned for the freedoms of our nation.
"But the most important thing that I want out there about my brother is his love of serving people," she said, adding that he was a man of faith, a member of the Church of Jesus Christ of Latter-Day Saints.
An avid baseball fan and college athlete -- as a catcher -- in his 20s for the United States International University in San Diego, Hickok first pursued a baseball career; he was even scouted to play for the L.A. Dodgers, Hickok Scott said. When that didn't pan out, he instead turned his attention to sports medicine as a full-time career, later graduating from Cornell Medical School in New York City with a physician's assistant medical degree, specializing in orthopedic surgery.
His knowledge and expertise came in handy.
An incident last summer prompted Hickok to become a first responder during a training accident in Pennsylvania, involving an Army vehicle and two injured soldiers, the family said. While Brown, the New Jersey Guard spokeswoman, was not able to verify or comment on the incident, a text message exchange between Hickok and family members showed he had accompanied the soldiers to St. Luke's Trauma Center.
"I'm here with them. I'm the medical officer, I was behind them," Hickok wrote to Shandrea in a text. "Tire blew out....Glad I was there to help."
"That's who he was -- he would give the shirt off his back," said Hickok Scott.
Reminiscing about childhood memories over the phone last week while her brother was in the hospital, Hickok Scott noticed he was having trouble breathing during their last conversation.
"He got tired. It sounded like he had a hard time breathing. So I cut that [conversation] short," she said. "And I regret it every minute."
-- Matthew Cox contributed to this report.
-- Oriana Pawlyk can be reached at oriana.pawlyk@military.com. Follow her on Twitter at @Oriana0214.