Troops may someday deploy wearing small devices to help determine their risk of developing a traumatic brain injury (TBI).
A blast sensor called the BlackBox Biometrics Blast Gauge, placed on a service member's chest, shoulder and helmet, can document the pounds per square inch (PSI) of force they are exposed to over time, a Defense Department official said Wednesday. The device is the size of a small pager, 2 inches by 1.5 inches.
Overall data can be viewed later by computer, but users can quickly see the approximate PSI they have experienced by looking at what color light the device is displaying: The green light is triggered by 1 to 4 PSI; amber at 4 to 16 PSI; and red at greater than 16 PSI.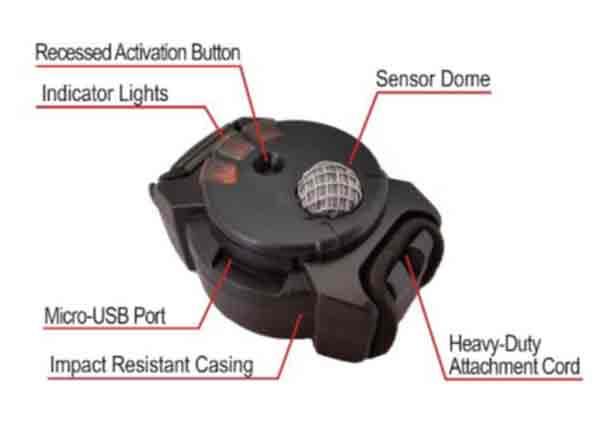 "They're going to give us environmental exposure data in a quantifiable way that we can document and have and continue to learn about how those thresholds impact an individual," former Defense and Veterans Brain Injury Center director Kathy Lee said during a roundtable Wednesday. "I'm sure you've probably heard many times in this world of concussion care that there really is no 'silver bullet' -- one thing."
Related: Still Misunderstood: How Traumatic Brain Injuries Affect America's Veterans
While the DoD touted the "success" of its diagnostic testing after 110 service members sustained TBIs in the Iranian airstrike on Al Asad Base, Iraq, in January, it's still trying to find the most objective way to diagnose a mild TBI.
The current DoD definition of TBI requires an exposure event, in addition to the patient displaying some kind of altered consciousness, such as memory loss or feeling dazed. Researchers are looking into biomarkers and chemical imbalances to show the presence of a TBI, but how should the DoD determine which exposure cases warrant a TBI test?
Nearly 60 military units, each consisting of 12 to 360 troops, are currently wearing these blast sensors during training exercises, and the pilot program will follow them into deployment. Officials did not specify which military services were included in the program but said a total of 4,408 sensor sets are currently in use.
The DoD will release the results of the test sometime between mid-2021 and 2022, Lee said.
The first couple attempts tested by the DoD were static, battlefield sensors to measure whether a service member was exposed to a concussive blast, but these new body-worn sensors promise an individualized look at how exposure events affect people.
The DoD has already created an automatic TBI check if, among other scenarios, a service member is within 50 meters of a blast.
"We need to explore all these facets to try to understand the relationship, cause and effect relationship or simply relationships or linkages between environmental exposures such as blast overpressure to health and performance indices," Lee said.
Editor's Note: This story has been updated to correct the name of the sensor device and clarify its size.
-- Dorothy Mills-Gregg can be reached at dorothy.mills-gregg@military.com. Follow her on Twitter at @DMillsGregg.
Read More: This Institute Is Offering Free TBI Treatment for Vets with 'Bad Paper' Discharges