WEST PALM BEACH, Florida -- In a demonstration Thursday for the U.S. Army's top civilian official, a Sikorsky-Boeing team flew experimental helicopter prototypes that could one day become the service's next scout and assault rotorcraft under the Future Vertical Lift (FVL) program.
The SB-1 Defiant helicopter prototype performed a series of aerial maneuvers to show off its unique X2 technology, which features a coaxial rotor blade system and a large propeller in the tail section of the aircraft designed to aid in forward thrust.
This was the first flight demonstration of the Defiant for Army Secretary Ryan McCarthy. Sen. Tammy Duckworth, D-Illinois -- a former Army UH-60 Black Hawk pilot who was shot down in Iraq -- also attended the demonstration.
Sikorsky, part of Lockheed Martin Corp., and Boeing Co. built the Defiant after the Army awarded the team a contract in 2014 as part of the Joint Multi Role Technology Demonstrator (JMRT-D) program.
Related: Sikorsky-Boeing's Futuristic Defiant Rotorcraft Completes First Flight
The Army also awarded a contract to a Textron Inc.-Bell team, which built the V-280 Valor, a tiltrotor-design helicopter that completed its first test flight in December 2017.
The technology-demonstration effort was formulated to explore new concepts and will heavily inform the design of the Army's effort to develop a Future Long-Range Assault Aircraft (FLRAA) to replace the Black Hawk.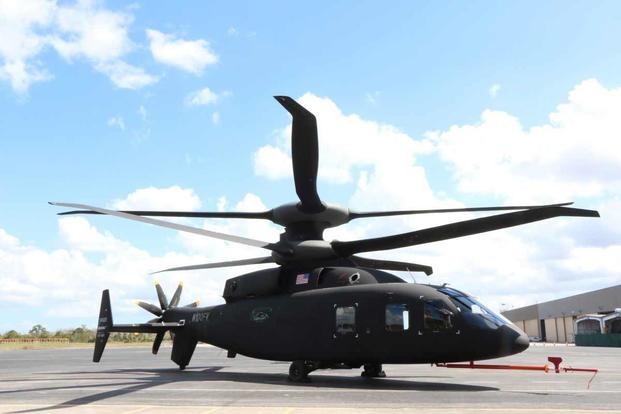 The Sikorsky S-97  Raider also flew in Thursday's demonstration. The Raider is smaller and a little more streamlined than the Defiant, but it was the first helicopter of this type built with the X2 coaxial rotor and rear-thrust propeller technology.
The Raider has been flying since 2018 and has been clocked at speeds more than 200 knots. It is currently being scaled into the Raider X, which will be 20% larger and designed to compete in the Army's Future Attack Reconnaissance Aircraft (FARA) effort, part of the FVL, Sikorsky officials said.
"This is a very crucial moment for the Army for bringing in these new platforms into the formation so that we can maintain that technological edge for years to come," McCarthy told defense reporters at the demo.
The demonstration also featured a test flight of the Sikorsky Autonomy Research Aircraft, which is being used to research how autonomy can reduce the workload on pilots flying in extreme combat conditions.
Both the Defiant and Raider are designed to fly at speeds of more than 200 knots, but they flew at slower speeds during the demo. The Defiant hit 140 knots, while the Raider reached 180 knots.
Both hovered, flew backward and performed pirouettes for the audience.
"When we are flying at 130 knots in this machine, we are using less than 20% of the prop power and less than 30% of the engine power," said Bill Fell, senior experimental test pilot for the S-97 Raider and the Defiant.
By comparison, Black Hawks, equipped for combat, fly at an average speed of 140 knots.
Sikorsky President Dan Schultz described the Defiant as the product of "almost $500 million in investment and over 12 years of development."
The Defiant completed its first test flight in March 2019 after technical challenges delayed plans for earlier demonstrations.
Program officials downplayed the delays, pointing out that the Defiant has undergone thousands of hours of tests in their propulsion test facility and that it is flying on a regular basis.
"When Defiant flies, it's the result of so many hours of work to get there; we don't get surprised in flight tests," Schultz said. "Since January, we have been flying every single week, sometimes twice a week."
Duckworth told reporters that she is committed to providing "strict oversight of the Army's Future Vertical Lift program."
"I am also advocating to improve it as a member of the Senate Armed Services Committee," she said. "I think this cutting-edge technology is crucial for our nation's future warfighting capabilities."
The former Army National Guard officer, who lost both of her legs after she was shot down by enemy fire in Iraq in 2004, has a reputation for asking tough questions about the Army's future modernization goals. She eventually reached the rank of lieutenant colonel.
But Duckworth spoke with a gleam in her eye after seeing the Defiant fly.
"As a former Alpha model Black Hawk pilot, I gotta say, 'I was salivating out there in the stands,'" she said.
The Army has many tough decisions to make in the coming months and years to make the Future Attack Reconnaissance Aircraft and the Future Long-Range Assault Aircraft a reality.
Army officials are scheduled to down-select to two vendors to build final prototypes of the FARA next month, said McCarthy, who admitted it will be a hard decision after seeing promising technologies in demos like he saw Thursday.
The Army is also scheduled to begin a competitive demonstration and risk-reduction phase for FLRAA, which is expected to last until 2022, the year the service plans to down-select to one vendor to build the Black Hawk replacement.
Sikorsky-Boeing officials remain highly confident that the X2 rotor technology will be part of the Army's Future Vertical Lift program.
"This really is a leap in technology; we didn't modify a helicopter to come [up] with X2," said Jay Macklin, director of Future Vertical Lift Business Development for Sikorsky. "This is new technology, which Sikorsky and Boeing have worked very, very hard to push forward."
Editor's note: The S-97 Raider is made by Sikorsky.
-- Matthew Cox can be reached at matthew.cox@military.com.
Read More: Special Ops May Get Army Future Vertical Lift Helo to Replace MH-6 Little Bird