A pair of Navy ships have for the first time nabbed a new kind of Iranian surface-to-air missiles during recent arms seizures in the Middle East.
U.S. weapons experts have gotten their first look at a new "uniquely Iranian-designed missile," Navy Capt. William Urban, a U.S. Central Command spokesman, told reporters on Wednesday. Sailors aboard the destroyer Forrest Sherman and cruiser Normandy confiscated eight of the new 358-missiles during separate weapons seizures in the Middle East.
The Forrest Sherman got five of the surface-to-air missiles in November and the Normandy seized three more earlier this month. Both operations took place in the Arabian Sea.
Urban declined to talk about the new missile's capabilities or what the U.S. has learned about it. The eight missiles -- along with anti-tank missiles, pieces for land-attack and anti-ship cruise missiles, high-explosive warheads, drone parts, blasting caps and other items -- were on their way to war-torn Yemen.
Related: Navy Cruiser Seizes Huge Iranian Arms Cache in Arabian Sea
"The United States is confident that these weapons fit the pattern of weapons smuggling to the Houthis in Yemen, which Iran has been engaged in for five years," Urban said. "The latest two seizures add substantial support to the body of evidence that Iran continues to smuggle advanced weaponry into Yemen."
The new Iranian missile has been used in the Yemeni battle space, Urban added. The Houthis have also used some of the Iranian-developed weapons outside of Yemen, firing missiles at U.S. warships and attempting to attack civilian targets in Saudi Arabia and the United Arab Emirates, he said.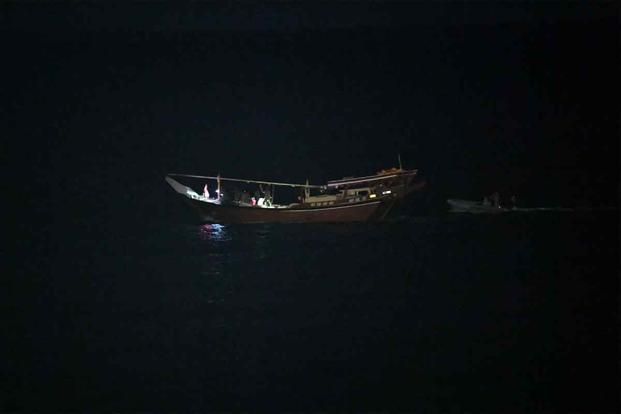 Though Urban repeatedly declined to confirm that the caches were being provided to the Houthis directly by the Iranian government, he said the vessels stopped by the pair of Navy ships were contracted specifically for the purpose of delivering the weapons.
"If the weapons were manufactured in Iran, then they came from Iran," Urban said. "Certainly 150 anti-tank guided missiles do not just walk away. They are illicitly smuggled for a purpose and that purpose is to spread lethal assistance to the Houthis, to Iranian proxies."
Iran has for years backed the Houthis, who in 2015 seized control of much of Yemen, forcing the president to flee to Saudi Arabia. The yearslong war to restore him to power has led to a devastating humanitarian crisis in the country.
Secretary of State Mike Pompeo said after the Navy's intercept of the second weapons cache bound for Yemen that the world must reject Iran's attempts to spread violence.
"The U.S. Navy interdicted 358 Iranian-made missiles + other weapons components on their way to the Houthis in Yemen," Pompeo tweeted. "This is another example of the world's largest state sponsor of terror the Islamic Republic of Iran continuing to defy the UN Security Council."
-- Gina Harkins can be reached at gina.harkins@military.com. Follow her on Twitter @ginaaharkins.
Read More: Here's the List of Clinics That Will No Longer Serve Military Families