Almost 70% of Americans surveyed in a recent online poll said soldiers are more trustworthy than judges, police and Transportation Security Administration agents.
SafeHome.org, a company that researches and reviews security products and services, conducted the survey of more than 1,000 Americans through Amazon Mechanical Turk (MTurk), a virtual job outsourcing platform often used to conduct studies. Survey recipients were asked specifically about soldiers, but the word was intended to represent all U.S. troops.
Gesa Pannenborg, the survey's project manager, said SafeHome.org wanted to study how people relate to those in authority or power positions during this "particularly divisive time" in American history.
"We were surprised by the extent to which our politics may influence how we interact with authority figures in our daily lives -- perhaps more than we realize," she wrote in an email.
Related: Jim Lehrer Believed Serving His Country Made Him a Better Journalist
Soldiers had the sixth-highest trustworthy rating by those surveyed, following top picks of paramedics, firefighters, doctors, teachers and professors, in that order.
"I think we as a country have always held soldiers in high regard, as the brave men and women who protect us and risk their lives for our freedom," Pannenborg said. "It's encouraging to see that, while politicians or wars can be unpopular, people, both left- and right-leaning, are pretty uniformly unwavering in their deference for those we entrust to carry on with the fighting."
The study found 63% of Democrats surveyed thought of soldiers as trustworthy compared to 82% of Republicans. Professors had a similar 20% trustworthy disparity, though they rated higher with Democrats.
Republicans also had significantly more trust in police than Democrats did, but overall, the police fared worse than company supervisors and security guards.
"In recent years, there have been numerous highly publicized, controversial incidents involving police officers," Pannenborg said. "Some of the results we found were likely a response to that press coverage, and it's clear that Republicans and Democrats are more divided in their perception of the trustworthiness of police officers."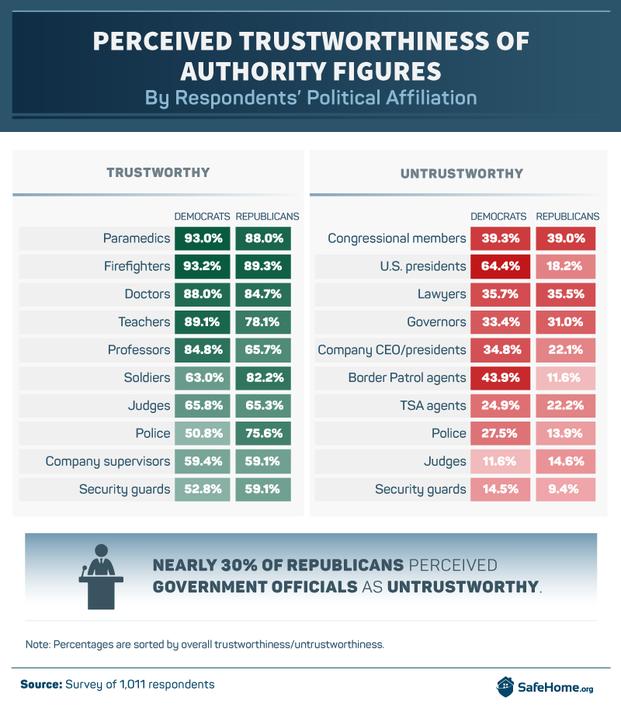 At the bottom of the list were U.S. lawmakers and the president, with nearly half of all respondents called them untrustworthy.
Survey takers' ages ranged from 19 to 83. Nearly 450 of them were Democrats, about 240 were Republicans and 264 Independents. They took about three minutes on average to complete the study and were paid $0.43 for their responses.
While widely used for studies, MTurk has been criticized within the last two years for taking advantage of rural workers, and there's been skepticism about whether robots or people are filling out the surveys.
-- Dorothy Mills-Gregg can be reached at dorothy.mills-gregg@military.com. Follow her on Twitter at @DMillsGregg.
Read More: SecDef to Congress: Let the Pentagon Dump Old Gear to Fund New Weapons