The newest crop of Army battalion commanders will have to face a screened-off panel of senior officers for a grilling on why they rate selection for the post, service officials said this week.
A major general, a brigadier general and two brigade commanders will fire questions at candidates from behind an opaque screen as part of an overhauled evaluation process, called the Battalion Commander Assessment Program (BCAP). It's replacing the old system, which was based on board review of personnel files, Army officials said.
Data and interviews will also be reviewed by an "operational psychologist" in an effort to weed out those deemed unfit for battalion command, or who need improvement, the officials said.
In a video roundtable with defense reporters from Fort Knox, Kentucky, Army Chief of Staff Gen. James McConville said the goal of the new five-day BCAP program was to develop battalion commanders who will become the "future strategic leaders of the Army."
Related: New Army Program Will Make Sure Battalion Commanders Are Fit to Lead
Battalion commander is a post "I consider the most consequential job in the Army," McConville said.
"Every once in a while, you have a great performer that's very, very good but they have some holes in their swing," he added. "It may be how they treat people -- they many not even know it."
Those who don't pass don't need to fear that their careers are in jeopardy, though, officials said.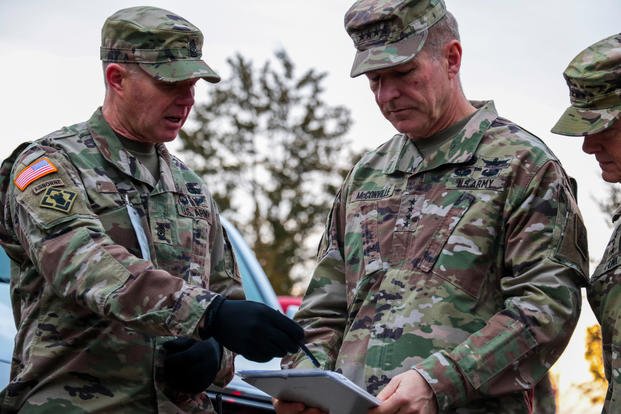 "Being determined that you're not ready for command doesn't hold any negative mark against you," said Maj. Gen. Joseph McGee, director of the Army Talent Management Task Force. "It just says, developmentally, there's something you need to work on."
After running two successful pilot programs at Fort Benning, Georgia, last summer, the new selection process started up at Fort Knox on Jan. 15. The evaluations for the first cohorts of majors and lieutenant colonels seeking battalion command are set to be completed by Feb. 9, McGee said.
About 1,800 majors and lieutenant colonels were seen as eligible, and of that number, about 1,100 showed interest in competing, McGee said.
The 1,100 went through a normal board process. From that group, about 816 were invited to Fort Knox for the five-day evaluation program, McGee said. They will be competing for about 450 battalion command posts that will open next year, Army officials said.
From the 816, the Army will seek to determine "who's ready for command and who's not ready for command," McGee said.
Getting the right people into battalion command posts was a challenge under the old system, which dates back to 1975, McConville said.
"This is going to give us the capability to give some very smart, high performing officers some feedback that -- hey -- you might want to watch this and that area so that as you move up the ranks you continue to progress."
McGee declined comment on the attributes and traits the psychologists would be looking for in evaluating the candidates.
"What they're specifically looking for, I'm not going to actually discuss, because I think that would start giving away the nature of what we're doing," McGee said. "I don't want to degrade the process."
McConville stressed that he was not knocking the old system, but said the new process will ensure the highest-quality commanders.
"We want the absolute best leaders in place because parents are going to send their sons and daughters to serve in the Army, and we want to make sure they are taken care of and are treated with dignity and respect and they have the opportunity to excel in the Army -- that's a function of leadership."
-- Richard Sisk can be reached at Richard.Sisk@Military.com.
Read More: Marine Raiders Let Counterattack to al-Shabaab in Kenya: Reports