LAS VEGAS -- At SHOT Show 2020, Magpul Industries introduced its new backpacker stock for the Ruger Pistol-Caliber Carbine to offer hikers an extremely stowable survival rifle for the trail.
Ruger designed its PC Carbine -- which comes in 9mm and .40-caliber -- with a quick disconnect for the barrel assembly.
Magpul's new Nylon-polymer PC Backpacker Stock allows the barrel assembly to stow securely in a cutout on the bottom of the buttstock, while including several other handy features.
"We had to do it," said Clint Lynch, product design manager for Magpul, explaining that the company already makes the X-22 Backpacker stock for the takedown version of Ruger's .22-caliber 10/22 rifle.
Related: SHOT Show 2020 Coverage
"That was the original backpacker. This is a follow-on for the gun Ruger introduced in [2017]. This needs to exist," he said.
The stock breaks down by pulling the bolt slightly to the rear and pressing a thumb lever to release the barrel assembly. The barrel and forend snap securely into a space at the bottom of the buttstock to create a roughly 18-inch package that can slide into a backpack for use as a survival rifle or for self-defense against small predators or threats on the trail.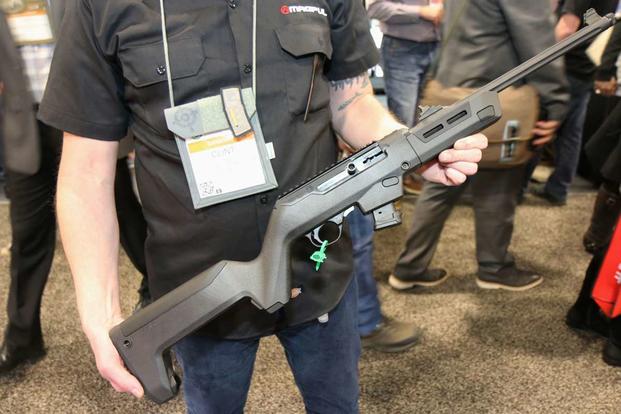 Pressing two small buttons releases the barrel assembly when it's time to put it back together.
The cheek rest flips up to reveal a compartment for a spare magazine.
"It's sized perfectly to fit our 21-round magazine," Lynch said. Ruger designed its carbine to take all Glock-pattern magazines.
"One of the things I am really excited about is the addition of the M-LOK slots [on the forend], so you can add a laser or a light or a different sling attachment," Lynch said.
The backpacker stock features an ambidextrous magazine release, so it can be swapped from left to right. There is a small, water-tight compartment in the grip to store a cleaning kit or survival items.
The Magpul PC Backpacker Stock will retail for about $150, and it is scheduled to be available in the fall. Black will be the first color and then olive drab, flat dark earth and gray, Lynch said.
-- Matthew Cox can be reached at matthew.cox@military.com.
Read more: A Truly Shootable Tactical Pistol: Shadow Systems Shows Off Its New Take