Newly released photos show collapsed ceiling debris and plaster scattered across the passenger terminal at Bagram Air Base following Wednesday's Taliban attack on the base's nearby medical facility.
The photos, released by the U.S. military, showed airmen with the Air Force's 405th Expeditionary Support Squadron cleaning up and disposing of broken metal and ceiling tiles and attempting to salvage the remaining structure in the terminal.
A suicide bomber targeted a medical facility under construction that was intended for Afghan civilians who live near the base. U.S. officials said there were no U.S. or coalition deaths from the attack.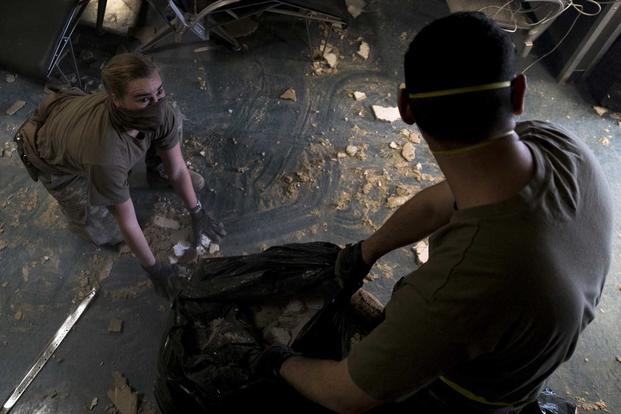 The Taliban claimed responsibility for the bombing, which killed at least two Afghan civilians and wounded more than 70 others, Newsweek said. Newsweek, first to report the incident, also said that U.S. and Taliban forces engaged in a nearly 10-hour firefight following the attack.
Related: Afghan Bomber Hits Medical Base in Bagram, Afghanistan
An Operation Resolute Support spokesman told Military Times that airstrikes were called in as reinforcements.
U.S. and coalition forces have dropped 1,296 bombs on Taliban and other extremist targets since September, according to the latest airpower summary report released by U.S. Air Forces Central Command this week. The statistics show 777 weapons were dropped in October, and 519 in November.
Fighter, attack and remotely piloted aircraft released 948 weapons during September, which marked the most U.S. airstrikes in a single month in nearly a decade.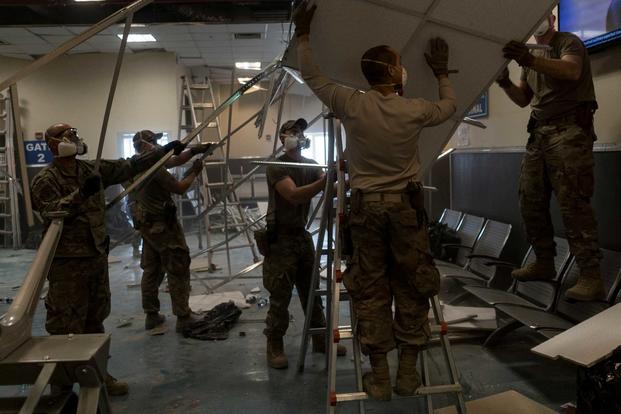 If strikes continue at a high tempo throughout December, it's possible the U.S. could surpass its 2018 totals. Aircraft last year dropped 7,362 munitions, more than the three preceding years combined.
The Taliban resumed peace talks with the U.S. earlier this week following President Donald Trump's recent trip to the region on Thanksgiving day.
The talks began before the Washington Post published an exclusive report Monday that disclosed more than 2,000 pages of documents and emails between U.S. government officials who acknowledged failures in the Afghanistan war, now in its 18th year.
-- Oriana Pawlyk can be reached at oriana.pawlyk@military.com. Follow her on Twitter at @oriana0214.
Read More: US Considers Leaving Smaller Number of Troops in Afghanistan