JOINT BASE LANGLEY-EUSTIS, Virginia -- Three soldiers were awarded the Army's new Expert Soldier Badge, or ESB, here Thursday after completing a tedious and often unforgiving test on basic soldier tasks. The test had eliminated nine female and 83 male candidates who tried out for the new skill badge -- a total attrition rate for the event of nearly 97%.
Capt. David Morin, Staff Sgt. Joseph Hansen and Sgt. Michael Smith were the only ESB candidates to start and finish the final event -- a 12-mile road march with a 35-pound pack and rifle in under three hours -- early Thursday morning.
"It was tough; it was an experience," said Morin, a signal officer with the 93rd Signal Brigade at Langley-Eustis. "It was doing a bunch of tasks that I hadn't done since the Basic Officer Leader Course ... in 2014."
The new ESB is designed to test soldiers on their knowledge of 30 warrior tasks and battle drills out of the "Soldier's Manual of Common Tasks" that focus on patrolling, medical and weapons skills. The ESB also tests soldiers on land navigation and physical fitness.
Related: Expert Soldier Badge Test an Unforgiving Wakeup Call for Non-Infantry Troops
Army leaders say it is equivalent to the prestigious Expert Infantry Badge and Expert Field Medical Badge tests.
"This is about excellence. ... This is about being an expert," Command Sgt. Maj. Timothy Guden, CSM for Training and Doctrine Command, said during the award ceremony. "I am going to be completely honest with you: For the past 15 years or so, we have been OK with mediocrity. We have been OK with just, like, going wherever the Army pushes us and floating around like a piece of Styrofoam on the current."
That will soon end when more units begin taking the ESB test and the new Army Combat Fitness Test, a challenging five-event assessment scheduled to replace the current, three-event Army Physical Fitness Test in October 2020.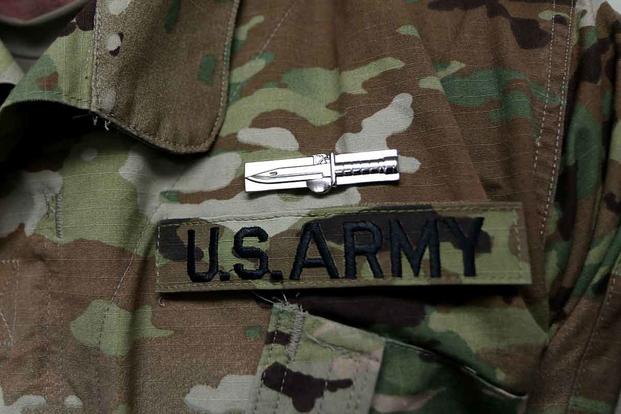 "I'm telling you this is a culture that is about to be flipped on its head just with the ACFT and the introduction of the ESB," Guden said. "There has got to be distinguishing factors that separate mediocrity from excellence, and the ESB is one of those."
For Smith, a military policeman with the 3rd U.S. Infantry Regiment (The Old Guard) at Fort Myer, Virginia, it was a matter of taking it "day by day, task by task."
"Listen to what the instructors put out to be successful, but also don't get up in that test line until you run through it and don't be overconfident," he said.
To Hansen, a drill sergeant instructor at the U.S. Army Drill Sergeant Academy, the ESB will be challenging for soldiers who do not learn each task straight out of the manual.
"If you get away from the standards, this is going to be a lot more difficult for you," he said. "As a drill sergeant leader, we train the standards, black and white, in our daily job. So, to me, it wasn't necessarily as hard as it was for some of the people."
Both Hansen and Smith were also awarded Army Commendation Medals for completing the ESB testing without a single no-go.
Hansen, the TRADOC NCO of the Year for 2018, also said that soldiers should expect to be under pressure during each part of the testing.
"When you have 30 tasks and over 1,000 subtasks, with that comes pressure, [let] alone just trying to memorize it," he said.
Morin said he sees it as more than just learning the tasks to earn the ESB.
"Can you do the basic things that you might need to do when you are attached to that infantry unit or that cavalry unit or that tank unit?" he said. "That will be the stuff that, one, will keep you and your buddy alive, but two, will make sure that the unit that you are with appreciates your contribution that much more.
"If you are just focused on your technical job and you are lacking in your soldier job, other people will need to manage that," Morin added.
-- Matthew Cox can be reached at matthew.cox@military.com.
Read more: Army IDs Warrant Officers Killed in Afghanistan Helicopter Crash