In the wake of a heartwarming viral video that was featured everywhere from Good Morning America to the Daily Mail comes a disheartening revelation: The 84-year-old self-described Army nurse cranking out push-ups in her crisp Vietnam-era uniform might not be who she said she was.
Maggie DeSanti, allegedly a retired Army lieutenant colonel who rappeled out of helicopters in Vietnam, was captured in a video challenging a TSA agent to a push-up competition ahead of a flight to Washington, D.C., with the Arizona chapter of the organization Honor Flight on Oct. 16. The video soon was everywhere, and many who shared it, including Honor Flight, hailed DeSanti's toughness and spirit.
But now the organization is quietly backing away from prior claims. In a statement to be posted to the Honor Flight Arizona Facebook page later today, the group will acknowledge reports that an individual -- not mentioned by name -- had "misrepresented or embellished their military services."
"We take this very seriously," the statement will add.
Multiple efforts to reach DeSanti for comment were unsuccessful; one phone number, verified as belonging to her, was declining new calls. An email sent to her personal email account bounced back.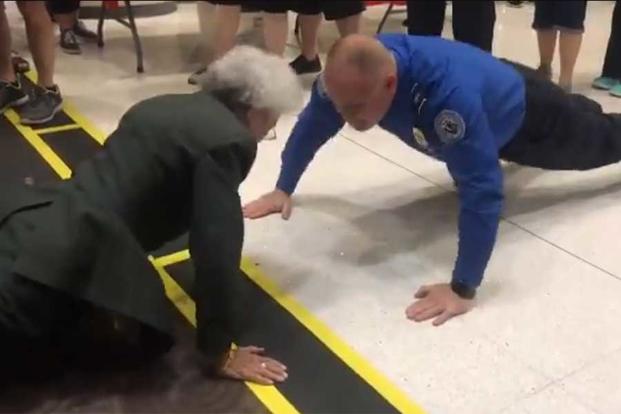 DeSanti, as it turns out, had previously been investigated by several veterans who make it their business to uncover cases of military fraud, or, as it's also called, stolen valor.
In 2014, the late Jonn Lilyea, an Army veteran of Operation Desert Storm, devoted a post to DeSanti on the website Valor Guardians, challenging her military claims. Lilyea wrote that he had submitted a personnel records request, using her Social Security number, to the National Personnel Records Center and got no records in return.
While that does not conclusively indicate DeSanti never served -- famously, a 1973 fire burned millions of military personnel records -- it casts grave doubt on the fact.
"There's gotta be pay records, but there was absolutely nothing on her in there," Doug Sterner, the military valor historian who created the database Hall of Valor, told Military.com. "The odds are 999 out of 1,000 that that's totally accurate."
If doubt remains on that count, other claims are immediately disprovable. DeSanti appears in multiple news photos in a uniform featuring a Silver Star -- even though no woman received the Silver Star during the Vietnam War. In 2005, Army Sgt. Leigh Ann Hester was the first woman to receive the prestigious medal since World War II.
A biography from an event featuring DeSanti at the Chamber of Commerce in Mesa, Arizona, also claimed she had earned the Silver Star, as well as the Soldier's Medal.
"That one always tees me off, because I always look at that with absolute reverence," Sterner said.
Vietnam veteran Karen Offutt, a personal friend of Sterner's, received the rare Soldier's Medal for heroism not involved in fighting the enemy in 2001, after congressional intervention. She's believed to be the only female recipient from Vietnam.
DeSanti's service claims also appear to have changed over time. During a town board meeting in the town of Riverhead, New York, in 2004, she introduced herself during a comment period as a retired Army captain; she now claims to be a retired lieutenant colonel.
According to another biography, for a scholarship created in her name by the Maricopa Association for Combat Veterans, DeSanti requested and was returned to active duty after Sept. 11, 2001, when she would have been already in her 60s.
Jerry Walker, president of that organization, called any accusations regarding DeSanti's military service "ridiculous," saying he knew she had been recalled to active duty.
"I knew her when she was a captain in the Nurse Corps," he said. "She's a really good person."
Susan Howe, the founder of Honor Flight Arizona, told Military.com that her organization had been subjected to "a firestorm" ever since the video featuring DeSanti was posted. It's only the second time since Honor Flight began that doubt has been raised about an individual's service record, she said. And since the organization cannot require that veterans present official records to verify military service, organizers take a lot on faith.
Honor Flight Network began in 2005; it encompasses state and regional Honor Flight programs across the country. It started as a project to send World War II veterans to the nation's capital to see the WWII memorial; some hubs now also accept Korea and Vietnam-era veterans.
"Maybe over 300,000 veterans have been sent to Washington, D.C., to honor them," Howe said. " ... We have to trust that what they're telling us is the truth."
Moving forward, she said, the organization plans to do more background research before highlighting any individual Honor Flight participant on social media.
-- Hope Hodge Seck can be reached at hope.seck@military.com. Follow her on Twitter at @HopeSeck.