Today, Kyle Carpenter turns 30 years old. It's been nine years since the day, as a fresh-faced lance corporal on his first deployment to Afghanistan, that he hurled himself onto a live grenade to save the life of a fellow Marine, sustaining massive injuries to the right side of his body that would result in a years-long recovery process.
He's still the nation's youngest living recipient of the Medal of Honor, America's highest award for military heroism. And while for some recipients the medal has brought with it unwanted levels of attention and fame, Carpenter made a decision early on to embrace his newfound position as ambassador -- for the Marine Corps, for wounded veterans and for his own philosophy of true living.
He never quite takes off the motivational speaker mantle in his new book, "You Are Worth It: Building a Life Worth Fighting For," written with Don Yaeger. His life narrative, from his childhood and high school football days in Lexington, South Carolina, to his deployment, wounding and recovery, is interspersed with life lessons in chapter titles such as "Lead with Action" and "Find the Joy."
It's a book I took to the beach this summer and immediately shared with my father, because I knew he'd warm to Carpenter's sincerity, humility and optimism, as I had. The opening anecdote of the book is emblematic of the medically retired Marine's approach to life: He describes experiencing, as many veterans have, uncertainty and ambivalence about being thanked for his service by a stranger. He ultimately responds, "You're worth it," a phrase that acknowledges both the value of the service, and that of the person for whom it was given.
Related: MoH Recipient Kyle Carpenter Gets Standing Ovation at USC Graduation
Carpenter is relentlessly full of gratitude, throughout the book and when giving an interview. The closest he comes to darkness in his narrative is in the account of the time immediately after he regained consciousness, some five weeks following the Nov. 21, 2010, grenade blast. Apart from extensive injuries including a mangled jaw, he suffered terrifying painkiller-induced hallucinations.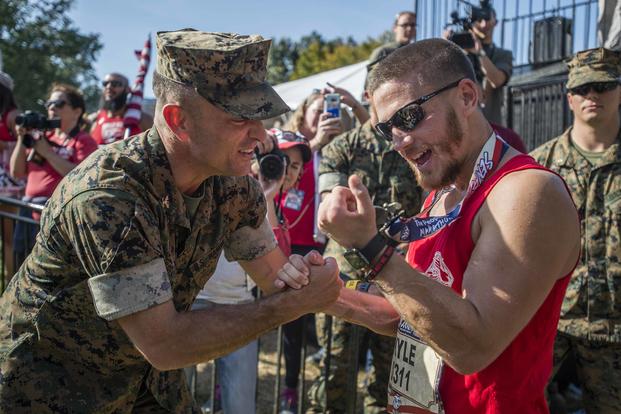 "I've lost an eye. I've woken up with no teeth. I can't feel my face. I can't lift my arms," he writes of his gradual realizations as he drifted in and out of consciousness. "But ... the more cognizant I became of the extent of my injuries, the more I realized what a miracle it was that I was alive at all. ... I was motivated not to let my injuries, and, by extension, the Taliban, have any power over me -- for the sake of every Marine who had gone before me, and those still fighting."
Military.com spoke with Carpenter on Wednesday about his journey and his book. Responses have been edited for length and clarity.
Military.com: I was shocked to learn you had never requested the official account of the Medal of Honor review until you were writing this book. Was that an intentional choice, and what did you experience reading through the review?
Kyle Carpenter: No one ever has asked me that before. I think maybe a little bit of it is, I didn't really even know if I could get that and what that process was to obtain that. Also, what happened, happened. I'm thankful and proud to say that the medal, it expanded my perspective, as far as being a recipient. Every other aspect of my life, thankfully, I feel completely unchanged and unaffected. I'm just until tomorrow a 29-year-old and a college student loving and enjoying life, like everybody else.
Military.com: What's really notable about your story is that you don't remember that split-second act of utter heroism that earned you the medal. How have you dealt with that fact for yourself?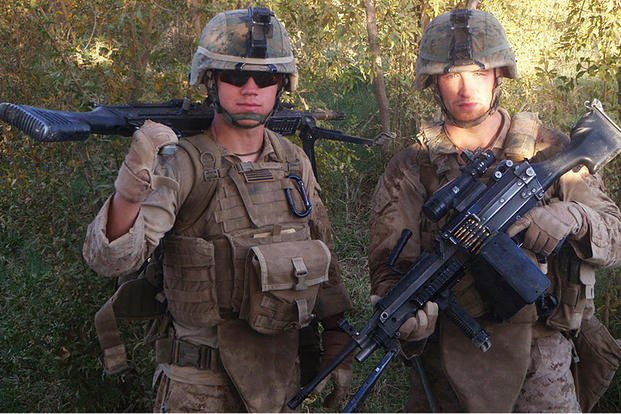 KC: Not only is it crazy that there was a two-year and a 254-page investigation done on me and my life and the events that day, but all of that, being done with me not remembering any of it. And not even remembering seeing or hearing or thinking about the grenade. It is very strange in a way. I used to get frustrated that I couldn't remember the event leading up to the grenade and the circumstances of me eventually receiving the Medal of Honor. But after some self-reflection and deep thought, I realized how crazy and wrong that was for me to be irritated that I couldn't remember. Really, I should be thankful and so grateful that I woke up. I'm just so thankful and happy to be here.
Military.com: You describe Nicholas Eufrazio, the other Marine on that rooftop, as one of your closest friends in Afghanistan. Are you still in touch with him?
KC: I am just so thankful and forever grateful that he is alive and still having the opportunity like me, and some of the other wounded warriors, to continue to learn and heal and figure out what our new bodies and minds can do and the life we're living now. Along with Nick, who I absolutely consider a best friend and I'm so honored to serve with him, there are so many others that come back from giving such crazy sacrifices for their country. People that are suffering all over the world that do not have scars that you can see, like mine. So many, Nick included, that have traumatic brain injuries. The brain is a beautiful and delicate thing. I encourage people to know that there is trauma, there are people with mental and emotional scars that weigh as heavy as, if not heavier than, the physical scars. If I could not be here and Nick would not have a traumatic brain injury, I would make that trade in a heartbeat. But I have a platform to tell people about traumatic brain injury and encourage them to be not sympathetic, but empathetic.
Military.com: Who else from your unit in Afghanistan do you stay in touch with?
KC: Trust me, the Medal of Honor and nothing that happened have made them ease up on me. They are still Marines and still my buddies. They give me just as hard of a time, if not harder of a time. From going to the beach with the corpsman who saved my life to them being part of my Medal of Honor ceremony, they're there. I'm so thankful I served with not just awesome Marines, but just awesome dudes.
Military.com: You write about how you've made choices not to hide your scars. How often these days do you get asked about them, and what do you say?
KC: The stares come a lot more than people getting up the courage to approach me. Still, a lot of people approach me, now that I've received the medal and have written this book; a lot of people are thankfully in tune with where I'm coming from. I love when people approach me, and I'm honored and humbled when they tell me not only thank you, but when they stare and come over and talk to me about it. I can educate people on my story and the stories of other Marines and what we do all around the world, and the sacrifices they make. I can tell them we are happy and grateful and privileged and honored to raise our right hand and sacrifice for this country and that they are worth it. People who want to learn to read without fear of being killed, they are worth it. When people approach me, it's awesome, because so much good comes out of it.
Military.com: You're a hero to many people. Who is your hero?
KC: I could never say one, but if I had to answer this, I would say my family for being there, not only for my life but to help heal and rebuild me back into the person I am today. My medical staff; they undertook 13-hour surgeries to save my limb and my life. It's impossible to answer this because so many people in so many different time periods and highs and lows and parts of my journey, so many people have contributed to helping me not only heal and regain and become the person I have come to be after all of this. So many heroes contributed to me not only surviving but thriving.
"You Are Worth It" is available from William Morrow, an imprint of Harper Collins Publishers.
-- Hope Hodge Seck can be reached at hope.seck@military.com. Follow her on Twitter at @HopeSeck.
Read more: Excessive PT Will Cost the Army Millions of Lost Work Days This Year