WASHINGTON -- A new exoskeleton that helps soldiers increase endurance in vertical terrain was positively assessed by soldiers in Fort Drum, New York, last year. Now, Lockheed Martin's Exoskeleton Technologies is starting to upgrade the system to fit the needs of troops across all fields and military branches.
The ONYX was introduced to the Army's 10th Mountain Division in November 2018. The tests included four groups: artillerymen, infantry soldiers, combat engineers and combat medics. Direct responses from soldiers were positive, according to the company. A more comprehensive response from the U.S. Army is expected within weeks.
The service is expected to deliver formal feedback on the system later this month, and officials will determine whether to renew the current Other Transactional Authority contract in order to keep the system for further testing. If the feedback is positive, a project manager said, other military services are more likely to pursue their own tests on the system.
Related: Read all about the AUSA Conference
"With those four groups of soldiers, we've demonstrated the system in a relevant environment doing operations in urban terrain, assaulting buildings and casualty evacuation," said Keith Maxwell, project manager for Exoskeleton Technologies.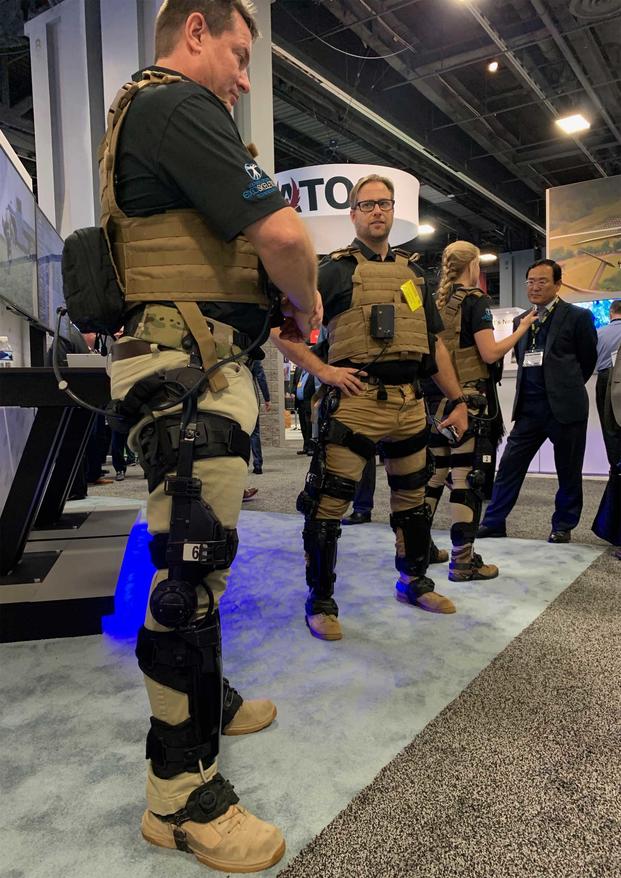 The powered lower-body exoskeleton, which was on display at the 2019 Association of the United States Army Annual Meeting and Exposition, uses artificial intelligence and sensors to analyze soldiers' movement patterns and responds immediately to alleviate pressure on joints, increase strength and motion range, and lessen fatigue.
ONYX stays powered for eight hours of nonstop going up and down stairs or any other strenuous exercise, without causing the soldier to feel fatigued. It does so by anticipating how the user will move and taking that load of weight.
"In urban environments, where you are going up and down buildings, the knee support is what powers you through that motion, lowering your metabolic cost, meaning there is less fatigue," Maxwell said. "It understands who I am and how I move, and it responds exactly to my body's movement."
The exoskeleton is one of the only knee-centric devices focused on avoiding stress on joints and injuries, and it's highly adaptable to all body types, regardless of gender. The system is resistant to water, dust and other environmental factors soldiers might come across. ONYX weighs around 19 pounds, but its user doesn't feel much of the weight once it's strapped onto the hip, Maxwell said.
Exoskeleton Technologies' main focus moving forward is to make the exoskeleton accessible for soldiers from all branches, including the Marine Corps. One of the challenges, however, is creating a device that will integrate different technologies to fit every soldier's needs while avoiding making it heavier or more uncomfortable.
"The long-term goal is to make it a garment. We don't want something that's 'fasten this, and tighten that,' and so on. Just pull it like a pair of pants, lock it up, set the adjustments and go," Maxwell said.
After the Army submits its final feedback in late October, Exoskeleton Technologies will re-adapt the ONYX system accordingly before introducing it to other branches that they say will benefit from the system next year.