TEMPLE, Texas -- Bobby Kiser didn't realize he'd spent much of his adult life living within the government's definition of homeless, until this year when he decided to purchase his first house.
"I wasn't sleeping under a bridge," the 64-year-old said, though he didn't have a permanent address, which meant he met the Department of Housing and Urban Development's technical definition of homeless.
After a two-year stint in the Navy, Kiser left as a seaman in 1973, spending decades in motels and a trailer or two as he followed work through Texas, Oklahoma and Arkansas re-installing power lines. His last six years have been spent living in Temple-area apartments with the support of a voucher from HUD's Veterans Affairs Supported Housing, commonly referred to as HUD-VASH.
Now diagnosed with liver cancer, Kiser wants to spend his remaining years living comfortably with his wife, Teresa Anderson, in a place of their own.
Because he is on a fixed income and unable to work, his case manager with HUD-VASH recommended he consider a new development of affordable housing for veterans. So in February, Kiser and his wife became two of the first residents of the Fort Hood Area Habitat for Humanity's new veterans community in Temple.
The community, named the Lee A. Crossley Veterans Community after a local Army veteran, includes 26 newly built homes on a cul-de-sac called Honor Lane. All the homes are designated for veterans and offer an ownership opportunity as one means to help address veteran homelessness, said Ken Cates, director of the area Habitat for Humanity, an international nonprofit that offers home ownership.
The houses of the community are small, just 650 square feet and cost about $60,000, Cates said. However, if the veteran qualifies for zero-interest loan programs available with Habitat's partner banks, the final cost of the home for a veteran is about $49,000.
Typically, Habitat asks owners to build their homes alongside volunteers as a form of "sweat-equity." For this project, the homes were built on 2.5 acres at one time for $1.21 million, using a combination of contractors and volunteers. Habitat already owned the land and designed the project with 26 single-family houses to fit the property, which is located on the eastern edge of the city of about 70,000 residents.
The nonprofit broke ground in March 2018 and the first resident moved in a year later, Cates said. In total, eight houses are occupied, and nine applications are processing. The nonprofit only asks that applicants be a veteran or the widow of a veteran and have a minimum monthly income of $1,120 a month. The manner of the veteran's discharge is not an issue.
"We search for a way to say 'yes.' If they have a debt to income ratio that's high, we try to get it down," Cates said, adding they are still seeking applications to buy houses in the community.
Kiser's home is situated on the corner of the community and he and his wife have already planted pink and purple flowers and set up chairs on the small front porch. For the backyard, he got a chimenea and the couple love to spend their evenings barbecuing and relaxing by a fire.
"I've been able to make the yard beautiful and take pride in having something pretty that's ours," Kiser said.
Across the street from Kiser's home is a community center, open 24 hours for residents. Cates, a retired Army sergeant first class, imagines it as a gathering place for the veterans to host events, or where personnel from the local Department of Veterans Affairs hospital can conduct health assessments. Local businesses have already used it as a place to offer veterans free lunches to thank them for their military service.
Reducing Homelessness
Cates designed the community and he said this project is expected to reduce the area's homeless veteran population by about 6%. In the central Texas region served by the Fort Hood Area Habitat for Humanity, officials estimate there are about 500 homeless veterans, not including their family members, he said.
Nationwide, the VA estimates veteran homelessness dropped about 5% between 2017 and 2018, the most recent available data. The VA spends about $1.8 billion annually to combat veteran homelessness and cites projects at the community level for success.
Though the VA is not a partner in the Temple veterans community, it does have some local resources in the area. In conjunction with the Salvation Army, the VA offers 15 beds for homeless veterans and their families. The goal is for the veteran to move into independent housing within 60 days, according to information from the Central Texas Veterans Health System.
Aside from Cates' work at Habitat, he is also a member of the area's homeless coalition and strongly believes this ownership model is far better at getting veterans off the street than transient housing.
"You can't say that all of them want to stay on the streets," he said. But when programs provide services such as food, showers and a place to sleep without follow-on services, it doesn't inspire people to move beyond homelessness. For many people, it can enable them to remain homeless, so they do, Cates said.
Once he talks to people and they understand that they can get a home of their own with no deposit and no interest and get help with a budget to get on track, they are interested.
"They want to live in something. They want something of their own. They want to be in a community of those who know how they have lived and know what their background is. The best support group for veterans is veterans," Cates said.
Many homeless veterans have some sort of income such as VA disability or retirement benefits, but need help leveraging it, he said. Habitat works with the veterans on debt consolidation, budgeting and improving their credit score.
"We don't just throw them in a house and leave," Cates said. "It's a partnership is what it is."
Lakeside Living in Florida
A project similar to the Temple community broke ground in Florida in November 2016 and was completed two years later. Built by Habitat for Humanity of Lake-Sumter for $2.3 million, the community includes 13 homes, two of which are 2,000-square-foot houses that are not income restricted and were already on the property.
The nonprofit built 11 1,200-square-foot homes -- twice the size of the ones in Temple -- valued at about $150,000 each in Umatilla, a town of about 3,000 residents. Each was reserved for and now occupied by veterans making about 80% of the area's median income of $38,000, said Danielle Stroud, development director for the Lake-Sumter Habitat.
Through affordable housing subsidies, residents pay about $600 to $800 a month in mortgage, which is about half the cost of a comparable rental in the area, she said.
"We wanted to do it because in our community we wanted and needed to focus on the families who are veterans," she said. "We wanted also to be an inspiration and a pilot project. We've had many people talk to us about it."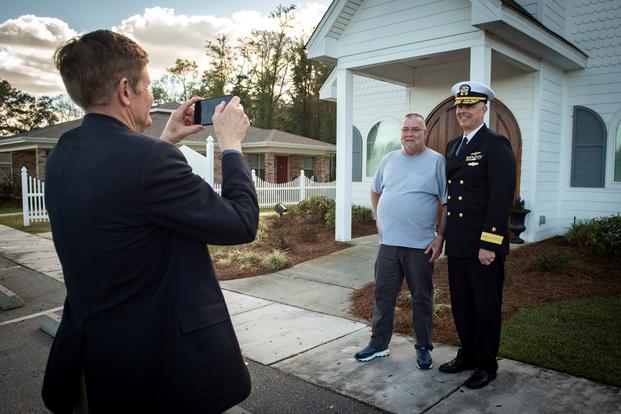 The veterans village was built upon the idea of building relationships among neighbors. All the home's front porches face each other, and the layout is staggered so each home has a view of the nearby lake.
For the veterans with whom Stroud works, she said it's not necessarily financial challenges that keep them from home ownership, but bad credit. When someone has bad credit, it is difficult to get a traditional home loan and mortgage insurance.
Not Always Welcome
Not all cities have been receptive to this type of project from Habitat. The Habitat for Humanity of Greater Garland in north Texas has tried and failed twice to build a community with some of the same aspects as the Umatilla and Temple communities.
The most recent proposal included 18 homes of about 1,200 square feet with a community center on 2.6 acres in the Dallas suburb of Rowlett, said Rich Buquet, executive director of the Garland Habitat. Unlike the Temple project, he said he was not targeting homeless veterans, but rather "blue-collar workers" who can't afford or don't need large houses that dominate the Rowlett housing market.
The project would sell to veterans using a VA home loan, which would mean that they would all have to have an honorable discharge to access that benefit.
"We desire to build an affordable modest-size home geared primarily toward veterans who make up our workforce, are retired or nearing retirement, and those in the missing middle," Buquet said, describing the missing middle as people who earn between 60% and 80% of the area's median income of about $90,000. These people typically cannot afford market rate homes because the homes and lots built in less dense neighborhoods are often too large and costly, he said.
The project required denser zoning than allocated for the property and was the sole subject of a nearly three-hour planning and zoning meeting on July 23.
The city's director of community development declined to speak for or against the project at the meeting because while it met a desire for more diversity in the city's housing stock, it did not fit within the city's future land-use initiatives. The final blow to Buquet's project were the 36 people, mostly neighbors of the property, who attended the meeting and spoke against the project.
"We still plan on building this community, it's just a matter of finding where," said Buquet, who is the son of an Air Force veteran. "The size of a house is no indication of the quality of human being that's in it."
He concedes finding that location will be difficult in Rowlett, a community with a population of about 60,000.
"The places where we can build are limited because most neighborhoods don't want you coming in and building an affordable housing unit that may affect their property value," he said.
Similar concerns were echoed across the country at an Aug. 22 hearing of the House Committee on Veterans' Affairs subpanel on economic opportunity in Oceanside, Calif., where veteran and housing advocates also experienced challenges from local residents citing concerns commonly referred to as the "not in my backyard" mindset, or "NIMBY."
"We have to design projects and put together things that we know are going to work," said Nathan Fletcher, a Marine Corps veteran and supervisor for the county of San Diego who was a participant of the hearing discussion panel. "We have to design in a way that mitigates community concerns and then we have to have the courage to overcome pure NIMBY-ism against people because they are low income or because they have a mental illness or an addiction."
In Temple, city officials actually pushed the project through as quickly as they could legally, Cates said, because it helped the city's own efforts to revitalize the eastern portion of the town.
As Buquet moves forward to find a new location for his veterans project, he knows next time that he will have to get out in front of the fears to affordable housing.
"Our main challenge is to change citizens' pre-conceived perceptions of what affordable housing looks like, and who the people are who want or need this type of housing," he said.
While the Florida veterans village is full, the one is Temple still has nine homes available. Kiser is eager to see the street fully occupied and the community grow. He likes that all his neighbors are veterans, because they are all "like-minded," and feels more connected to the local community.
"Getting out of the apartment was a huge blessing," Kiser said. "[Owning a home] changes your attitude about everything."
Even small things like interacting with police. At his old apartments, police presence meant there was trouble nearby.
"I love to see cops drive by now," Kiser said. "This is one of the benefits of me changing my life."
This article is written by Rose L. Thayer from Stars and Stripes and was legally licensed via the Tribune Content Agency through the NewsCred publisher network. Please direct all licensing questions to legal@newscred.com.