QUANTICO, Virginia -- Marines who spend much of their day lifting hefty ammunition or moving pallets full of gear could soon get a helping hand.
The Marine Corps is close to signing a deal to test an exoskeleton prototype that can help a single person move as much as several leathernecks combined.
The Guardian XO robot, which was on display at the Modern Day Marine 2019 exposition in Quantico, Virginia, is a full-body autonomous exoskeleton suit being tested by the Air Force and U.S. Special Operations Command. Officials with Sarcos Robotics, which makes the system, say it can also take loads of stress off Marines' bodies.
"It keeps the human instinct and intelligent judgment and combines it with a robotic precision, strength and endurance to get to a more efficient, effective, more productive -- and frankly safer -- work environment," said Jim Miller, Sarcos Robotics' vice president of defense solutions.
Related: Read all about Modern Day Marine 2019
The intuitive, autonomous suit can be used by operators ranging from 5 foot, 4 inches, to someone who's just over 6-and-a-half-feet tall. It stays powered for up to eight hours on a single charge and can repeatedly lift 200-pound objects without fatigue or strain.
For Marines, Miller said it's perfect for those who work in logistics and sustainment. Think those who move a lot of heavy boxes or repeatedly lift heavy artillery.
"Instead of a team of four Marines, maybe you only need a Marine with this capability to offload pallets or move or load munitions," he said. "I think we really need to get out there and become involved directly with a ... variety of Marine users to [see where we can take it]."
The system, without its power pack, weighs about 200 pounds. But the operator doesn't feel much of that weight, Miller said. The Guardian XO uses what the company calls a "get-out-of-the-way control system" that senses an operator's instincts and reflexes.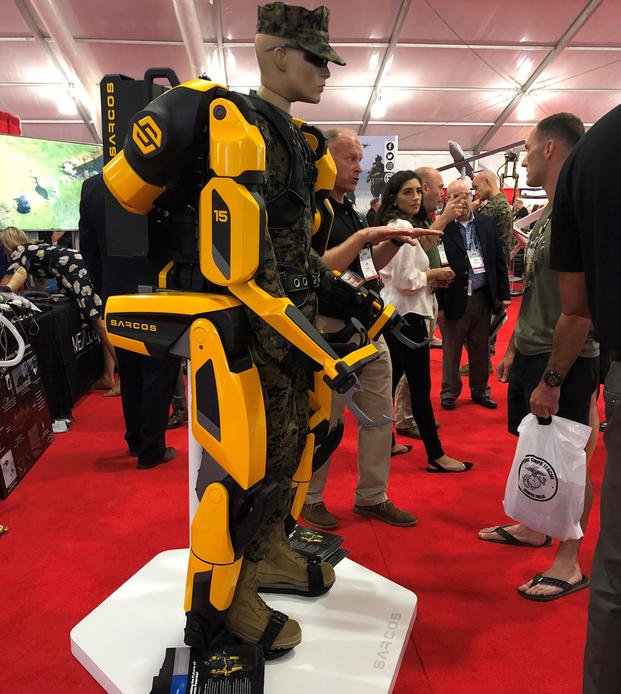 "The sensors can feel if you want to move up and says, 'Hey, he wants to move up because the pressure is increasing. Let's get out of his way, let's move,'" he said. "And if you stop, the sensors will feel it."
Sarcos Robotics has produced a couple of prototypes of the exoskeleton. In December, it will produce the first one that looks like the black and yellow design that was on display at Modern Day Marine. The exoskeleton gave the mannequin in MARPAT camo a look similar to the character Bumblebee from the "Transformers" film franchise.
Miller said the Air Force and Marine Corps will likely each get one or two of the suits to test out next year, depending on how many each service wants to purchase.
Once troops begin testing the prototype, he said they'll try to build capabilities based around their needs. If Marines or other service members want to use it downrange, they'll also test the suit's ability to withstand harsher environments, he said.
Aside from those in defense, Miller said the Guardian XO could be used in the automotive manufacturing, construction and aviation fields.
"Basically, anywhere you're going to be loading and moving things around," he said.
In time, it could go a long way in saving the military money, he added. If Marines are asked to move 40- or 50-pound boxes every day, that's going to take a toll.
"You might get one to three years, but even then I'm going to be broken, and the military and our government just incurred a bill to take care of me for the rest of my life," Miller said.
The Guardian XO takes away that burden, he said.
-- Gina Harkins can be reached at gina.harkins@military.com. Follow her on Twitter @ginaaharkins.
Read more: Air Force to Institute New Fitness Requirements for Commanders