With China and Russia threatening to remove competitive advantages the U.S. military is used to having on the battlefield, the Navy is resurrecting tricks sailors used almost 80 years ago to outsmart their enemies.
MH-60HS Sea Hawk pilots recently delivered a message to an officer aboard the amphibious assault ship Boxer using a unique communication method: a bean bag dropped out of a helicopter.
It's a tactic pilots used during World War II so their communications with a ship wouldn't be intercepted. Now, with the threat of attacks on cyber networks and satellite communication systems, the Navy is turning to the 80-year-old method to evade eavesdropping.
Last week, a helo from Helicopter Sea Combat Squadron 21 swooped toward the Boxer's flight deck, where it dropped a yellow bean bag. Inside was a message for Capt. Jason Burns, commander of Amphibious Squadron Five.
The purpose: To prove Navy pilots can still communicate with leaders aboard ships without electronic transmissions, Lt. Cmdr. Michael Brown, the HSC-21 detachment officer in charge, explained in a news release detailing the effort.
The bean-bag tactic dates back to the Doolittle Raid on Tokyo. A pilot spotted a Japanese patrol vessel about 50 miles ahead of a U.S. aircraft carrier.
Worried that he'd been spotted by the Japanese, the pilot decided not to alert the carrier Enterprise over the radio, instead flying down to the flight deck to drop a bean bag that a sailor on board then ran up to the bridge, according to a 77-year-old Navy video.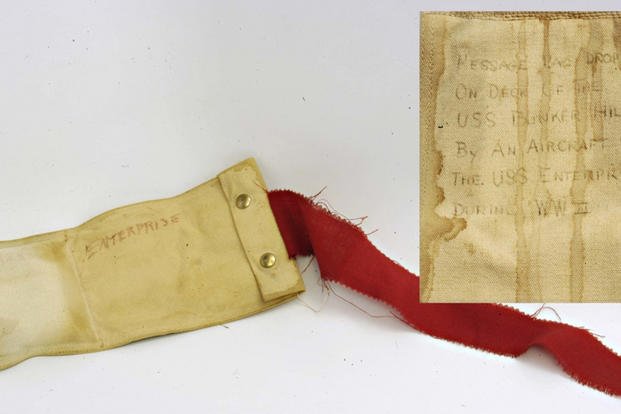 Aircrew Survival Equipmentman 1st Class Carlos R. Freireizurieta, who works in the Boxer's paraloft shop, even modeled the bean bag dropped last week on those used decades ago, with some upgrades. "I started with the original measurements of the bean bag used on the USS Enterprise in 1942 ... but also weighed [this one] down for an accurate drop," he said in a statement after the exercise.
Ships and aircraft must be able to communicate, even if their state-of-the-art technology is compromised, said Lt. Taryn "SISS" Steiger, the pilot who dropped the bean bag onto the Boxer.
The Boxer is currently deployed to the Middle East, along with about 2,200 members of the 11th Marine Expeditionary Unit.
-- Gina Harkins can be reached at gina.harkins@military.com. Follow her on Twitter @ginaaharkins.