The Navy and Marine Corps are assessing their C-130 aircraft after the Air Force grounded about a quarter of its cargo tankers due to the discovery of cracks near the wings during routine maintenance, officials said on Friday.
The sea services have not grounded any C-130 aircraft, but Naval Air Systems Command's tactical airlift program office is evaluating the fleet for any problems, Lt. Travis Callaghan, a spokesman for Naval Air Forces, said.
The move follows Air Force leaders' decision to ground 123 out of 450 C-130H and J-model aircraft after "atypical cracks" were found on the lower-center wing joint, also known as the rainbow fitting. The head of Air Mobility Command ordered inspections on all affected aircraft -- those that have more than 15,000 flight hours and had not been fitted with the "extended service life center wing box."
The wing box is the section of a plane's fuselage from which the wings extend. The rainbow fittings add structural support to the wings where, over the last several years, fatigue cracks have been common.
Related: Air Force Grounds More than 100 C-130 Aircraft over Wing Crack Worries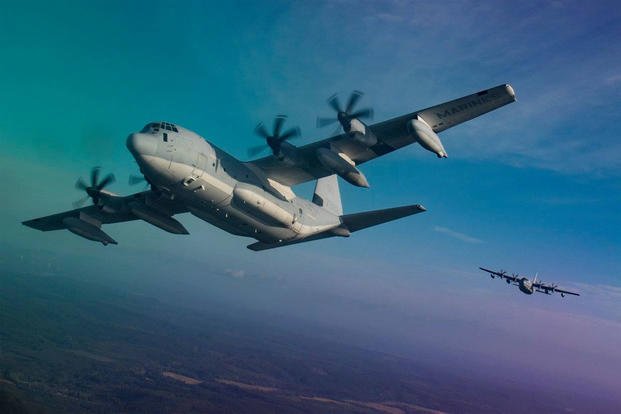 The Navy and Marine Corps fly the C-130T, KC-130T and KC-130J versions of the aircraft.
Rainbow fittings on the services' aircraft are typically inspected at two points, Callahan said.
Every 420 days, military aircraft get a "tune-up" at the squadron level during which inspectors and maintainers look for and repair problems with every system, from nose to tail and wingtip to wingtip, as a military news release describes it.
The fittings typically get another look during depot-level maintenance checks, which happen about every five years, Callaghan said.
Air Force maintainers checking the grounded C-130s who don't find any sign of trouble will immediately return the planes to service. No overseas missions will be affected by the removal of some aircraft, according to Air Force officials.
-- Oriana Pawlyk contributed to this report.
-- Gina Harkins can be reached at gina.harkins@military.com. Follow her on Twitter @ginaaharkins.