A B-52H Stratofortress and fighters from the Lincoln Strike Group passed over the carrier recently in a dramatic show of force to Iran.
The joint operation provided "an incredible demonstration of how our military can rapidly join capabilities to enhance our lethality and our ability to respond to any threat when called upon," said Navy Capt. William Reed, commander of Carrier Air Wing (CVW) 7 attached to the aircraft carrier Abraham Lincoln now patrolling in the Gulf region.
"It's a pretty awesome feeling to look up and see our jets flying alongside the Air Force bomber," Reed said in a release from U.S. Central Command on the joint operation conducted June 1. The exercises "simulated strike operations in defense of a national asset," the release said.
"While the Air Force trains different assets together all the time, including Navy F-18s, we typically don't have the opportunity to integrate with the surface fleet," said Lt. Col. Scott Mills, 609th Air and Space Operations Center air and space strategist, in the CENTCOM release. "As we train together, it gives us the chance to examine the bias we each bring to the engagement. We each learn about the other's domain by searching for areas where we operate differently."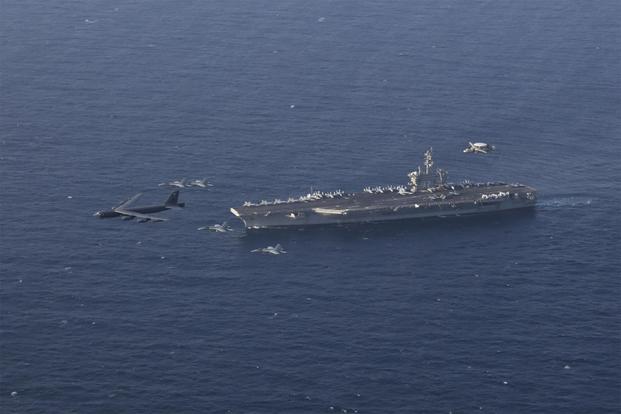 The Lincoln and at least two B-52s were sent to the region last month in response to what White House National Security Adviser John Bolton said was U.S. intelligence reports on the increased threat from Iran to U.S. forces and interests in the region.
The crisis escalated last week when explosions set ablaze two tankers in the Gulf of Oman. In addition, U.S. Central Command reported Friday that a surface-to-air missile allegedly fired by Iran targeted a U.S. MQ-9 Reaper drone over the Gulf but missed, and another surface-to-air missile allegedly fired by Iranian-backed Houthi rebels in Yemen shot down an MQ-9 earlier last week.
USNI News reports the Lincoln is now underway again after spending a few days in port in Duqm, Oman last week.
-- Richard Sisk can be reached at Richard.Sisk@Military.com.