Millions of veterans have benefited from the GI Bill, but did you know that dozens of Hollywood actors learned their craft while studying in classes paid for by the program?
An entire generation of movie heroes used the GI Bill, and it's hard to imagine what the movies of the '60s and '70s would look like without them. Just make a list of the movies mentioned below and you've got yourself a perfect action picture marathon.
Here are ten Hollywood tough guys who studied on the GI Bill.
1. Clint Eastwood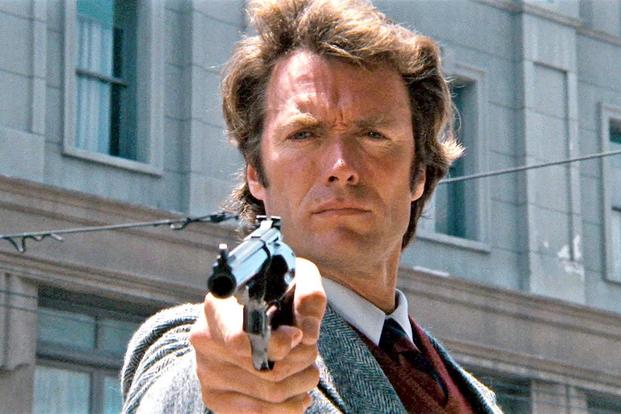 Clint Eastwood was drafted into the Army during the Korean War and was stationed at the now-closed Ft. Ord in California. After he left the service in 1953, he attended L.A. City College and studied drama on the GI Bill.
He paid his dues in TV before landing the starring role in the western series "Rawhide." Desperate to break into movies, he went to Europe to work with Italian director Sergio Leone of a trio of westerns: "A Fistful of Dollars," For a Few Dollars More" and "The Good, the Bad and the Ugly." The movies, controversial for their violence, were massive worldwide hits and invented the "spaghetti western" genre.
Eastwood went on to make some of the most beloved action pictures of all time: "Hang 'Em High," "Where Eagles Dare," "Kelly's Heroes," "Dirty Harry" (and its four sequels), "High Plains Drifter," "The Outlaw Josey Wales," "Escape from Alcatraz," "Firefox," "Tightrope," "Heartbreak Ridge" and "Unforgiven."
Eastwood has been denied an acting Oscar, but has won Best Picture and Best Director Oscars for "Unforgiven" and "Million Dollar Baby." As sort of a side gig, he's been one of Hollywood's most successful directors over the last five decades, reaching a peak with "American Sniper," his Oscar-nominated blockbuster movie about the late SEAL Chris Kyle.
2. Charles Bronson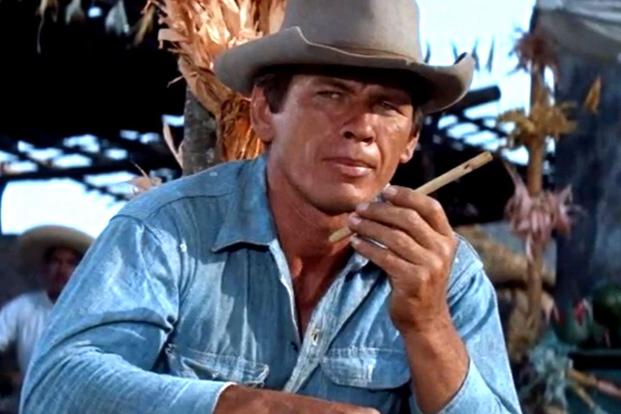 Charles Bronson, born Charles Dennis Buchinsky in Johnstown, Pennsylvania, enlisted in the United States Army Air Forces in 1943, where he served as an aircraft gunner in the 760th Flexible Gunnery Training Squadron. In 1945, he became a Superfortress crewman with the 39th Bombardment Group, based on Guam, and was assigned to a B-29 bomber, flying on 25 missions. He was awarded a Purple Heart for injuries during service.
He used the GI Bill to attend art school and later enrolled in acting classes at the Pasadena Playhouse. After more than a decade in small roles as gangster muscle and other assorted hard men, Bronson broke through in 1960's "The Magnificent Seven" alongside fellow GI Bill tough guy Steve McQeen.
Bronson and McQueen followed that up with POW escape classic "The Great Escape" and Bronson hit the GI Bill trifecta alongside Lee Marvin and Ernest Borgnine in 1967's "The Dirty Dozen." After an excellent run of spaghetti westerns that included "Once Upon a Time in the West," Bronson became a superstar in the '70s with a series of gritty revenge thrillers like "Death Wish," "The Mechanic" and "Mr. Majestyk."
3. Paul Newman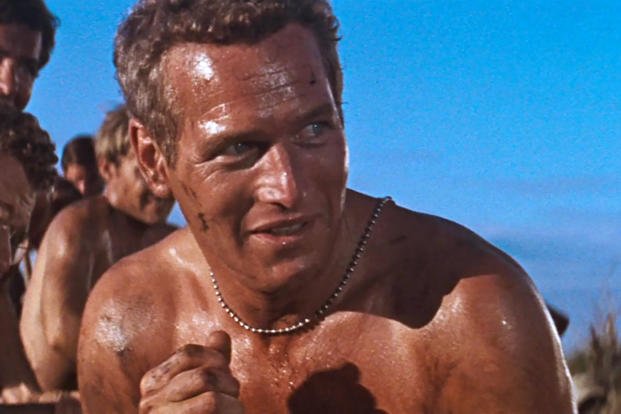 Paul Newman served in the US Navy as a turret gunner during World War II and missed the Okinawa campaign because his pilot had an ear infection. Newman used the GI Bill to study at Kenyon College in Ohio. He later attended the Yale School of Drama and studied at the Actors Studio in New York.
After early roles on stage and in television, Newman broke through and had an amazing run of tough guy roles in movies like "The Hustler," "Hud," "Cool Hand Luke," "Butch Cassidy and the Sundance Kid" and "Slap Shot." He was nominated for a Best Supporting Actor Oscar once and Best Actor eight times, winning for Martin Scorsese's "The Color of Money" in 1987.
Newman was an avid car racer in real life and founded the Newman's Own food company, which makes salad dressing, pasta sauce and cookies and donates 100% of its profits to charity.
4. Steve McQueen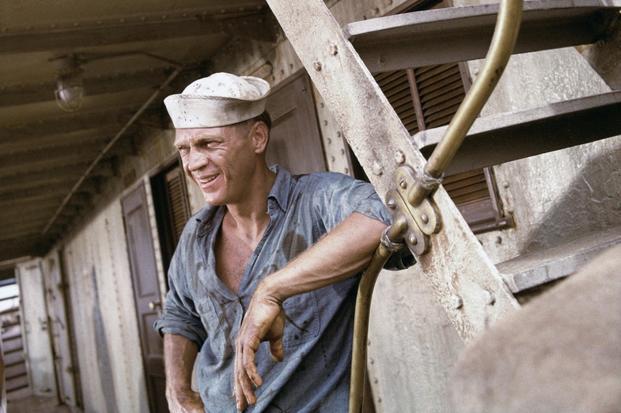 Steve McQueen joined the Marines in 1947 and served until 1950. Although he had a tough time adjusting to military life at first, the actor later credited his service with teaching him a discipline that had been sorely lacking in his chaotic childhood. McQueen used his GI Bill benefits to study acting at Sanford Meisner's Neighborhood Playhouse.
After nearly a decade in TV, McQueen got a big break in 1960's "The Magnificent Seven" and went on to star in the 1962 war picture "Hell is for Heroes." That began an incredible run that included "The Great Escape," "The Sand Pebbles," "The Thomas Crown Affair," "Bullitt," "The Getaway" and "Papillon." McQueen died young at age 50 from mesothelioma, a lung cancer caused by exposure to asbestos.
5. Gene Hackman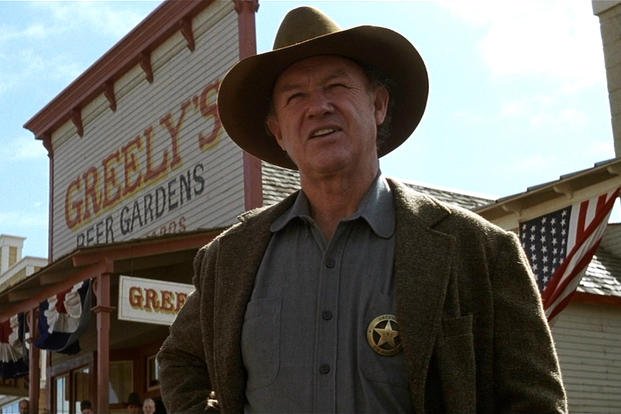 Gene Hackman lied about his age to enlist in the Marines at age 16 and served primarily as a radio operator. He used his GI Bill to study journalism and TV production at the University of Illinois.
Hackman didn't break into acting until he was 30 and his breakthrough role in "Bonnie and Clyde" came when he was 37. The actor quickly made up for lost time with a remarkable string of classics that include "The French Connection" (which won him a Best Actor Oscar), "Prime Cut" (with fellow GI Bill star Lee Marvin), "The Conversation," "Night Moves," "A Bridge Too Far," "Uncommon Valor," "Hoosiers," "No Way Out," "Unforgiven" (Oscar #2 for Best Supporting Actor) and "Crimson Tide."
Hackman retired from acting at age 74 in 2004 and has resolutely stayed offscreen since, a real-life tough guy move. He did narrate the IMAX documentary "We, The Marines" a few years back but otherwise he's chosen to let an amazing body of work speak for itself.
6. George C. Scott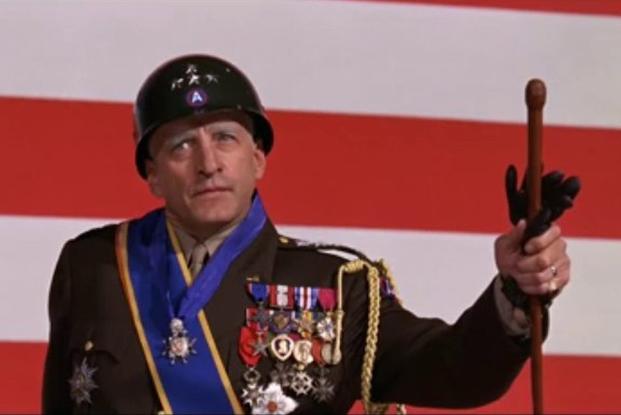 George C. Scott dropped out of high school to join the Marine Corps and spent much of his service time assigned to Arlington National Cemetery. When he left the Corps, he used the G.I. Bill to enroll at the University of Missouri at Columbia to study journalism. He tried out for a play at school, got bitten by the acting bug and decided to pursue a career in the arts.
Scott moved to New York City, did a series of small parts in TV (notice a pattern yet?) and got his first big movie roles in "Anatomy of a Murder" (1959) and alongside fellow GI Bill actor Paul Newman in 1961's "The Hustler" (which both earned him Best Supporting Actor nominations). Although he had a prime role in Stanley Kubrick's "Dr. Strangelove or: How I Learned to Stop Worrying and Love the Bomb" in 1964, Scott didn't really break through until his Oscar-winning performance as Gen. George S. Patton, Jr. in 1970's "Patton."
He followed that with "The New Centurions," "Oklahoma Crude," "The Hindenburg" and "Taps." Scott was a true maverick, bouncing between TV, film and the stage in an era when actors were expected to pick a medium and stick with it. He refused to accept his Oscar because he believed the arts were not a competition.
7. Lee Marvin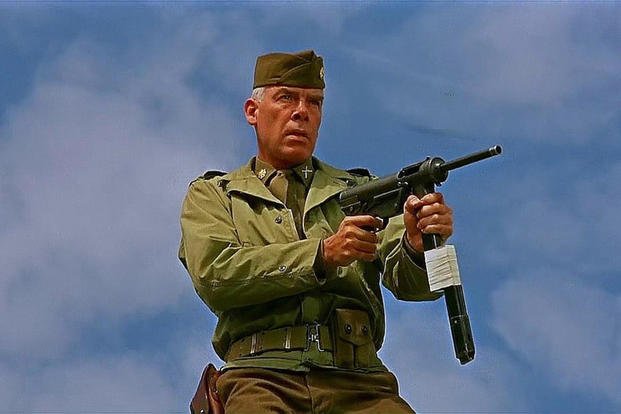 Lee Marvin enlisted in the Marine Corps when he turned 18 in 1942. He fought in the Pacific with the 4th Marine Division and was injured in combat. After an honorable discharge, he used his GI Bill to study acting at the American Theatre Wing in New York.
Marvin did a lot of TV early in his career but had notable early movie roles in the noir classic "The Big Heat" and the world's greatest juvenile delinquent flick "The Wild One" (both in 1953). He also appeared in the '50s/early '60s classics "The Caine Mutiny," "Bad Day at Black Rock," "The Man Who Shot Liberty Valance," "The Killers" and "The Professionals."
Marvin reached icon status as the Major John Reisman in 1967's "The Dirty Dozen," kicking off an incredible run that includes "Point Blank," "Hell in the Pacific," "Prime Cut," "Emperor of the North," "The Klansman," "Shout at the Devil," "Avalanche Express," "The Big Red One," "Death Hunt," "Gorky Park" and "The Delta Force." Marvin died too young of a heart attack at age 63.
8. Ernest Borgnine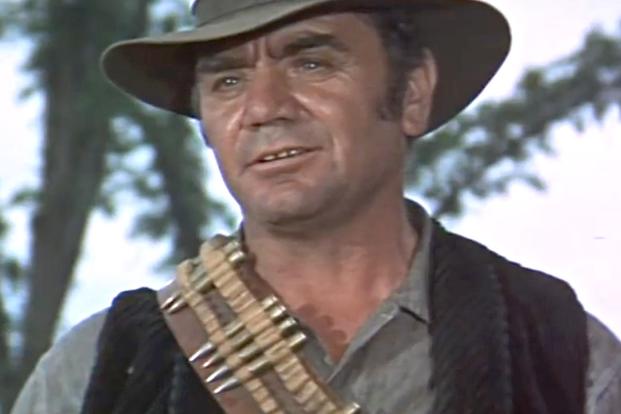 Ernest Borgnine served in the Navy from 1935 until October 1941 and then re-enlisted after Pearl Harbor, serving on a converted yacht that patrolled East Coast waters for U-boats. After an honorable discharge, Borgnine studied acting at the Randall School of Dramatic Art in Hartford, CT.
Things happened relatively quickly for Borgnine. He did some television work but had a breakthrough role in 1953's WWII classic "From Here to Eternity." After a role in "Black Day at Black Rock," Borgnine won a Best Actor Oscar for his decidedly non-tough guy role in "Marty" (1955). He became an icon as Lt. Cmdr. Quinton McHale on the tv sitcom "McHale's Navy" in the early 1960s.
Borgnine's tough-guy credentials were nailed down in "The Dirty Dozen," where he plays a desk jockey who doesn't have to lift a finger to show how hard he really is. He followed with "Ice Station Zebra," "The Wild Bunch," "Emperor of the North, "Hustle" and "Escape from New York." Even after he aged out of action pictures, Borgnine worked all the way up until his death at age 95 in 2012.
How tough was Borgnine? His last great role was the voice on Mermaid Man on "Spongebob Squarepants." Only a truly secure badass would take on that role.
9. Robert Duvall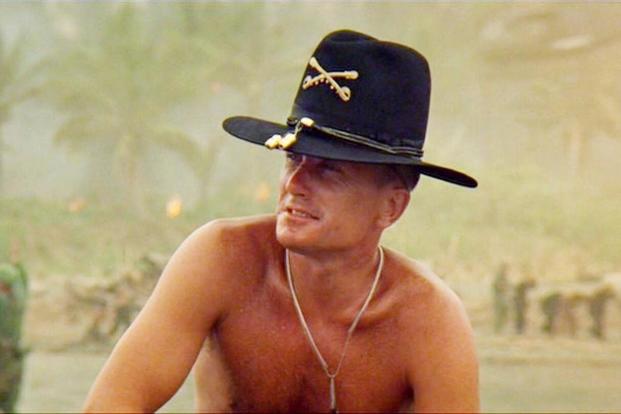 Robert Duvall is the son of a Navy rear admiral and a descendant of Robert E. Lee. After graduation from Principia College, he enlisted in the U.S. Army in 1953. Once he completed service, he used his GI Bill benefits to enroll at New York's Neighborhood Playhouse School of Theater in 1955.
Duvall paid a lot of dues on television in the '60s before landing a breakthrough role in "Bullitt." An incredible career followed: "True Grit," "MASH," "The Godfather," "Joe Kidd," "The Outfit," "The Godfather Part II," "The Killer Elite," "Network," "The Eagle Has Landed." "Apocalypse Now," "The Great Santini," "True Confessions," "Colors," "Gods and Generals" and "Jack Reacher." Duvall is still with us, most recently appearing in the 2018 bank heist thriller "Widows."
10. Rod Steiger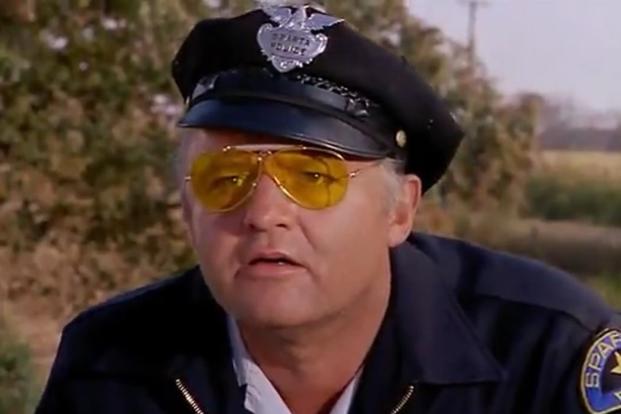 Rod Steiger served with the U.S. Navy in the South Pacific during World War II, including the Battle of Iwo Jima. After the war, he used his GI Bill to move to NYC and study with the Civil Service Little Theater group.
After a few years paying his dues in theater and television, Steiger's movie career kicked off with a bang in "On the Waterfront," the 1954 movie that won a Best Picture Oscar and a Best Supporting Actor nomination for Steiger.
He continued to make an impression in movies like "The Big Knife," "The Harder They Fall," "Al Capone," "The World in My Pocket," "The Longest Day" and "Doctor Zhivago" before winning his Best Actor Oscar for playing an ornery small-town sheriff in 1967's "In the Heat of the Night" (which also won Best Picture).
Steiger followed up with "The Illustrated Man," "Duck, You Sucker," "F.I.S.T.," "Love and Bullets" and Breakthrough." Steiger battled depression for many years and became one of the first high-profile Americans to speak about his personal struggles with the condition before his death in 2002.
Keep Up With the Best in Military Entertainment
Whether you're looking for news and entertainment, thinking of joining the military or keeping up with military life and benefits, Military.com has you covered. Subscribe to the Military.com newsletter to have military news, updates and resources delivered straight to your inbox.