"Captain Marvel" (out now on 4K UHD, Blu-ray, DVD and Digital) is the biggest Pentagon-supported box office success since "Top Gun," and former U.S. Air Force pilot Carol Danvers is now the most powerful superhero in the Marvel universe.
Danvers may not have been a familiar character to a Marvel generation that grew up on Spider-Man, X-Men, Hulk and Iron Man comics, but she played a critical role in the outcome of "Avengers: Endgame" and seems certain to be the subject of future sequels.
"Captain Marvel" takes place back in the 1990s, long before the main story arc of the Marvel Cinematic Universe, and directors Anna Boden and Ryan Fleck took full advantage of their late 20th century time period to bring back songs, fashions and products of the era.
Marvel worked closely with the Air Force on the movie, and its portrayal of female pilots has been turned into a recruiting tool. We had a chance to speak with Marvel Executive of Production & Development Mary Livanos about the collaboration and how Air Force Brig. Gen. Jeannie Leavitt was a role model for the filmmakers.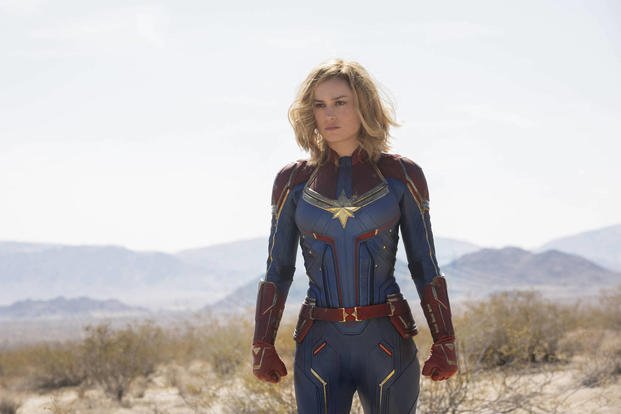 How did Marvel work with the USAF on this film?
I was with the "Captain Marvel" team all throughout development and through prep. During that time, I had the pleasure of working closely with the L.A.-based Air Force Entertainment Liaison's Office, namely Lieutenant Colonel Nathan Broshear. We met during our time with the Science and Entertainment Exchange when we traveled out to Colorado Springs. After that trip, we linked up with Nathan Broshear, and he was kind enough to lend his time helping with our research.
We spent a lot of time picking his brain and learning about the 57th Wing in Nellis, which is the most diverse wing of the Air Force, and their development of innovative leaders and tactics training and dynamic slide operations. We thought this was a great sort of character-driven home base in which to explore the character of Carol Danvers.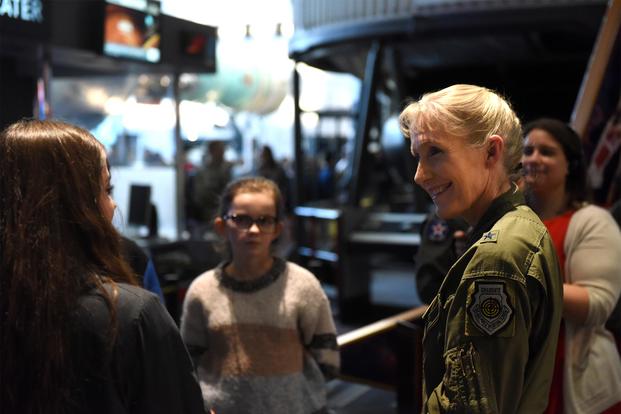 We worked with Brigadier General Jeannie Leavitt, who was the first woman in the Air Force to fly a combat jet. She was kind enough to spend some time with myself, Ryan Fleck and Anna Boden at Nellis Air Force Base, telling us more about her experience coming up through the ranks and becoming a pilot back in the late '80s, early '90s, and the trials and tribulations that she faced.
She's a huge inspiration for the character of Carol Danvers. She just has an unwavering steadfast spirit. Really, all of the pilots that we met during our time at Nellis were just high-achieving individuals who don't settle. We found them to be huge inspirations, and we were just blown away by all the people that we met during our time there.
RELATED: Air Force Hails Women's Achievements at 'Captain Marvel' Premiere
After that, timely enough, we were invited back to actually fly Brie Larson and Anna Boden up in F-16s with the Thunderbirds. That was an incredible experience for them. Carol Danvers is a character who needs to go higher, faster, further. No better way to instill that in our lead actress than to really send her up with the best of the best. We spent a few days down there doing pilot immersion and orientation training exercises with them.
Just having them teach Brie and our director the nuances of what they go through every day when gearing up to fly these crafts was a huge help. Everything from how they get in and out of the plane to how they carry their bags. These were important character details. If we were going to portray a high-achieving Air Force pilot in our film, we had to make sure that all the details were right in order to do the Air Force justice.
We actually kept in close touch with Major Stephen Del Bagno. A week before he crashed, he was on set with us, helping us make sure that we were portraying Air Force pilots in the right way. We were really, really devastated. That was a huge hit to morale in the production to hear of his passing. For us, working with the Air Force was just a huge honor through and through.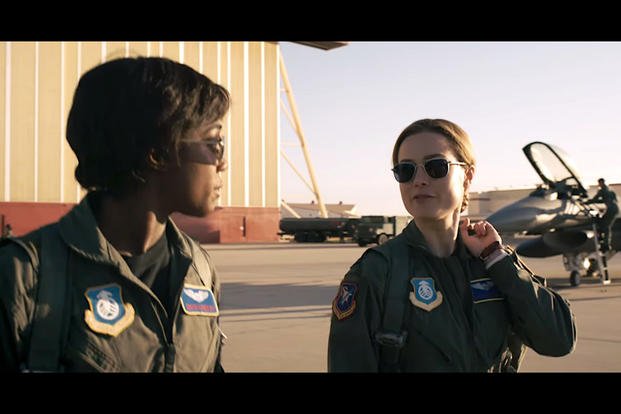 Captain Marvel" seems to be having an impact on young people in a way that no movie really has since "Top Gun." Is that something you're seeing?
It's amazing to see that reaction elicited in audiences and young folks who are considering a career with the Air Force. We felt endless inspiration during our time interacting with the Air Force, so it's certainly a wonderful thing for us to see that same inspiration instilled in the hearts of folks who've seen the movie. Carol is an inspirational individual, but so is every pilot and every individual working for the Air Force that we met along our journey. So, that's a good thing.
I'm sure you've seen the great Air Force recruiting commercial that's been running over the last few months. Is that something that Marvel knew about before you saw it? Did you have any interaction with the USAF on making that? How does the spot make everybody involved with the movie feel?
It might have been something that our team had eyes on before it happened. I actually ended up hopping off the production right before principal photography began, so I can't quite speak to the reviewing period of that video, but I have seen it and it is awesome.
There was some resistance when word got out that "Captain Marvel" was going to be portrayed as a woman and that she'd be an Air Force pilot. Obviously, in the end it didn't matter because the movie has been a gigantic worldwide success. Who do you think was worse in complaining? Comic book fanboys or military fanboys?
Both military folks and comic book folks are all passionate. We certainly hope that audiences can root for a protagonist, regardless of gender, so it's a bummer when that happens. I think what's much more overwhelming is the positive response, so that's our biggest, happiest takeaway.
You have an amazing job that a lot of people would like to get. How does somebody get to the point where they can have your job?
Marvel was literally on my vision board back in high school. I loved superhero stories, and Marvel's approach, in particular, is something that I've always dreamed of being a part of. It really is higher, further, faster. If you have a deep interest and passion in something, then relentlessly learn and grow as an individual in that field.
Luck is when preparation meets opportunity. Preparation definitely is something that everyone in the Air Force is well equipped with. Really, it's all just about starting somewhere. I had many, many internships in the field and just kept following my gut and my passion wherever it took me. And then, yeah, right place, right time.
What's the answer? Should someone who wants to get into the business concentrate on making contacts, or getting an education?
It's both. I went to University of Southern California for film and business. While taking classes, I also spent loads of my time interning in the field, starting to figure out what each job in the industry really meant. I followed my gut to the next right company or to work with people that I respect and trust. So, it's really a nice combination of both, but just getting your hands dirty, I would say, is the best way to go.