NEW YORK CITY -- From a warren of desks in a downtown Manhattan office building, the small team of social workers and counselors takes calls from veterans who either won't go to the Department of Veterans Affairs or are bewildered on where to turn for help.
This is the Rapid Response Referral Program of the Iraq and Afghanistan Veterans of America, an effort to combat what Navy Reserve Cmdr. Jeremy Butler, IAVA's chief executive officer, calls the "navigation" problem for veterans trying to find the right fit in a vast and disjointed support system.
In addition to the VA and other government agencies, there are traditional veterans service organizations and more than 40,000 support groups registered as nonprofits with the Internal Revenue Service, according to the Institute for Veterans and Military Families at Syracuse University.
Over the last year, IAVA has had 235 contacts, an uptick of 50%, to the referral program from "at-risk" veterans, said Lindsay Rodman, a former Marine legal officer who served in Afghanistan and now is director of legal strategy and communications at IAVA.
Related content:
Admittedly, it's a small sample, she said at the IAVA's Manhattan office last month, where Military.com met with members of the referral team.
"It's anecdotal. We're not talking about thousands of people," Rodman said, compared with the more than 2,000 daily calls to the VA's 24-7 Veterans Crisis Line. The 600-plus responders at three call centers have handled more than 3.5 million calls since the Crisis Line was set up in 2007, according to a blog post last year by Veterans Crisis Line director Matt Miller.
"We don't have the capacity, [but] you can see trends even at our level," Rodman said, referring to the estimated 20 veterans who die by suicide daily, according to the VA, the Centers for Disease Control and Prevention, and the National Institute of Mental Health.
'A Whole Lot of Death'
Former Army Sgt. Eric Donoho, who deployed to Iraq with his unit from the 25th Infantry Division in 2006 and now volunteers with IAVA, said he almost became another statistic in the grim toll when he sat alone in his Indiana home in December 2015 with a Glock in his mouth.
During his tour, he said he survived the detonations of two improvised explosive devices and one EFP, or Explosively Formed Penetrator, the highly lethal devices that the Pentagon says were supplied by Iran to militia proxies in Iraq. He was later diagnosed with PTSD and a mild traumatic brain injury.
While in Iraq, his unit received word that its tour was being extended to 14 months, Donoho said.
"There was a whole lot of death in a very short period of time that surrounded me, so finding out that we were being extended in this way just prolonged that feeling -- am I going to make it through this?" he said.
Later, "things were just foreign to me" in civilian life, he said.
His family relocated from Alaska to Indiana. "My wife and I were arguing more than we were talking. I wasn't inspiring her; I wasn't inspiring my kids." He began to think they'd be better off without him.
In December 2015, Donoho said, "I sat down at my kitchen table, and I pulled out my Glock and I was determined to take my own life."
He said mixed feelings of shame and responsibility overwhelmed the thought of suicide.
How could he let his wife and kids come home and find him on the floor, the victim of a self-inflicted violent death? He said he put the Glock back in the safe and went to pick up his kids.
'A Fractured System of Care'
For the IAVA's referral team, it can come down to getting an at-risk veteran to call the VA Crisis Line or trying to get at the root of underlying issues, said former Army Staff Sgt. Dennis Higgins, an IAVA case transition manager who served five tours in Iraq and two in Afghanistan.
He hears from veterans who say, "I want treatment for X or Y or Z, but I don't want to go to the VA," Higgins said.
"It's an Impossible task, knowing everything that's out there" among the various groups offering help, and "each group seems to exist in its own bubble," he said.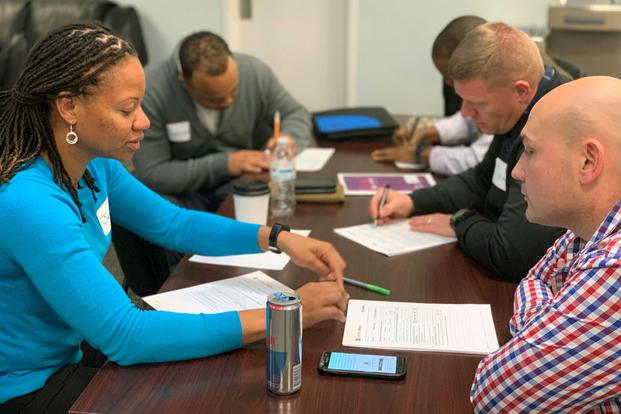 Hannah Sinoway, IAVA's chief of services who oversees the referral program, said veterans "can be bounced around a fractured system of care" among the "thousands upon thousands" of groups that claim to offer services.
Many of the calls to the Rapid Referral Team involve financial problems, Sinoway said.
"They'll say, 'I have an eviction notice,' but usually when they get to that point, there are underlying factors that got them there," she said.
Ashley Wegman, a senior veterans' transition manager with IAVA, echoed Sinoway, saying that a majority of the referrals initially cite financial concerns, "but when you dig deeper, you find compounding concerns."
There are mood disorders, the loss of relationships or "they may have had exposure to the suicide of someone they know or have seen on the media," she said.
'Parking Lot' Suicides Get Congress Involved
The recent focus at the VA, in Congress and at the White House has been on veterans who take their own lives at VA facilities, the so-called "parking lot suicides."
Within five days in April, three veterans died by suicide at VA facilities -- one in Decatur, Georgia; another in Atlanta; and a third at an Austin, Texas, VA clinic.
On April 29, bipartisan House members held a news conference ahead of a hearing of the House Veterans Affairs Committee on "Tragic Trends" in veteran suicides.
At the news conference, Rep. Marcy Kaptur, D-Ohio, announced that yet another veteran had died outside a VA facility hours earlier -- this time at the Cleveland VA Medical Center.
"I am heartbroken," she said. "The fact that 20 veterans a day take their own life -- over 7,000 a year -- is a tragedy. With seven incidents of veteran suicide on VA property in 2019 alone, 25 in the last 18 months, it's critical we do more to stop this sustained national crisis."
At a Senate Veterans Affairs Committee hearing April 10, Dr. Richard Stone, the executive in charge of the Veterans Health Administration, gave the same statistics on total deaths by suicide in the last 18 months at VA facilities, but he said VA staff had intervened about 240 times in recent years outside VA hospitals and clinics, saving lives.
Stone echoed VA Secretary Robert Wilkie in stating that at least 14 of the daily suicides involve veterans who never had contact with the VA or sought VA mental health services.
House leaders have called for legislation on additional funding for more research on suicides and monitoring at VA facilities. At a House hearing April 29, Stone said the fact that deaths are occurring outside VA hospitals "with help just a few feet away is deeply troubling."
Community Help
In coordination with the Department of Health and Human Services and the Substance Abuse and Mental Health Services Administration, Wilkie has pressed a whole-of-government approach on outreach to alienated veterans and initiated a "Mayors' Challenge" and "Governor's Challenge" to get states and localities more involved.
The VA needs community help in bringing down the daily suicide rate among veterans that has persisted for years, Wilkie said in a statement last week announcing a pilot program on outreach to alienated veterans.
"We recognize that, just as suicide has no single determining cause, no single agency can prevent veteran suicide," he said of the pilot program to test a "community-focused public health model to prevent veteran suicide."
The VA's media outreach campaign stumbled last year, according to a December report by the Government Accountability Office.
The VA failed to spend millions available for outreach and cut back on messaging, the report states. Of $6.2 million in funding for media outreach, only $57,000 was spent.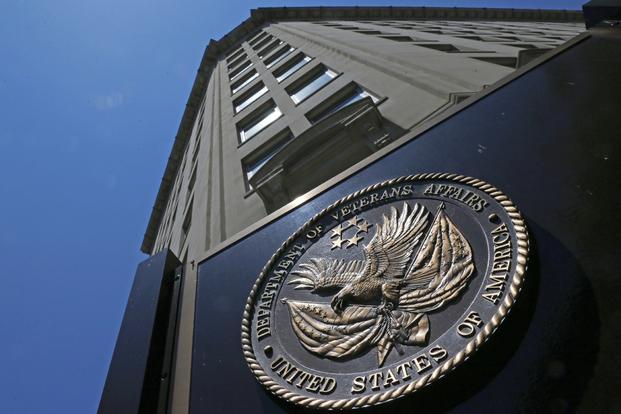 Shame and Love
The outreach wasn't there for former Army Sgt. Danny O'Neel, who said he found himself at one point pacing the VA parking garage, consumed with rage at the system and himself.
There had been a mix-up with his appointment for treatment of PTSD and suicidal thoughts, he said. The doctor or the counselor were not available that day, or the scheduler had the date wrong. Something.
O'Neel, who had two tours in Iraq and survived close-quarters combat against Shiite militias in East Baghdad's Sadr City, said he thought about ending his life in the garage. That would show them.
He had hit bottom before. He said he overdosed on prescription meds. "I woke up in the hospital and I wasn't dead," he said.
It was a combination of shame and love that brought him back from the brink at the hospital, and it was that same feeling that led him out of the parking garage, he said.
All through his struggles, his wife, Faun, had stood by him.
"She was the one person in the world who gave me unconditional love, [and] I was trying to take myself away from her," O'Neel said.
The help at the VA can occasionally come by happenstance. Former Senior Airman Dan Lawson said his own VA parking lot experience took place at the Biloxi, Mississippi, Veterans Affairs Medical Center in January.
There was that persistent pain in his shoulder from the time he fell off the fuel truck ladder in Saudi Arabia, and then there were his thoughts about "eating a bullet. I was in a very dark spot, chasing the rabbit down the hole pretty deep," he said.
He couldn't bring himself to walk through the entrance. Brandy Fulton, a licensed practical nurse at the Biloxi VA Medical Center, spotted his hesitation.
Lawson said he told her he needed something from the car.
He said he wasn't sure he was coming back, but Fulton went with him to the car and spoke with his wife. They walked back through the door together.
Lawson said Fulton told him: "We got you now. We're going to take care of you."
Lawson and O'Neel were among several veterans who agreed to go on record about their struggles with PTSD and their efforts to avoid becoming another statistic.
In 2017, more than 47,000 Americans died by suicide, and there were an estimated 1.4 million suicide attempts, according to the American Foundation of Suicide Prevention. The suicide rate for veterans is about 1.5 times that of adults who were never in the military, according to VA data.
Taking on the Outreach Challenge
The VA has at least one "suicide prevention coordinator" at each of its 170 hospitals nationwide.
Julianna Hallows is one, working out of the Fort Harrison VA Medical Center in Montana, the state with the highest overall suicide rate in the nation, according to the CDC and the Montana Department of Health and Human Services.
Her outreach can involve eight-hour road trips to reach members of the Assiniboine and Nakota tribes on the Fort Peck Indian Reservation, she said in a May 16 interview.
Hallows, a licensed mental health counselor, said she also goes to schools, community centers and elsewhere to spread the message that it's not a sign of weakness or admission of fault to seek help, whether it's from the VA or outside groups.
"There are many avenues out there" for mental health treatment, she said.
"We need to take a really integrated approach" to the crisis in veterans suicides that involves families, friends and the community, Hallows said.
The message is, "Hey, we're here to help you if you let us," she said.
She also brings personal insight to the issue. As a teenager, Hallows said she suppressed her own suicidal thoughts.
One of the things she has to contend with, she said, is Montana's culture of self-reliance. The "pick yourself up by the bootstraps" mentality is admirable in many ways, she said, but it can also reinforce the stigma that some veterans feel is attached to those who seek help.
The evidence is scant thus far, but Hallows sees signs of progress. She said calls to the VA Crisis Line from Montana from at-risk veterans used to average 100 to 200 annually, but last year the number was about 450.
At the Michael DeBakey VA Medical Center in Houston, suicide prevention coordinator Elizabeth Kleeman was on her way May 16 to a community task force meeting on outreach.
"We want our face to be out there; we want to be known," she said. "We want people to see us as a support system," and not a cumbersome and indifferent government bureaucracy.
In her job, she sometimes deals with referrals from the crisis line and other departments in the hospital. She carries a pager and, sometimes, employees in other clinics -- radiology, cardiology or elsewhere -- will sense something amiss about a veteran receiving treatment.
They'll say, "Maybe you ought to come down here and talk to him," she said.
As she sees it, "we have a social responsibility to be out there" in the community in a coordinated effort that would finally begin to bring down veteran suicide rate.
Nonprofits Take Up the Slack
Retired Army Col. Mark Bertolini was Danny O'Neel's commander in the 3-67 Armor unit of the 4th Infantry Division during their deployment to Iraq from December 2005 to December 2006.
"Just a great NCO," Bertolini said of O'Neel.
Bertolini, O'Neel and about 80 others from the 3-67 were in Houston recently for an "Operation Resiliency" gathering, funded by the nonprofit Independence Fund in coordination with the VA. It was the second gathering for Operation Resiliency, following one for members of the 82nd Airborne Division.
Bertolini said the 3-67 lost nine soldiers in the fighting in East Baghdad, and another soldier died by suicide while there.
Since the unit returned to the States, at least 14 more members of the 3-67 have died by suicide, he said.
One was a major, a company commander, who "was ready to retire just a few short weeks of finishing up his career in the Army," Bertolini said.
"That one really jolted me," he said. "I knew him very well. He was always a very positive guy, very upbeat and so forth."
"So when that happened, for me that was really something you have to worry about because, if it will take out one of our more senior people who was always in a good mood, then you have to worry about everybody else," Bertolini said.
The major didn't leave a note, he said. "The only thing I could pinpoint is I'm afraid he just didn't want to retire. I'm afraid he was afraid of life after the Army, maybe. To me, that seems to be something that was probably weighing on him a bit."
Before Bertolini retired himself, "That's all I knew my whole life, being in uniform. It's tough for anyone," even for those with a plan for transition, he said.
He has come to believe, he said, that "the best way to tackle that is some peer mentorship folks to talk to who have already done it, made the transition. And let people know that there is life after being in the Army or the service."
At the Houston gathering, Bertolini said he stressed that "we all had battle buddies down range and, now that we're back, it shouldn't change. If we have any concerns or issues, you can talk to them."
"The challenge we put out to everybody was try to get hold of six guys from the unit that didn't make it [to Houston], so we're trying to work toward that," he said.
Abuse in Military Can Lead to Downward Spiral
Seaman James Richards joined the Navy in 1989 and said he was the victim of military sexual trauma by other sailors. He said his abusers were never punished.
After that, "life just fell apart," he said. "I tried to block out what happened," but the trauma haunted him.
He was in and out of the VA medical center in Clarksburg, West Virginia. He was occasionally homeless and spent time in prison for theft, he said.
He decided to end it and posted his thoughts on Facebook. County deputies came and took him to the VA again, Richards said.
He doesn't remember exactly how but, somewhere along the way, he contacted or was contacted by the nonprofit group Stop Soldier Suicide.
Andrew Roberts from Stop Soldier Suicide began helping him to get disability benefits and checked up on him regularly, Richards said.
He now lives in Indiana near a daughter, he said. "He's stayed with me the whole time," Richards said of Roberts. "I get more calls from him than my family. I'm more at ease now."
Former Army Capt. Brian Kinsella, co-founder of Stop Soldier Suicide, said the group is now focused on enhancing outreach digitally.
"A big part of our ability going forward is through digital client acquisition," he said. "If we continue going down the route everyone's going down" through traditional media outreach, too many veterans in need will be missed, especially those who say "I don't need or want any help" from the VA.
Veterans, their families and friends can reach a mental health professional at the VA's Veterans Crisis Line at 800-273-8255, press 1 for assistance. Or text 838255.
Editor's Note: This story has been updated to correct the name of Senior Airman Dan Lawson.
-- Richard Sisk can be reached at Richard.Sisk@Military.com.