It sounds crazy and looks like a scam: a golden envelope containing a letter that says part or all of your health care debt has been erased.
But for thousands of veterans and family members, the mailings, which have been going out since 2016, have been the winning ticket for getting out from under a mountain of medical bills.
In the past three years, RIP Medical Debt has quietly erased roughly $65 million worth of medical debt for veterans, family members, National Guard and reserve members, notifying them by mail of the action, according to retired Army Col. Mikel Burroughs, vice president of military and civilian debt acquisition and relief at RIP Medical Debt.
The random acts of kindness are not just reserved for former military service members. Since beginning its mission in 2014, the nonprofit has forgiven about $435 million worth of medical debt for civilians with significant bills who are living at less than twice the poverty level, are insolvent or have more than 5 percent of their gross income going to health care debt.
The idea began when two collections industry executives, Craig Antico and Jerry Ashton, decided to establish a nonprofit to provide a tax-deductible means for individuals and donors to give money to forgive unpaid medical debt for those in dire need.
RIP Medical Debt works like this: Donors and organizations raise the funds needed to purchase medical debt from the companies that hold it after hospitals, providers, ambulance companies and agencies have exhausted their efforts to collect payment. RIP buys the debt for a penny -- or less -- on the dollar, so if a philanthropist donates $50,000, the non-profit can erase $5 million in debt.
Working with the debt holders, it finds patients in dire straits and gleans the list specifically to find veterans. Some of those get the yellow envelope.
Ashton, a Navy veteran, wrote in HuffPost last year that when they first started their nonprofit, they noticed "a surprising percentage of the people whose debt we were abolishing were active-duty military and veterans."
"Like many Americans, I believed that America takes care of the medical needs of the men and women who have served our country," he said.
Instead, he found that veterans may face mounting medical bills while waiting to get into the Department of Veterans Affairs system or they aren't eligible for care at the VA. Plus, Burroughs noted, they may get into debt because their family members aren't covered.
"A lot of veterans just get stuck in the quagmire," Burroughs said.
Ashton cited the example of a 73-year-old veteran who went to a local hospital for cardiac arrest. While he was there, hospital staff notified the VA medical center that the veteran needed emergency bypass surgery. The VA center said it would send an ambulance to pick him up and transport him there, 75 miles away. But the veteran already was being prepped for surgery.
The VA then declined to pay the veteran's outstanding $36,000 bill, because, according to the VA, the veteran had "refused emergency transport." He depleted his savings and took out a loan but still couldn't pay off the debt, according to Ashton.
"We are vigorously taking up causes as personal as this," he wrote.
The charity started off slow, running in the red through 2015 while setting up the mechanisms for executing the plan. It received a significant boost in donations and legitimacy in 2016 when John Oliver ran a segment on his HBO Last Week Tonight show about the debt-buying industry.
In an attempt to highlight the dark side of the business, Oliver started his own company for $50 and purchased $15 million worth of medical debt for 9,000 patients, paying roughly $60,000 for the debt, along with the patients' personal and financial information, including their Social Security numbers. At the end of the segment, Oliver turned the debt over to RIP.
Those who receive yellow envelopes do not need to take any action, which means if someone mistakes the envelope for junk mail and tosses it, the debt is still abolished.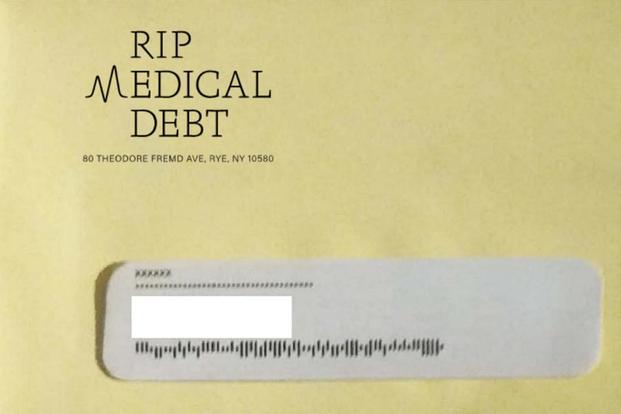 The forgiven debt counts as a gift; those who receive the yellow envelopes do not have to pay taxes on it and it is not considered income. Also, under the requirements of the deal, the debt seller must notify all three major credit reporting agencies to ensure that the adverse information is removed or noted in the patients' files.
Many of RIP's donations come from individual donors and corporations that raise money specifically for the charity. In January, the McClatchy Foundation launched a fundraising effort in more than 30 newspapers, raising enough money to forgive debt for at least 730 veteran and military families. NBCUniversal is also a major partner.
Burroughs, who runs the veterans program at RIP, also is a donor. He will ride 7,727 miles this summer on his motorcycle to raise awareness and funds for the cause. His goal of $50,000 will help clear $5 million in debt.
In addition to working with debt holders, RIP Medical Debt officials have started reaching out directly to hospitals, physician groups and ambulance companies to offer their services. But they'd like to hear from them as well, Burroughs said.
"They are sitting on inventory they will never collect, and this is a great opportunity for hospitals to bring some revenue back in and also do something for their communities," he added.
Burroughs said one of the most difficult challenges of the program is having to explain to people that RIP Medical Debt simply can't pay the bills of individuals who reach out. He added that the organization is trying to figure out a way to help, but haven't yet "cracked the code."
"More than 10,000 people have contacted us saying they need help, but we can't do that at this point. We're working on it," he said.
Burroughs estimated that RIP Medical Debt mailed out between 60,000 and 70,000 envelopes last year. He said that for many, they are "a lifesaver."
"You can imagine that these veterans are getting hounded for financial debt, and they already have anxiety or depression or post-traumatic stress disorder or a traumatic brain injury. This is a big relief," he said.
-- Patricia Kime can be reached at Patricia.Kime@Military.com. Follow her on Twitter @patriciakime.