For the past seven years, three Air Force civilians at Vandenberg Air Force Base, Calif., have focused on the mantra of "reduce, reuse and recycle" when working with equipment and materials for contracts tied to the base's mission. And it's helped the service save -- $1 billion, to be exact.
The three members of the 30th Contracting Squadron saved $1 billion for the Air Force between 2012 and January 2019, according to a news release.
While details on the types of contracts weren't disclosed, the savings occurred because support equipment normally thrown away once a contract ends was instead reused for other work around the base, the release states.
"The majority of cost savings comes from reutilizing assets from contract to contract," said Darlene Thompson, 30th Contracting Squadron contract specialist.
Related content:
"When one contract is ending, another contract on base may be beginning and able to use those parts and equipment. We reutilize the materials under another contract, and they don't have to reprocure them," she said in the release.
Thompson; Stephen Schultz, also a specialist with the 30th; and Joseph Gagnon, property administrator team lead, spurred the achievement.
The small team began tracking the equipment and cost savings from reusing equipment in a database in early 2012. The members attempted to recycle the items, working with computers, as well as "Vandenberg's history museum for legacy items and Vandenberg's recycling center," officials said. In some cases, they repurposed furniture that base schools could use, according to the release.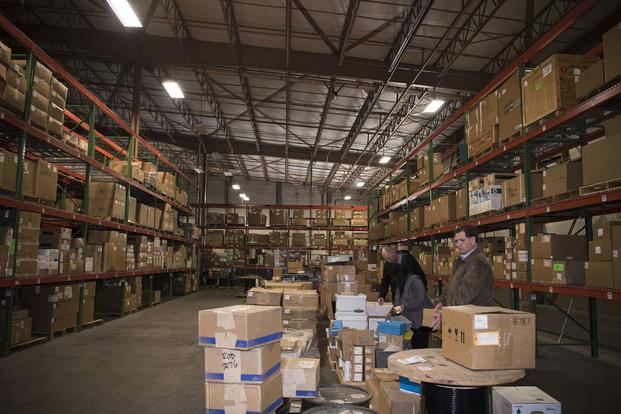 Vandenberg, under the purview of the 30th Space Wing, is one of six bases with a focus on the space mission. It is a primary location for Air Force space launches and testing on the West Coast. It also leases some of its launch pad facilities to aerospace company SpaceX.
Vandenberg's news comes as the service is spearheading more efforts to drive down costs.
For example, in June, airmen with the Air Force Research Laboratory's Junior Force Warfighter Operations team said they were re-engineering a milk stool used by C-130 Hercules fleets worldwide. The effort -- to make a more easily transportable stool that props up the plane's rear loading ramp -- would create an annual savings of "approximately $375,000 for the Air Force and up to $1.7 million if the new milk stool is adopted across the entire C-130 fleet," officials said at the time.
New inventions aside, officials want more feedback on outdated processes and creative initiatives that could save money.
In 2014, the Air Force launched the "Every Dollar Counts Campaign," in which leadership asked airmen how and where the service could consolidate or spend money more wisely.
The Vandenberg team says they've done just that.
"Our team structure is different from most and, when we have our meetings, everything we share is something we can use, and we can jump into each other's seat and contracts and take over when we need help. It's been great that the team works cohesively," Thompson said. "The metrics and the tools we have used help us to rely on our info so we aren't duplicating efforts."
-- Oriana Pawlyk can be reached at oriana.pawlyk@military.com. Follow her on Twitter at @Oriana0214.