LAS VEGAS -- SHOT Show is a mecca for new everyday carry gear -- so many new knives, pockets tools, gizmos, gadgets and tacticool novelties, it's like turning a 5-year-old loose in a toy store for the first time.
To keep things simple, Military.com selected a handful of new EDC items for readers based on quality, innovative design, price point and a little bit of cool factor.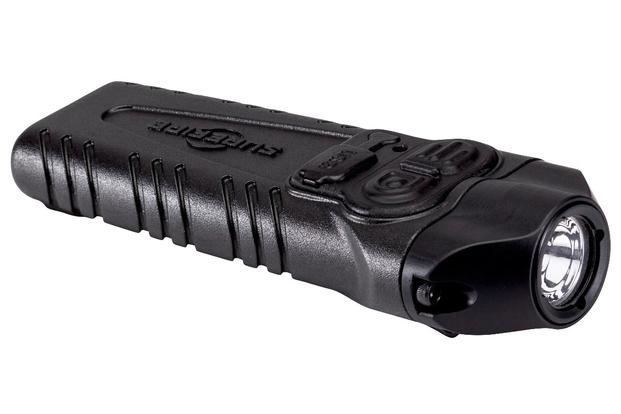 Powerful Pocket Light
One of the most overlooked pieces of EDC kit is a compact light. This year, SureFire introduced the Stiletto Pro, an improved version of its original, flat 650-lumen Stiletto flashlight that's designed for pocket carry.
Unlike the standard Stiletto's polymer body, the Stiletto Pro is made of aluminum and features a powerful 1,000-lumen flood-style beam.
"It's a great EDC flashlight option; it's super flat so it sits in the pocket very conveniently," said SureFire spokesman Andrew Wright.
The Pro measures 4.5 inches long and has a bezel diameter of .87 inches. It weighs four ounces.
The Stiletto Pro has a pocket clip like the standard model, but the clip on the Pro can be mounted so the light can be carried bezel up or down.
It's got a tail-cap switch at the back, which activates the 1,000-lumen setting and an optional strobe. There's also a bezel switch if you want to choose from five-, 250- and 1,000-lumen settings. A program switch on the bezel lets the user choose between five different preset programs.
The Stiletto Pro has a max run time of one hour for the 1,000-lumen setting. It's still unclear what the exact run times will be for the 250-lumen and five-lumen settings.
The Stiletto series is "micro USB rechargeable, which is super convenient because you will be using this on a daily basis," Wright said.
There is no lockout feature to prevent accidental discharges of light, which could be an issue for some since the bezel activation switch will be against the body when using the pocket clip.
"It can happen," Wright said but added that SureFire has tried to adjust the sensitivity of the switches to prevent this as much as possible.
The Stiletto Pro is scheduled to be available in the late January-early February timeframe, said Wright, who estimated the cost at just below $200.
The standard Stiletto, which retails for $110, has been "selling very, very well," he said. "Once you start carrying that, it's hard to go back to a much fatter, kind of round flashlight in the pocket. It's very comfortable to wear on a daily-basis."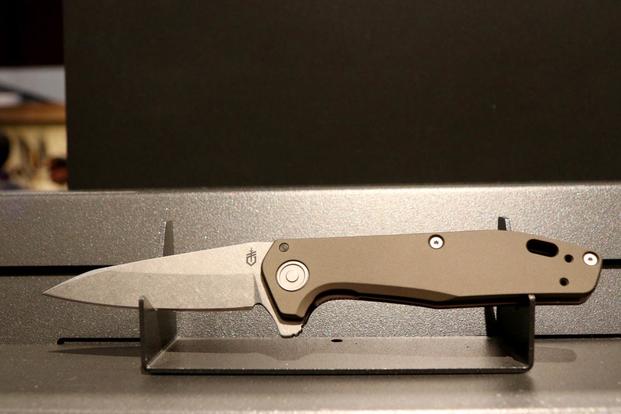 Knives
Gerber's new Fastball finger-flip folding knife features a lightweight design with quality steel.
It has a three-inch blade fashioned from S30V steel.
"This is what I would consider a modified tanto blade, more suitable for everyday carry because you are still going to have that full cutting surface but, at the same time, it can still be used in a tactical situation," said Tim Tebbe of Gerber Gear.
The Fastball features aluminum handles in three colors -- flat sage, grey and black. It has a secure, liner lock and operates on a Gerber's "balls of stainless steel" concept, which relies on tiny bearings for a smooth operation, Tebbe said.
"It's not washer on washer, so it's going to have a longer lifespan, it's going to be faster deployment ... so, while it is a finger flip knife, it is going to be extremely fast," he said.
The Fastball measures 7.1 inches overall and weighs 2.8 ounces. It's slated to start shipping in the next couple of months and will retail for about $100, Tebbe said.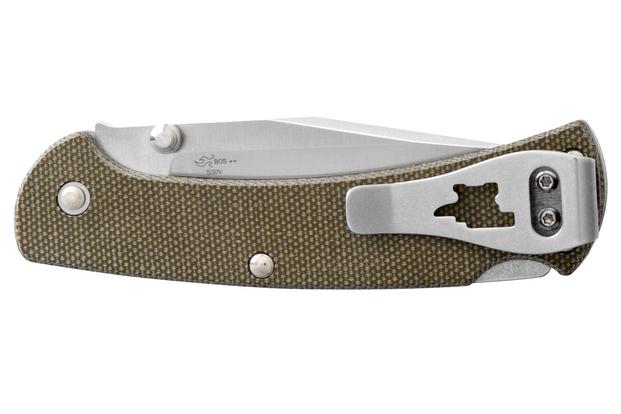 Buck Knives unveiled its new 110 and 112 Slim Pro -- updated versions of the classic heavy-duty, lock-back folding hunting knives that were extremely popular in the 1980s and still retain their status today among hunters.
"We have modernized it a little bit, added some new materials and made it a bit thinner and added a pocket clip," said Justen Bock, product development and engineering manager at Buck Knives.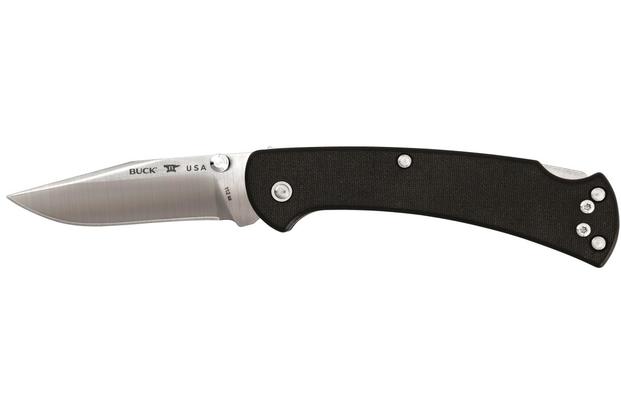 Both knives feature S30V blades and thin handles in black G10 or brown and green micarta. The 110 has a 3.75-inch blade, while the blade length on the 112 is 3 inches.
Both knives are much lighter than the original versions. The 110 weighs 3.4 ounces compared to the original 110's 7.2 ounces. The 112 is 2.6 ounces compared to the original's 5.6 ounces.
The 110 retails for $110, and the 112 costs $100.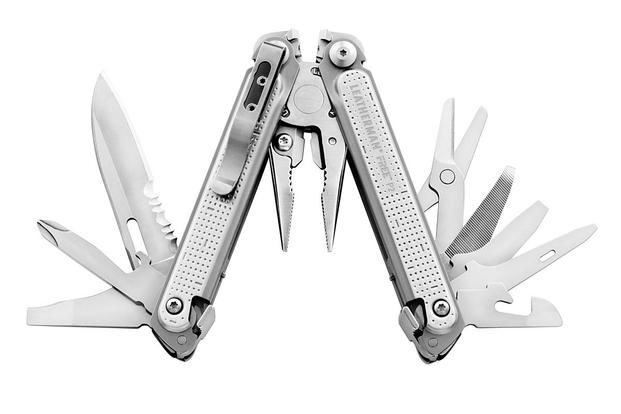 Multi-Tools
Leatherman came out with a new line of multi-tools this year that offer some innovative features.
The new Free series of plier-based multi-tools offers the new P2 and P4.
Both models are made of 420 stainless steel and feature the "strongest pliers we have in our full-size line; new reversible wire cutters; brand-new locking mechanism; and a new magnetic architecture that is going to allow you to access everything without using your fingernails," said Jeremy Rodriguez, product manager for Leatherman Tool Group Inc.
All the tools can be accessed by pushing your fingertip on the base of the screwdrivers or other tools, which causes them to hinge open, he said.
"Where the benefit is, if you are using your one hand to support a load ... and you have to access your tool, you can maintain that load and get access to the tool you want with one hand," Rodriguez said. "Everything in the P models [is] one-hand accessible, even the pliers with a simple flick-open deployment."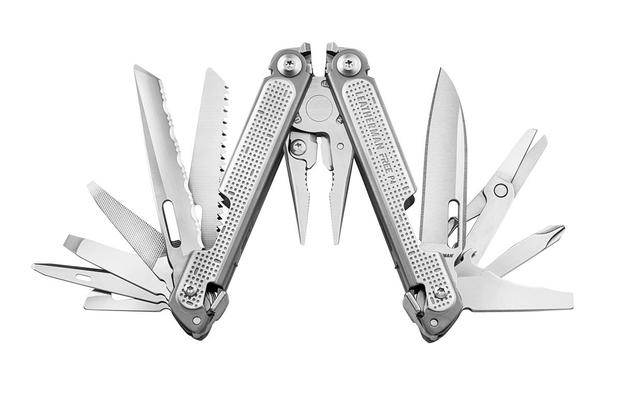 The P2 features a 2.75-inch combination blade and a set of scissors. It also has dual-use tools, such as the Phillips-head screwdriver and bottle opener.
The P4 has a 2.75-inch, straight-edge blade and adds a serrated blade and a saw.
The P2 comes with a pocket clip, while the P4 comes with a removable lanyard attachment. Both come with gray, nylon sheaths.
Both tools will be available in April. The P2 will retail for $120; the P4 will cost $140.
"Not since the introduction of the Wave has Leatherman kind of made such a big leap in multi-tool design and technology," Rodriguez said. "We are really excited about these tools."
One More
As most EDC maniacs will agree, there is kit you carry in your pockets and then there's the closet full of EDC gear you can choose from to carry in a pack or bag for the "mission" of the day.
Magpul makes a cool little protective container that you can put small EDC items in to protect and organize them inside your EDC bag.
The new Magpul DAKA Can is a rugged, dust-resistant, polymer storage container designed for protecting eyewear and other sensitive items.
It measures 6.4 inches x 2.7 inches x 2.5 inches, according to Magpul's website. The interior is lined with protective foam.
The DAKA weighs 3.68 ounces and comes in flat dark earth, black, gray and olive drab green. They cost $20 each.
-- Matthew Cox can be reached at matthew.cox@military.com.