The U.S. Air Force has admitted nearly 2,000 recruits on medical waivers for eczema, asthma, attention-deficit/hyperactivity disorder and other learning disabilities since a new medical policy went into effect nearly two years ago, according to recent statistics from the Air Force Surgeon General's office.
Between Jan. 1, 2017, and September 2018, the service issued 1,908 waivers for the previously disqualifying medical conditions to airmen and officer candidates across the active-duty Air Force, Guard and Reserve, statistics show.
The service implemented its expanded medical policy via the Air Force Memorandum for Appearance and Accession Standards Review last January in an effort to give prospective airmen another chance to enlist or commission on a case-by-case basis.
The breakdown of new recruits spans four authorities: Air Education and Training Command, home of  Basic Military Training; the U.S. Air Force Academy; the Air National Guard; and Air Force Reserve Command, according to the collected data provided through the surgeon general.
Approvals and Denials
More than 880 applicants received waivers for ADHD or a learning disability, the most given out for any condition.
"Overall, more individuals with ADHD and eczema are entering the U.S. Air Force due to the new policy changes," said Air Force Surgeon General spokeswoman Angelica Lopez. The rate of accessions with asthma remains steady, she told Military.com.
Related content:
During the same time frame, however, there continued to be more denials than waivers granted. The service issued 2,555 denials to enlisted and officer candidates across the Air Force who applied with the same medical conditions, statistics show.
AETC had both the most approved waivers -- 1,282 -- as well as the most denied applications, 2,411. Since the start of the waiver policy, there have been 1,543 requests for ADHD waivers, 1,299 requests for asthma waivers and 851 requests for eczema waivers at AETC.
Of those, 1,065 enlisted and 217 officer members were approved; 1,874 enlisted and 537 officers were denied, the data showed.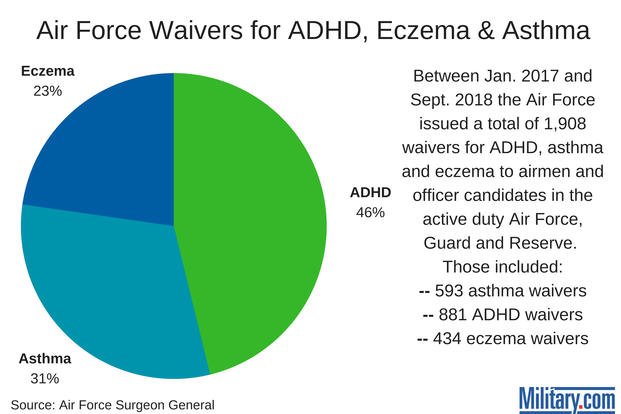 The 800 waivers for those with a prior diagnosis of ADHD were approved for service members heading into AETC. Of that 800, 741 were enlisted members.
The Air Force Academy in Colorado Springs saw the most waivers granted, 222, as well as the most denied, 100, for those diagnosed or misdiagnosed with asthma.
The service changed how it viewed asthma last year because many children have received treatment for wheezing, but were misdiagnosed or grew out of the condition, according to Lt. Gen. Mark Ediger, former Air Force surgeon general.
Ediger told Military.com during last year's policy rollout that an infection or an unusual exposure manifesting with similar symptoms can be misdiagnosed as asthma.
The surgeon general's office said waiver denials may reflect denial for another concurrent medical condition since "many applicants have more than one disqualifying issue."
There were 459 approvals at the Air Force Academy and 144 denials overall.
The academy also expanded its ADHD category to include other learning disorders, such as dyslexia.
"The USAFA command surgeon has not denied a dyslexia case," Lopez said. "If they're a legitimate candidate for USAFA from an academics perspective, their dyslexia can't be severe enough to keep them from being a viable officer candidate."
In the Air National Guard and Reserve, which collectively had fewer than 200 approvals total, the highest number granted were for asthma in the Guard, 109.
Guard and Reserve data for denials for each condition were not provided.
Learning Disabilities
Recent studies suggest there has been a spike in school-age children or young adults needing medication for ADHD. That spike has led the service to plan for more ADHD cases, officials said.
The Air Force's expanded policy states that an applicant with a history of ADHD must demonstrate at least 15 months of performance stability off medication -- either academically or on-the-job -- immediately preceding enlistment or enrollment to be accepted.
Previously, if an individual was treated for ADHD as a child or adolescent, they were disqualified from military service under Defense Department policy. The DoD relaxed some rules in 2010 and further amended how it grants waivers in 2015.
While a medical diagnosis of substance-related disorders or addiction remains medically disqualifying in the Air Force, being on medications such as Adderall or Ritalin isn't a matter of prior dosage, but rather time, the surgeon general's office said.  
"There is no dosage 'cut off,' " Lopez said, meaning the Air Force won't scrutinize prior prescription dosages. "Bottom line, if an applicant meets the criteria and has been performing well [academically or vocationally] medication-free for 15 months prior to application for military service, they should be given waiver consideration."
If an applicant was denied a waiver under the new policy but can prove they have been off medication for the 15-month window, they are now eligible for waiver consideration, according to the surgeon general's office said.
"The length of time an applicant must wait before reapplying will depend on when the applicant applied during the 15-month medication-free period that was established by policy," Lopez said.
Every request is considered on a case-by-case basis, she added.
"There is no standard answer for all situations," Lopez said. "Every applicant with mental health condition(s) is evaluated … and individually assessed."
-- Oriana Pawlyk can be reached at oriana.pawlyk@military.com. Follow her on Twitter at @Oriana0214.