Veteran entrepreneurs' dreams and grit are often not enough to keep them from falling in the crack of the civilian-military divide. Bob Evans Farms wants to change that dynamic and level the playing field with their "Heroes to CEOs" initiative.
Bob Evans Farms will award three $25,000 business grants to deserving veterans who submit a video sharing their business idea and a plan demonstrating a solid business concept.
Get Coached by a Shark
In addition to the grant, winners also receive a business coaching session with acclaimed businessman and investor Daymond John, the Founder and CEO of FUBU and investor on ABC's reality series Shark Tank.
"Veterans deserve more than a 'thank you for your service,'" John says. "These men and women put themselves in harm's way and we should do more than just clap for them at a baseball game."
John says that veterans know how to "risk it all," have "the drive and desire" and that are uniquely suited to be successful entrepreneurs. John himself knows very well what it's like to struggle with capital -- in 1992, when he was a young entrepreneur working at Red Lobster as a waiter, his mother took out a second, and later, a third mortgage as seed money for his fledgling company. It was a bet that paid off in spades and an investment that John took seriously. Today FUBU is worth more than $6 billion.
Vet Entrepreneurs Struggle with Funding
While veterans certainly possess grit, there are also many challenges that prevent them from succeeding. According to the Institute of Veterans and Families at Syracuse University, lack of access to capital tops the list of challenges; more than 80,000 veterans closed their business last year as a result of inadequate cash flow, sales or personal loans/credits.
"Last year's contest exceeded our expectations. It was an honor to have met and worked with each winner alongside Daymond John.The success of last year's winners truly embodies what the Our Farm Salutes program is all about – supporting the men and women who have so proudly served our country, and doing a small part to help them succeed," said Mike Townsley, CEO and president of Bob Evans Farms.
Success Story: It's All in the Sauce
A veteran who recently benefited from Heroes to CEOs was 2016 winner and former Air Force member Charlynda Scales, who launched Mutt's Sauce in honor of her grandfather, Charlie "Mutt" Ferrell, Jr.. In 1956, her grandfather got the idea to make a sauce he could use for every meal. Thus, Mutt's Sauce, a multi-purpose condiment, which infuses sweetness, tanginess and a little heat into each spoonful, was born.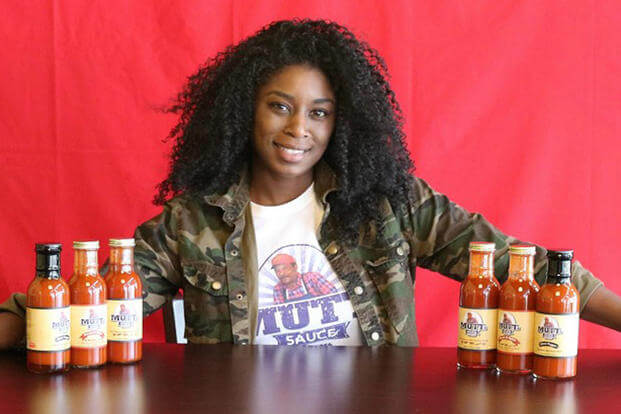 "I'm truly humbled by the support of Bob Evans Farms and Daymond John for our nation's veterans! As a veteran, I respect the way they lead by example," Scales says. "Both Bob Evans and Daymond John provided the magic weapon to keep pushing Mutt's Sauce forward."
Daymond John's Top Tips for Veteran Entrepreneurs
John says he values the enormous sacrifices that military families make every day and wants to give back. For the future entrepreneur, he has some advice.
Tap into the vast network of veterans. They are your greatest allies and forged a path ahead of you.

Embrace your status as a military veteran. It is an incredible asset, as are all the skills you learned while in service to this country.

Do your research. Research funding options, like the Heroes to CEOs initiative, because the expense of starting a business is where most of your risk is centered.

Create a battleplan. Act, learn, start small. Repeat.

Bring everything to the line of fire. Your grit, your ability to adapt, improvise, and overcome, and your ability to work as a member of a team.

Embrace uncertainty and most importantly, never surrender.
How to Enter "Heroes to CEOs" Entry Period: May 22-June 27th, 2018
Veteran entrepreneurs are asked to submit a business plan, multimedia assets and a personal essay about their passion for their business in order to have their idea considered. To learn more about eligibility, prizes and how to apply, visit www.ourfarmsalutes.com.
About "Our Farm Salutes" & Bob Evans Foods, Inc.
Created by Bob Evans Farms, Inc., in 2016, "Our Farm Salutes" is committed to supporting America's active duty service members, veterans, and their families through volunteerism, strategic partnerships, grant opportunities, awareness and donations. Bob Evans Foods, Inc. is a leading producer and distributor of refrigerated potato, pasta and vegetable-based side dishes, pork sausage, and a variety of refrigerated and frozen convenience food items under the Bob Evans, Owens and Pineland Farms brand names. For more information about Bob Evans Farms, Inc. and "Our Farm Salutes", visit www.bobevansgrocery.com and www.ourfarmsalutes.com.
-- Sean Mclain Brown can be reached at sean.brown@military.com. Follow him on Twitter at @seanmclainbrown.