They protected our country with their lives. Now, these special ops veterans are on a new mission: restore decimated coral reefs across the planet, and in the process, heal themselves.
Force reconnaissance Marine veteran Rudy Reyes' life took an unexpected turn when a mutual friend, Jim Ritterhoff, invited him on a diving expedition in the Cayman islands.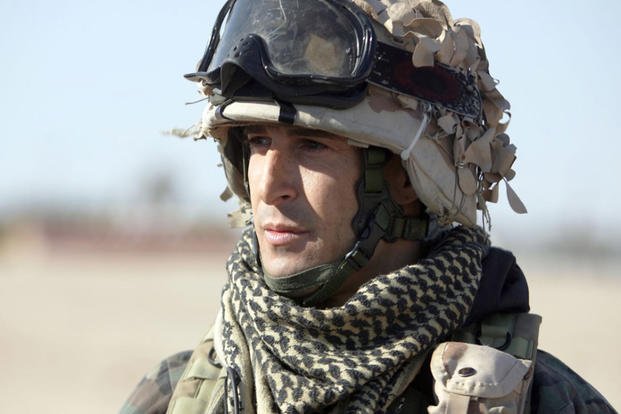 Missionless and Adrift
"I was broke, broken and adrift inside," Reyes, who played himself on the HBO miniseries Generation Kill, said of his emotional state at the time. "Training with elite special ops teams and completing life-threatening missions is badass, but it comes with a high cost. In some ways we are more delicate because we are used to operating at such a precipice of excellence."
Many veterans hide their struggles behind a facade of badassery. And Reyes was no different.
"I never unpacked and confronted my combat experiences," Reyes said. "I was spinning my wheels while burning out my clutch, but I still made it look good."
While on the trip to the Caymans, Reyes rediscovered his love of diving. He also the beauty of the ocean, in contrast with an ongoing tragedy: the coral reef dying at an unprecedented rate. That was the inspiration for Force Blue, a nonprofit organization made up of special-ops veterans working on coral reef conservation projects.
A 'Force' for the Ocean
Force Blue has completed several notable coral reef restoration projects in partnership with the National Oceanic and Atmospheric Administration (NOAA) and most recently in Puerto Rico with Ocean Conservancy.
When hurricanes devastated coral reefs across the Caribbean and the Gulf of Mexico, Force Blue first deployed to the Florida Keys to work closely with NOAA to help with some monumental restoration efforts.
Off the coast of one of the archipelagos, a piece of pillar coral, estimated to be over 350 years old, had been knocked from its foundation into deeper water. NOAA had written it off as lost. Force Blue team members skillfully maneuvered the centuries-old piece, muscled it back up the embankment and gingerly reset it in the proper thermocline saving it from certain death.
"The devastation to corals, not just in Puerto Rico, but globally, is staggering," Reyes said. "These are living creatures that provide us with life."  
While coral reefs only cover 0.0025 percent of the oceanic floor, according to NOAA, they help the ocean generate half of earth's oxygen and absorb nearly one-third of the carbon dioxide generated from burning fossil fuels. Earth has lost nearly half of its coral, and oceanic warming continues to accelerate.
Mission Possible
"Veterans are used to confronting impossible odds with little to no resources and to help others who can't help themselves," Reyes said. "Our mission to save coral reefs is no different than impossible missions we executed when in the military."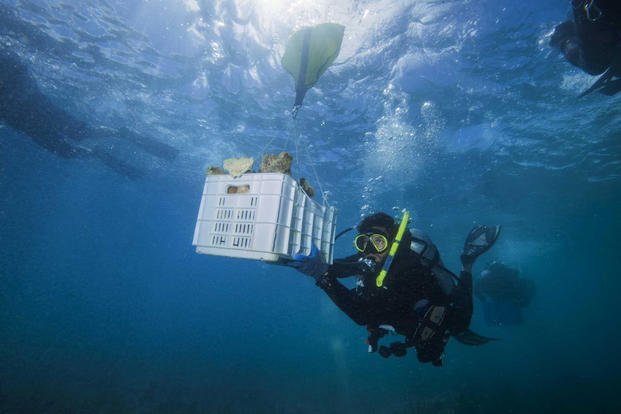 A study published and released by NOAA in 2011 warned that unless people took action to reduce threats, 90 percent of all reefs would be "threatened" by 2030, and all of Earth's coral reefs could be completely gone by 2050.
Aftermath of Hurricane Irma
While in Puerto Rico, the Force Blue team learned how to restore coral reefs from Ocean Conservancy marine scientists.
Armed with buckets of cement, Force Blue divers picked up broken pieces and swam to reefs that had been identified as healthy despite the battering they received from the storm. While being bashed by waves, the divers chiseled away algae that had built up and pushed the pieces down into the freshly laid cement.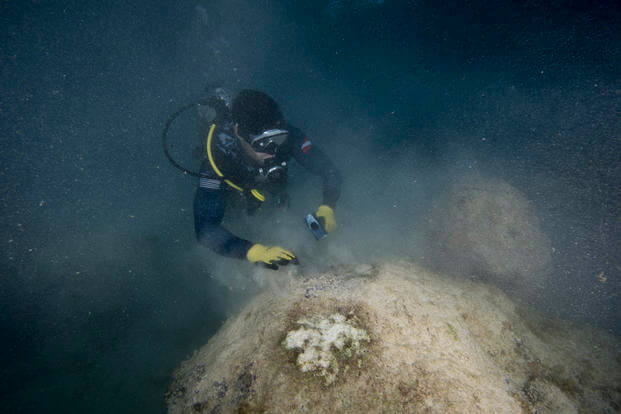 Force Blue worked with the Ocean Conservancy to help restore between 100 and 300 corals a day in Puerto Rico. They focused on the island's northeast region, where swaths of mostly elkhorn and staghorn corals received the brunt of large swells from the hurricane.
Veterans Are Not 'Broken'
"I came down here and dived on these beautiful reefs and it changed my life," Reyes said. "When I found out about what is going on with our oceans, the threats to our reefs … when I found out 73 million sharks were killed last year for their fins alone, I got angry, then I got sad. And I said, 'nah, not on my watch.'"
The experience gave Reyes a new mission, and a new metaphor.,
"Special ops guys, we're like sharks – we have to keep moving to survive. And the more honorable the mission, all the better," Reyes said.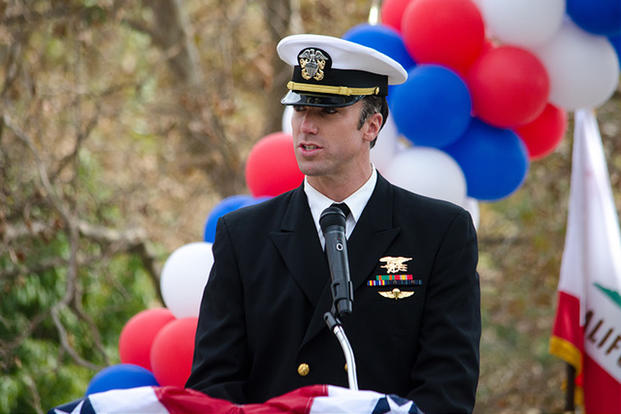 Navy SEAL veteran, actor and entrepreneur Geoff Reeves agrees.  
"We've got to move beyond the stereotype image of the broken veteran," Reeves said. "As a veteran, what I missed the most was the mission-driven community. And I found it again with Force Blue."
Reeves said veterans are highly trained and ideally suited for turning their talents toward a new constructive mission, like saving coral reefs.
Suicide among veterans is high and is even higher among the special ops population. Force Blue wants to help change that dynamic by giving veterans back what they need the most: an "honorable" new mission.
Warriors for the Ocean
Force Blue gives veterans a clear and focused mission, surrounds them with like-minded mission-driven veterans that work to heal the planet and through the process, heal themselves.
"Basically what we're doing is we're taking men and women trained to destroy stuff underwater and re-teaching them instead how to preserve it, and through the process, perhaps restore themselves as well," Ritterhof, Force Blue's co-founder and executive director, said in a documentary about the organization titled "Mercy, Love & Grace: The Story of Force Blue."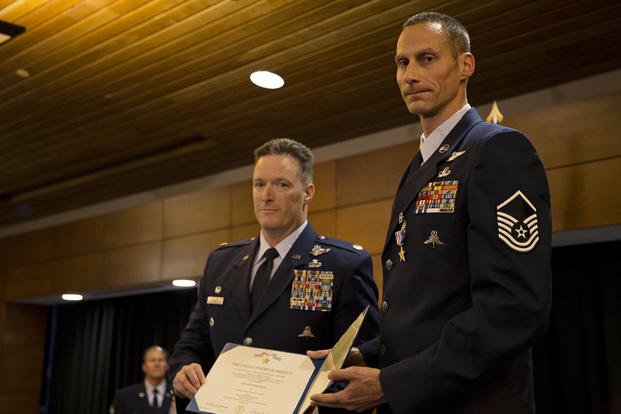 Another Force Blue team member, Roger Sparks, Silver Star recipient and Air Force pararescueman, said in an interview with Epoch Times, "I started realizing … all coral reefs will be dead within 50 years on the current projection. All major fisheries will collapse within 10 years. We have the power to change that prediction."
Reyes and the members of Force Blue are turning the tide, renewing one of the earth's most precious eco-systems, and leveraging the power of veterans. When veterans unite, anything is possible, even saving coral reefs from the brink of destruction.
About Force Blue
FORCE BLUE is a nonprofit 501(c)(3) that seeks to unite the community of Special Operations veterans with the world of coral reef conservation for the betterment of both. FORCE BLUE gives former combat divers and SOF veterans the chance to experience and explore one of the most critically endangered ecosystems on the planet and to adapt their training and teamwork to aid in its protection. Help us. Help vets. Help the planet.
About the Ocean Conservancy
Ocean Conservancy is working to protect the ocean from today's greatest global challenges. Together with our partners, we create science-based solutions for a healthy ocean and the wildlife and communities that depend on it. For more information, visit oceanconservancy.org, or follow us on Facebook, Twitter or Instagram.
-- Sean Mclain Brown can be reached at sean.brown@military.com. Follow him on Twitter at @seanmclainbrown.