Older U.S. Air Force jets -- including the A-10 Thunderbolt II, eyed in recent years for retirement, and the F-15E Strike Eagle -- are leading the air war against the Islamic State, statistics show.
U.S. military fighter-attack jets, bombers and drones have dropped more than 67,000 bombs since the 2014 start of Operation Inherent Resolve, the Defense Department's mission against the Islamic State of Iraq and Syria, or ISIS, according to information provided by Air Forces Central Command.
Notably, fighter-attack aircraft released more than three times as many weapons as bombers did, the figures show. Drones dropped the least of any category of aircraft.
Aircraft like "the A-10, F-15E, and F-16 are breaking their backs because they are the right platform for the job and providing the right function," Brian Laslie, an air power historian and author of the book, "The Air Force Way of War," said in an email to Military.com.
Weapons Released by Aircraft
U.S. aircraft have released a total of 67,333 weapons from Aug. 8, 2014, through May 16, according to the data. While the F-15E released the most, the F-22 Raptor -- one of the most advanced stealth fighters -- dropped the least.
Here are the figures for the 10 types of U.S. aircraft flying combat sorties: F-15E Strike Eagle, 14,995 weapons released; A-10 Thunderbolt II, 13,856; B-1 Lancer, 9,195; F/A-18 Super Hornets, 8,920; F-16 Fighting Falcon, 7,679; B-52 Stratofortress, 5,041; MQ-1 Predator drone, 2,274; MQ-9 Reaper, 2,188; AV-8B, 1,650; and F-22, 1,535.
Broken down by aircraft type, fighter and attack planes dropped a total of 48,635 weapons, or 72 percent of the total; bombers released 14,236, or 21 percent; and drones dropped 4,462, or 7 percent, according to the statistics.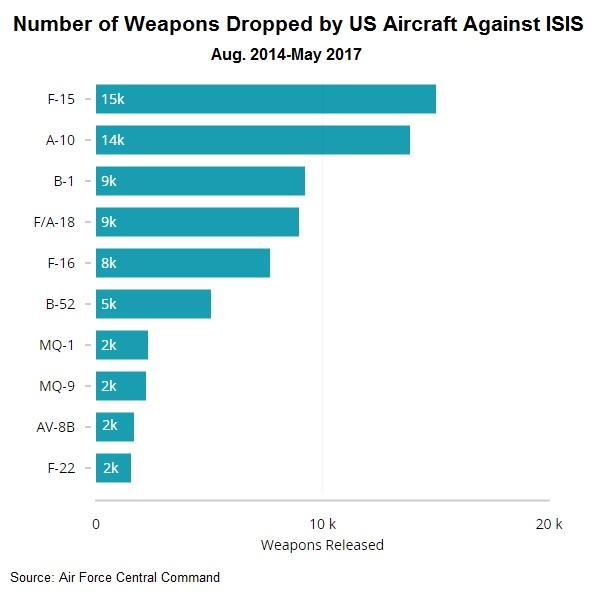 Capt. Kathleen Atanasoff, a spokeswoman for AFCENT, cautioned that the numbers released by the command -- which includes assets and actions under the Combined Forces Air Component Commander, or CFACC -- don't reflect the "entirety of kinetic activity in OIR," such as assets belonging to coalition partners or other U.S. components, like the Combined Joint Land Component Commander and Special Operations Joint Task Force.
"The amount of weapons employed by each aircraft varies due to a number of factors, such as time in theater, types of missions (i.e. close air support, air-to-air, escort, interdiction, etc.), ordnance type, etc.," Atanasoff said in an email last week.
'Lion's Share of the Work'
While the Navy's F/A-18 Super Hornets actually flew the most combat missions, the Air Force's F-15Es dropped the highest number of bombs, releasing more than one in five of the total amount, according to AFCENT.
As the workhorses of the ISIS fight, the "E" model Strike Eagle is a dual-role jet with the ability to find targets over long ranges and destroy enemy ground positions.
The A-10 Thunderbolt II, the gunship popularly known as the Warthog or simply the 'Hog', has released almost as many weapons, albeit with a special type of accounting. Every 100 rounds from the Hog's 30 mm Avenger gun is counted as one weapon, Atanasoff said.
Laslie said he wasn't surprised that commanders are turning more frequently to fighters and close-air support aircraft in the campaign against ISIS -- an operation estimated to cost roughly $13 billion so far.
After the Vietnam War, the service has operated as "a much more tactical Air Force," he said. "From El Dorado Canyon in 1986 [campaign in Libya], to Desert Storm in '91 and the Balkan campaigns of the mid-to-late 90s, tactical assets have done the lion's share of the work."
'See the Airpower'
Atanasoff said the relatively lower strike number for the B-52 doesn't mean the bomber isn't as active as other aircraft, but rather that it simply hasn't been in theater as long. The B-1 left the campaign in early 2016 and was replaced by the B-52 at Al Udeid Air Base, Qatar.
Chief of Staff Gen. David Goldfein in February said, "You're just going to see a continual rotation of both of those weapons systems."
Col. Daniel Manning, the deputy director of the Combined Air Operations Center, last year noted the Stratofortress' unique ability to stay airborne for a long duration.
"Frankly, we want our partners and the enemy to see the airpower [the B-52] has overhead," he said at the time. "A B-52 encourages our partner force that we have their back. Being seen is actually a pretty good thing."
Laslie said, "GPS and stand-off weapons (and permissive environments) have kept the B-52 in the game, but it really is a tactical conflict in OIR." He said bombers like the B-52 -- though strategically useful -- "aren't really optimized for this mission set" in quick, one-off strike sorties.
Hunting for Intel
Similarly, the relatively lower strike numbers for the F-22 stealth fighter and the MQ-1 and MQ-9 drones may be attributed to the fact that they're often used for intelligence, reconnaissance and surveillance to relay to other platforms and the Combined Air and Space Operations Center.
"We have refined our targeting process and become more efficient in layering our ISR to uncover targets that have made themselves available to us, which also has facilitated the number of weapons we've been able to deliver," Lt. Gen. Jeffrey Harrigian, commander of U.S. Air Forces Central Command, told reporters last week.
Leaders have also "relied on the F-22's ability to fuse information, understand where our friendly forces are," to watch, and deconflict with multiple forces on the ground, he said.
At times controllers are using Reapers, Predators or both "combined in a formation" as a more efficient way of using their sensors, according to Lt. Col. Eric Winterbottom, chief of the Commander's Action Group, U.S. Air Forces Central Command.
Remotely piloted aircraft are likely the first aircraft dictating "strike or no strike calls based off what we're seeing" from the sensors, Winterbottom said in October. They're an example of why officials ask for more ISR assets to ease pressure on manned aircraft and to minimize collateral damage from airstrikes.
-- Oriana Pawlyk can be reached at oriana.pawlyk@military.com. Follow her on Twitter at Oriana0214.
Related Video: