Army Spc. Paul Chelimo ran a personal best time of 13:03.90 in the 5000m race at the Olympic Games on Saturday night, finishing second to repeat gold medalist Mo Farah of Great Britain.
But while being interviewed about his silver medal live on NBC, Chelimo learned that he'd been disqualified for stepping out of bounds.
U.S. track officials appealed the ruling. Chelimo barely stepped on the line, and the track's inside rail had been taken down and replaced with traffic cones because the women's high jump was going on at the same time.
After an extended wait, the disqualification was overturned and Chelimo got his silver.
"I thought it was a joke. I thought he was joking," said Chelimo about the TV interview. "Now I'm really happy. I got reinstated. It's the best feeling ever. It's the best, best feeling ever."
Chelimo earned the United States' first medal in this event since Bob Schul won gold at the 1964 games in Tokyo. The runner made a push to catch Farah about 200m from the finish, but the U.K. runner pulled away for a definitive victory.
Army Secretary Eric Fanning, who was part of the U.S. presidential delegation that attended the closing ceremonies on Sunday, watched the race in person and later took to Twitter to congratulate Chelimo on the achievement.
#Silver !!!!! Wow. Chelimo, incredible. 2nd Army medal at#Rio2016!
He also took a photo with the medalist.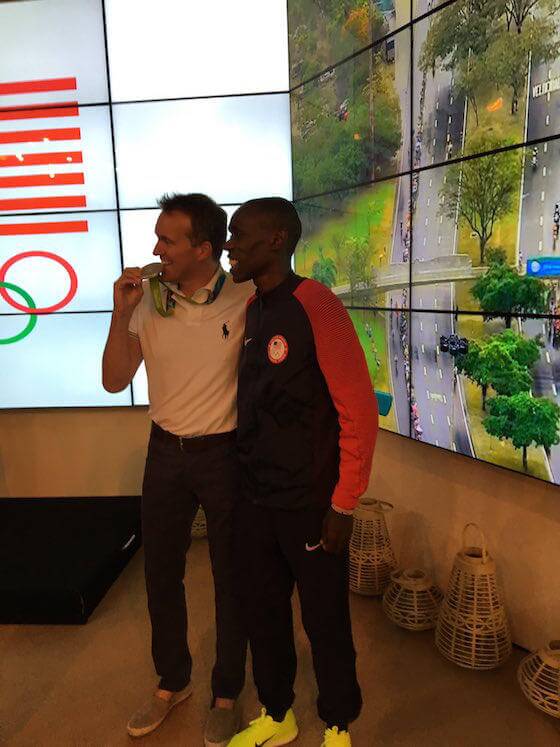 Fanning also wrote: Wonderful meeting all our Soldier Athletes and to share with@Paulchelimo joy after silver#TeamUSA#armystrong
Chelimo grew up in Kenya and moved to the United States to run track at the University of North Carolina Greensboro. Rather than return to Kenya upon graduation, he joined the Army as part of its World Class Athletes program, an arrangement that allows selected athletes to train more or less full time while serving.
The program is open to both citizens and immigrants who are legal residents of the U.S.
Foreign athletes get expedited U.S. citizenship: Instead of a five-year naturalization process, they can become citizens after they complete basic training.
Chelimo joined the Army in 2014 and is now a U.S. citizen. He currently holds the rank of specialist and works in water treatment.
After all the drama, Chelimo just wanted to celebrate his success. "I don't really know what happened, but I am happy to be back in it and I'm happy to call myself the 5000m Olympic silver medalist."
Chelimo joins Army Reservist Sam Kendricks, who took bronze in the pole vault, as one of only two U.S. military athletes to medal at the 2016 Olympic Games.
-- James Barber can be reached at jbarber@military.com. Follow him on Twitter at @mrjamesbarber.